Easy DIY Peach Mango Sugar Scrub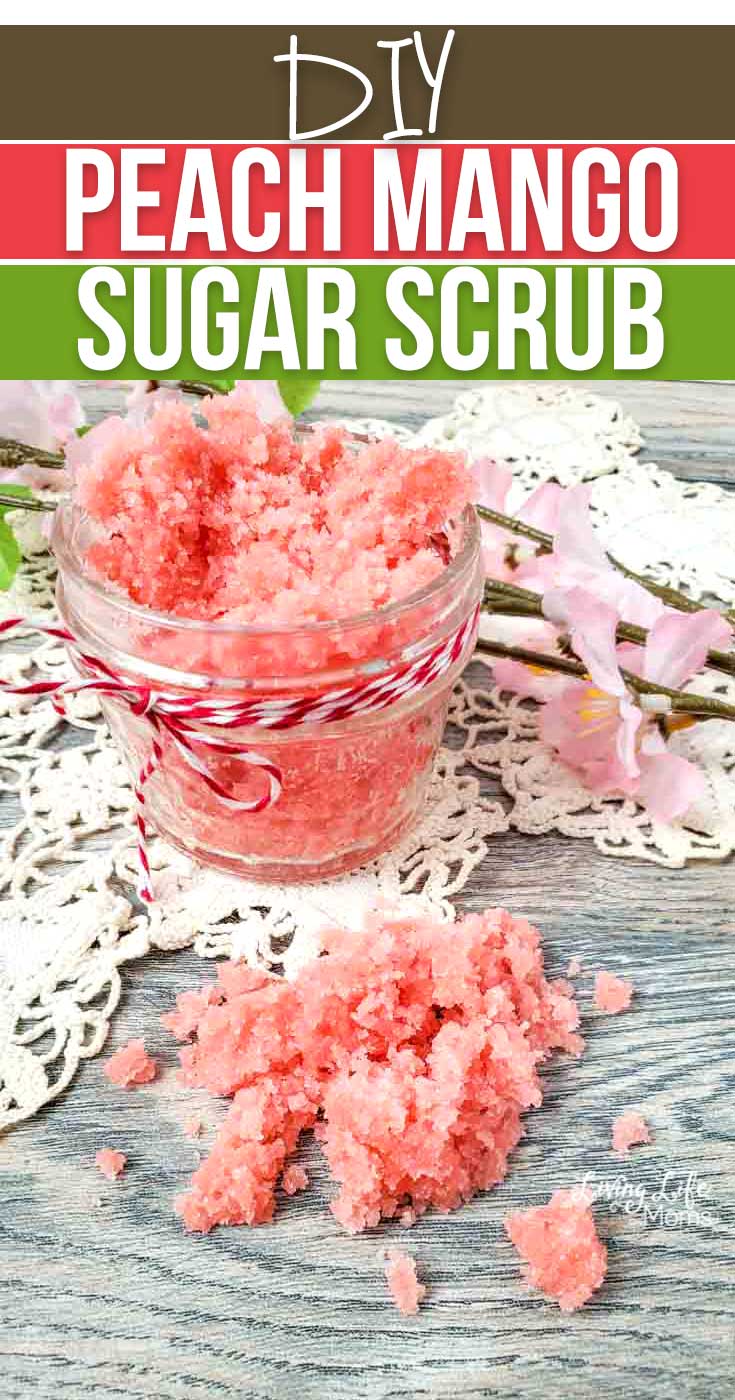 Just wait until you try this easy DIY Peach Mango Sugar Scrub. Not only does it have an amazing smell but it does a wonderful job of scrubbing your body, too. This simple sugar scrub is a great beauty recipe that is safe to make and use at home.
Why spend a ton of money at the store when you can make it for so much less expensive at home? You're going to love how it smells and how it makes your skin feel. The great thing about this sugar scrub recipe is that it doesn't leave your skin feeling oily at all. I'm always impressed when I use it because it's one of the best that I've ever actually tried.
And once you realize that you can easily make your own DIY beauty products at home, there's no stopping you from what you can make. Be certain to check out our Homemade Mint Orange Sugar Scrub Bars as well!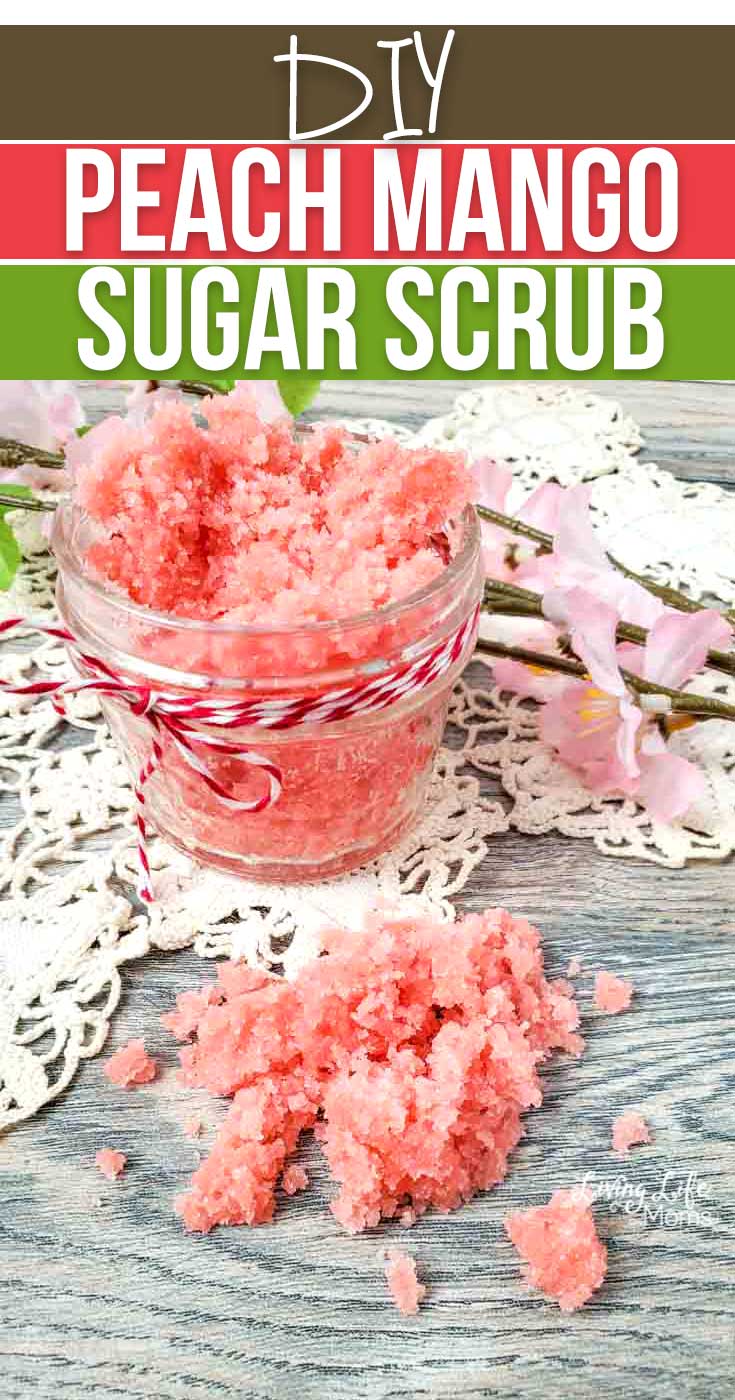 Easy DIY Peach Mango Sugar Scrub
I'm a sucker for simple beauty products. Maybe it's because I like making them and maybe it's because I like saving money by making them…but either way, this one is a great recipe to have.
I think we can also agree that it's really quite beautiful, too. There's just something feminine and delicate about it and that makes me love it even more.
How to store sugar scrub
Once you make this sugar scrub, you need to store it properly so it doesn't dry out. The best way to store it is to use a small mason jar with a lid. But if you don't have that, you can easily use any type of jar as long as you can keep it closed and keep out the air.
One of the best parts of this sugar scrub is the pink coloring. Just look at how bright and welcoming it is in the pictures!
Ingredients needed to make DIY Peach Mango Sugar Scrub
sugar
grapeseed oil
peach mica powder (may also add some orange in if it's too pink for your liking)
The great thing about this sugar scrub recipe is that it's crazy easy to make! You can literally do just 4 simple steps and it's made and ready to go.
Who knew that making your own sugar scrub at home was this simple? I think back to all the time I spent searching at store and all the money that I wasted when I could have been making my own sugar scrub recipes at home.
At lease now I know…and I'm obsessed with this one. I love how it makes my skin feel and smell!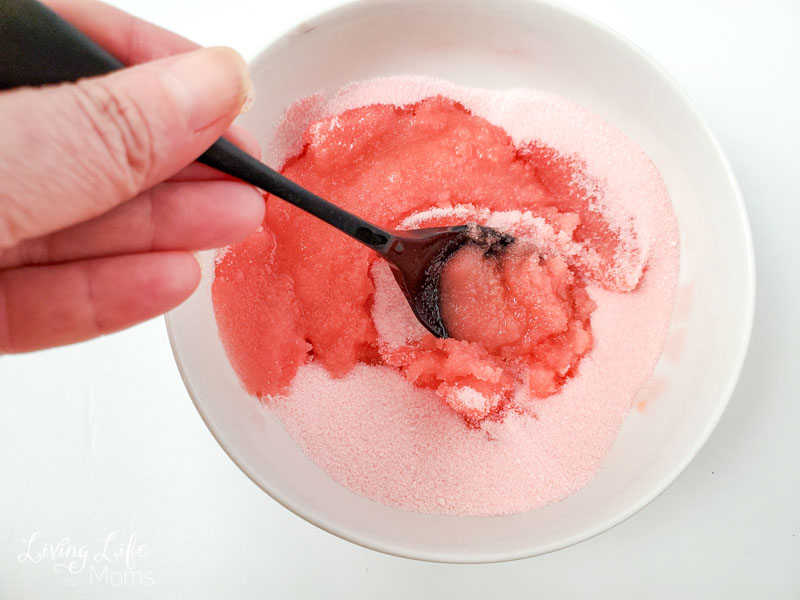 How long will sugar scrub stay fresh?
As long as you store it in an airtight container, it should last for up to 6 months. Again, the key is airtight.
Make certain that you keep it stored at regular room temperature as well.
Fun Ideas for this DIY Sugar Scrub
This sugar scrub is great to keep at home for yourself or a gift to your family and friends. It's also perfect for Valentine's Day or just a spa weekend at home.
And let's be honest, who says that you can't treat yourself to a simple spa night every once in a while? With this awesome scrub, you'll be feeling fresh and new in no time at all!
Have fun making this easy DIY sugar scrub recipe. I can't wait to hear what you think of it!
Easy DIY Peach Mango Sugar Scrub
This simple sugar scrub recipe smells amazing and is so easy to do!
Materials
¼ cup grapeseed oil
¾ cup of sugar
⅛ teaspoon of peach mica powder
30 drops peach-mango fragrance oil
Instructions
Mix the dry ingredients: mica powder and the sugar in a bowl.
Mix wet ingredients together.
Add the liquid ingredients to the dry ingredients and stir well.
More Sugar Scrub Recipes