Felt Pumpkin Hand Puppet Craft
This Felt Pumpkin Hand Puppet Craft is so much fun for the kids! This not only works on their fine motor skills but it helps with their sensory skills as well. It's also a super simple pumpkin activity that they're certain to love.
If you have any felt laying around, they're a wonderful material to craft with, this pumpkin felt craft is a great fall project for your kids to complete. I love working with felt because you can create great projects with bright colors and it's durable.
We typically create and craft all year long and this felt pumpkin craft is one of our favorites to make. Since it's geared towards early learners, the young kids will love joining in on the fun!
All you have to do is gather up the simple supplies needed for this felt pumpkin craft and the kids will be crafting away in no time at all.
Favorite Fall Decor Ideas
Add your favorite fall decor to your home to ring in the autumn season with your family. I love how the cool fall weather brings feelings of warmth, pumpkins and apples.
YGEOMER Fall Pillow Covers 18×18 Inch Set of 4 Fall Decor for Home Autumn Farmhouse Buffalo Plaid Pillow Covers Holiday Rustic Linen Pillow Case for Sofa Couch Thanksgiving Throw Pillow Covers
Severino Thanksgiving Decorations Lighted Fall Garland, Thankgiving Decor for Indoor Outdoor Home, Christmas Decorations Party Thanksgiving Gift Waterproof Maple Leaf String Lights- 8.2 Feet 20 LED
Whaline Happy Fall Pumpkin Burlap Banner Harvest Home Decor Bunting Flag Garland Party Thanksgiving Day Decoration
Farmhouse Wall Decor Signs With 6x Inspirational Sayings – Easy To Hang 11×16" Rustic Wood Picture Frame Incl. 6x Beautiful Designs – The Perfect Fall Decor For Your Home
LOMAO Flannel Blanket with Pompom Fringe Lightweight Cozy Bed Blanket Soft Throw Blanket fit Couch Sofa Suitable for All Season (51×63) (Mustard Yellow)
12 Pcs Artificial Pumpkins Velvet Pumpkins with Assorted Sizes Fall Harvest Halloween Decorations Holiday Table Decor Farmhouse Decorations for Home
Felt Pumpkin Hand Puppet Craft
The fun part about this hand puppet is that once they make it, they'll be able to use their imagination a lot, too. We've put on pumpkin plays, pumpkin activities, told pumpkin jokes, and the list has gone on and on.
In fact, we even played a game where there was no speaking unless someone was wearing the pumpkin puppet! The kids got quite a kick out of it and they had a blast giggling and laughing the day away.
Felt Pumpkin Hand Puppet Craft Supplies
Ready to make this pumpkin puppet yourself? Just gather up the simple supplies listed below!
Life Glow DIY Polyester Soft Felt Fabric Squares Sheets Assorted

CCbetter Mini Hot Melt Glue Gun with 25pcs Glue Sticks

Fiskars 5 Inch Non-stick Titanium Softgrip Detail Scissors

Bememo 200 Pieces Pipe Cleaners Chenille Stems 6 mm x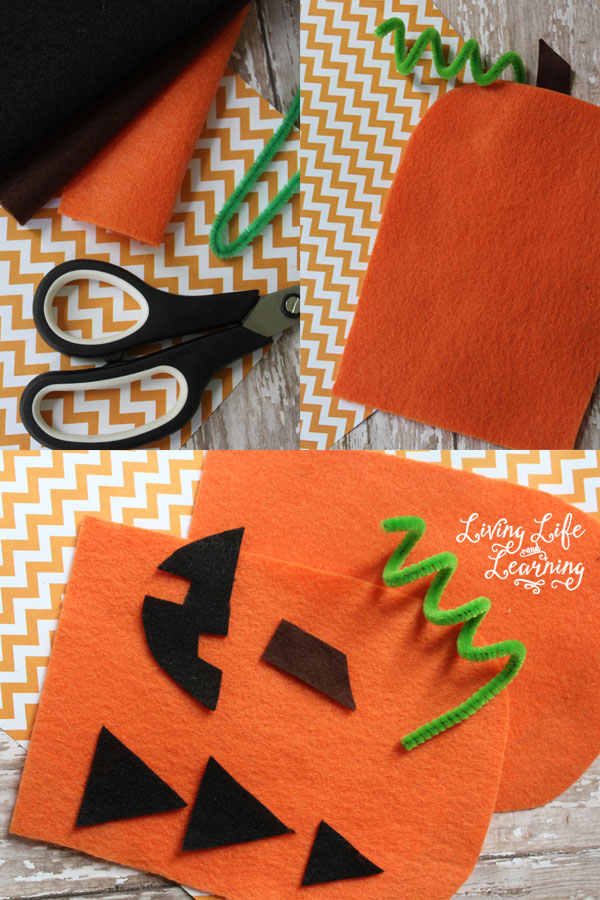 Directions
Begin by cutting out the pumpkin shape. An easy way to do this is place your child's hand down and trace around it but rounding out the curves as you go. Cut out two of these shapes, so you have both the front and the back of your puppet. Set aside.
Create the face of your pumpkin using the black craft felt. Cut out shapes of your choice that will be used to craft the face. We opted for simple triangles and a jagged mouth.
One last detail to cut out is the stem of the pumpkin. A piece of brown felt works perfectly. Just cut in the shape of a small rectangle and angle the top.
Glue the crafting felt to the face of the pumpkin and the stem at the top. You can now line the edge of one cut out with glue (the cut out you haven't used yet) and place the face on top of it. Remember not to put any glue along the bottom of the pumpkin as this is where your hand will go.
Press the two pieces together so they are secure. Add a curled piece of green pipe cleaner to the top of the pumpkin to look like a vine.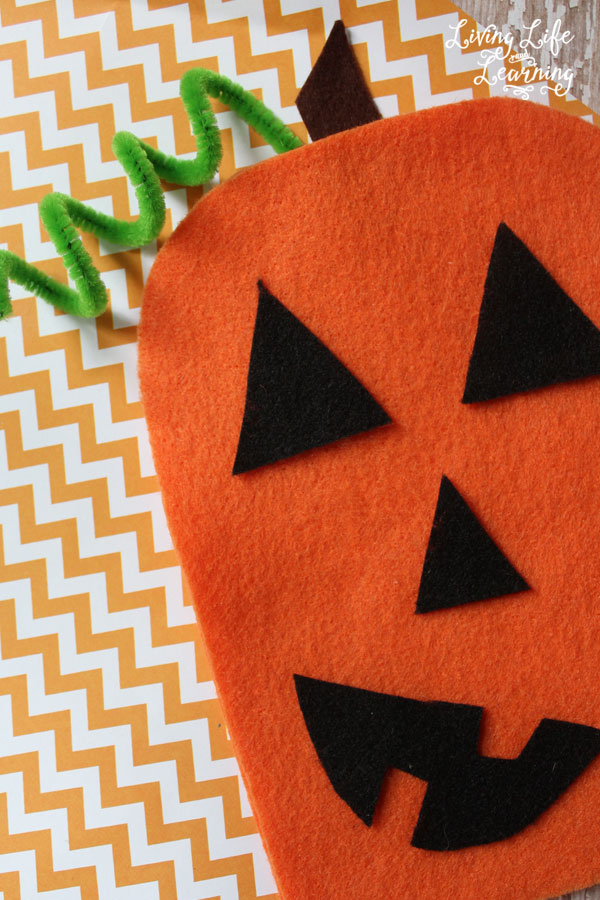 Your pumpkin puppet is now ready to be used. You can create your own face with different shapes if you'd prefer. Instead of a puppet you could just create the one side of the pumpkin and then make different face shapes to keep it as a busy bag for your toddler or preschooler to play with on their own.
See how cute this pumpkin puppet is?! So much fall fun and creativity!
More Fun Pumpkin Activities