Need a fun way to decorate your home this Halloween? This Frankenstein votive holder is such a simple way to add some Halloween flare to your home. This would be a great project for any child and involves relatively no mess unless they start playing with the gravel, which my kids would totally do, no matter their age.
I love easy projects that don't involve a lot, this easy DIY project is so cute and will have you laughing at how easy it is to create something so adorable out of these materials. The best part is that you can use a battery operated light so you don't have to worry about candles and their dangers.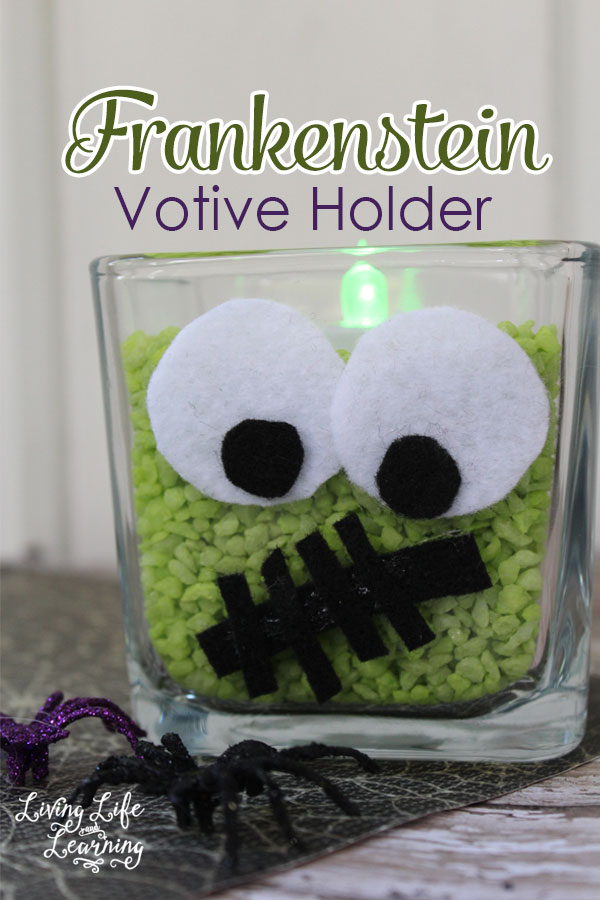 Frankenstein Votive Candle Holder Supplies
Directions
Begin by crafting the face of your monster. We cut out two large white circles and filled them in with two small black circles for pupils. Just a dab of glue with attach the two pieces of felt, and a generous dab of glue on the back will adhere it to the front of the holder.
Create the stitches by cutting out a black strip of crafting felt. Then, cut out a few small black strips to help complete the stitches. Add the main strip to the front of the holder, and layer the smaller strips on top the main strip.
You can now fill the holder up with the green gravel. Go ahead and fill it to the top.
Nestle the battery operated votive holder inside of the holder.
Grab some plastic spiders and webs and you've got a pretty nifty Halloween set up for your kids. Once you've finished, you turn it on at nights whenever you'd like to emulate the spooky feel of Halloween in your home.
The Berenstain Bears Trick or Treat (First Time Books)
One, Two…Boo!
Little Blue Truck's Halloween
Room on the Broom
&
Felt Pumpkin Hand Puppet Craft
Get Weekly Updates
Taming the chaos of motherhood -
Subscribe and get a daily schedule printable