Frankenstein Votive Holder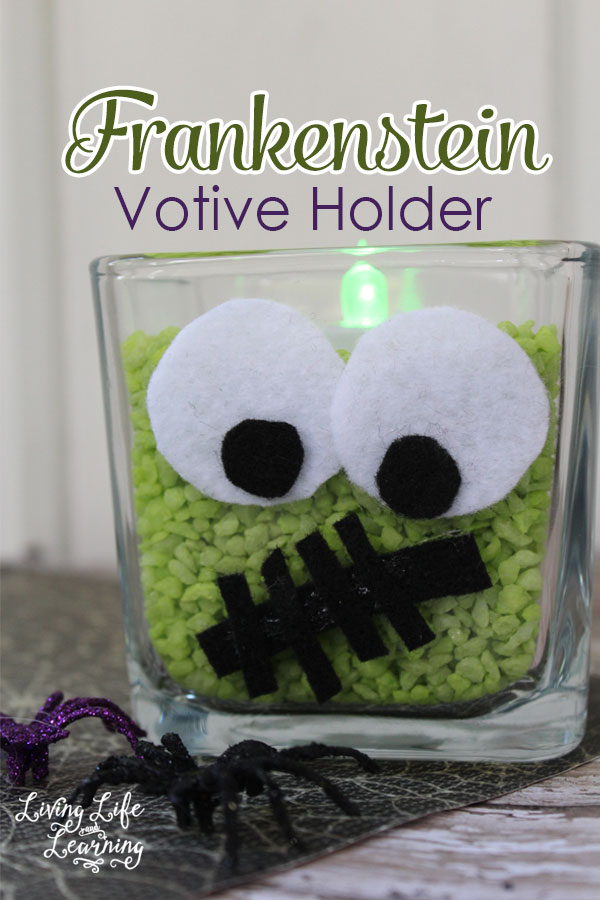 Need a fun way to decorate your home this Halloween? This Frankenstein votive holder is such a simple way to add some Halloween flair to your home. This would be a great project for any child and involves relatively no mess unless they start playing with the gravel, which my kids would totally do, no matter their age.
I love easy projects that don't involve a lot, this easy DIY project is so cute and will have you laughing at how easy it is to create something so adorable out of these materials. The best part is that you can use a battery-operated light so you don't have to worry about candles and their dangers.
Since we don't really do spooky Halloween at our house, we try to find activities that are fun and have a hint of Halloween but aren't scary at all. These type of crafts means that we can enjoy doing them together without the worry of bad dreams later!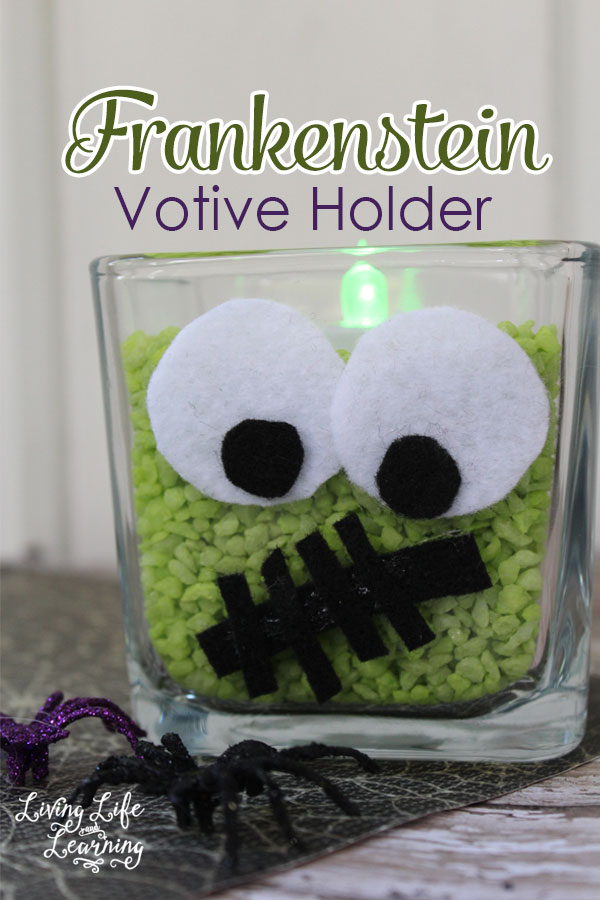 Frankenstein Votive Holder
Since this is such an easy craft to do for Halloween, it's really one of our favorites to have fun with. The kids love it and I love that it's an easy way to get some fun DIY Halloween decorations all around the house!
Plus, anytime we can craft together and have fun, I'm all for it to happen. Sitting together at the table and working on this fun Halloween craft is a really simple and easy activity for Halloween.
These look great on the table, on a shelf, or even sitting out on your front porch for Halloween night. You can literally add a fun festive Halloween twist any way you want with this fun craft!
Frankenstein Votive Candle Holder Supplies
All you need are the simple supplies listed below to get started. You'll be crafting and having fun in no time at all.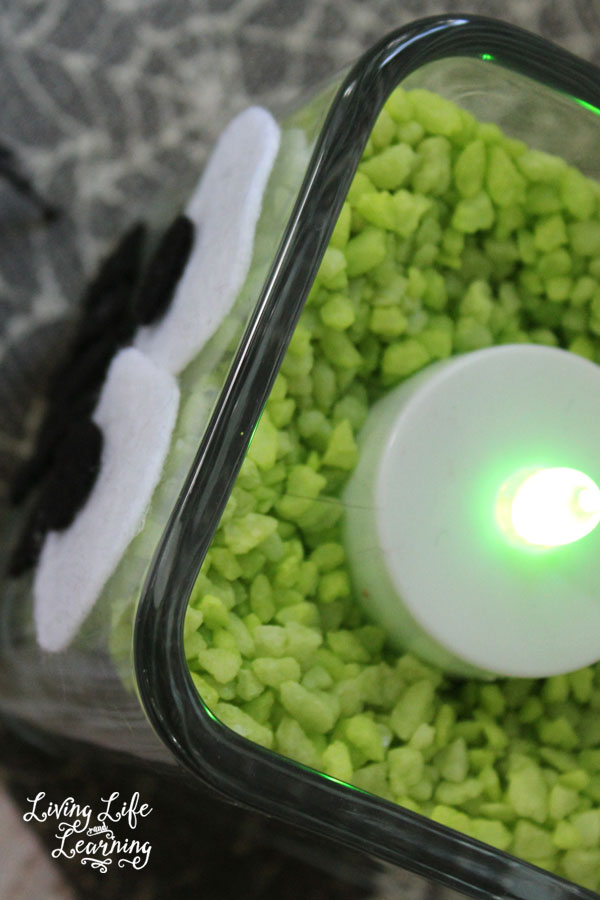 Directions
Begin by crafting the face of your monster. We cut out two large white circles and filled them in with two small black circles for pupils. Just a dab of glue with attach the two pieces of felt, and a generous dab of glue on the back will adhere it to the front of the holder.
Create the stitches by cutting out a black strip of crafting felt. Then, cut out a few small black strips to help complete the stitches. Add the main strip to the front of the holder, and layer the smaller strips on top the main strip.
You can now fill the holder up with the green gravel. Go ahead and fill it to the top.
Nestle the battery operated votive holder inside of the holder.
Grab some plastic spiders and webs and you've got a pretty nifty Halloween set up for your kids. Once you've finished, you turn it on at nights whenever you'd like to emulate the spooky feel of Halloween in your home.
Fun Halloween Decor Ideas
Looking for more fun Halloween decor ideas? You can't go wrong with any of these other candles to give your home that spooky vibe at night.
Eldnacele Halloween Flameless Flickering LED Candles with 6-Hour Timer, Battery Operated Wax Candles Assorted Decals Witch, Bats, Castle Set of 3 for Decoration
Halloween, Fall Themed Party Candles Fragrances – 3 Oz Each (Pack of 4 Jars – Spider Cider, Witch's Brew, Pumpkin Carving, Frankenberry)
Battery Operated Timer Candles, PChero 12 Packs LED Flameless Votive Tea Lights Candles for Halloween Wedding Party Outdoor Indoor Home Decorations, 6 Hours On and 18 Hours Off Per Cycle – Warm White
Prextex Huge 4 Ft. Black Hairy Spider / Tarantula with LED Eyes for Halloween Haunt Décor Best Halloween Decoration
PSDWETS Fall Decor Throw Pillow Covers Set of 4 with Halloween Decorations Quotes Cotton Linen Home Pillow Covers 18 x 18 Inches for Rustic Modern Farmhouse
Beeager 5 Pack Halloween Spider Decorations Sets -Halloween Fireplace Mantel Scarf & Round Table Cover & Lace Table Runner & Cobweb Lampshade & 60 pcs Scary 3D Bat for Halloween Party Decors
More Halloween Posts