How to Organize Your Child's Play Space
This is a sponsored conversation written by me on behalf of Newell Rubbermaid®. The opinions and texts are all mine.
We're getting ready for back to school and I've started ordering my curriculum for the new school year. But the first thing I had to do was sort through the mess that was created from the end of the previous school year.
I had loose paper falling off of my shelves and the children's play area was a huge mess since things were not put back properly in their place. I partnered with DYMO® to create some tips for using a new product. I wanted to share with you how we used it in our home.
The DYMO® LabelWriter™ 450 bundle and DYMO® LabelManager™ 160P label maker are wonderful products that can help get your home organized. We purchased our DYMO® LabelManager™ 160P label maker at Staples Canada.
We brought it home and got to work right away, my shelves were in bad need of help and organizing, so I took everything off of the shelves and wiped them all down.
Miscellaneous toys were on every shelf and things had started falling behind the shelves so they had to be retrieved. Not to mention all the vacuuming that had to be done behind there as well.
This is the best time to declutter and I had the kids help by going through their toys. Anything that was broken or had missing parts were thrown out, anything that was not played within a while was donated and anything that they still wanted but hadn't played with recently was moved to the basement. We have more room down there to store toys and we just rotate them into the living room.
We purchased large plastic bins that would fit my cube shelves, and they decided what toys would go into each bin. This helped them start to categorize and sort through their toys.
The DYMO® LabelManager™ 160P label maker was very easy to put together. My son was the one who opened it, placed the tape inside, and got it going. I do suggest ripping off the first part of the tape, it was sticky and caused a label jam on our first label. After that was taken care of it worked, wonderfully.
My son worked on his spelling, and we labeled all of the bins with blocks, math blocks, science material and dolls. Anything that was in a bin was labeled. My son typed it and pressed the print button, then my daughter pressed the cut button and passed me the label, to take the backing off, then she placed it on the bin.
It was really easy to get it set up and going. You can change the font, font-size, and direction. You can easily format the text with bold, italics and underline and you can even add symbols and clip art.
Once we were done, the whole room looked lighter and refreshing. It's amazing how you can really lift a room up by getting it organized. I was happy with how it turned out. It was an organizing task that I meant to tackle ages ago but was too overwhelmed with the job.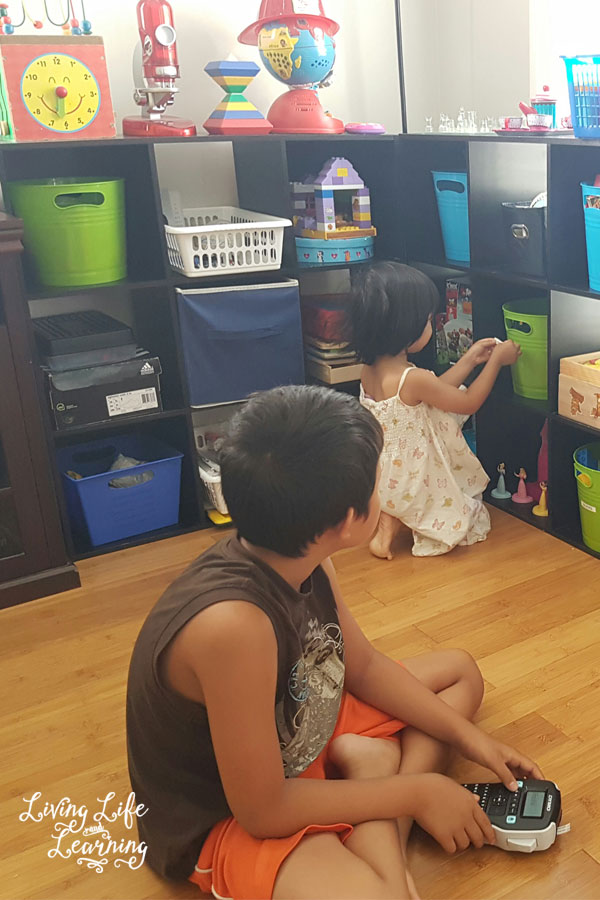 The label maker got the kids excited about cleaning up because they wanted to know what it did and couldn't wait to use it. Now they just want to spell funny words and label each other. At least they're getting great use out of it as well.
Head on over to Staples.ca, to grab your own DYMO® LabelManager™ 160P label maker and get yourself organized, it was such a blessing after our project was done. Now I need to work on my kitchen.
And for even more labeling fun, try the DYMO® LabelWriter™ 450 bundle! The DYMO® LabelWriter™ 450 bundle not only prints up to 71 four-line address labels per minute, but prints postage too – all at a competitive price. Customize and print address, shipping, file folder and barcode labels, plus name badges and more straight from your PC or Mac.