30+ Fun & Useful Planner Hacks You Need To Try Today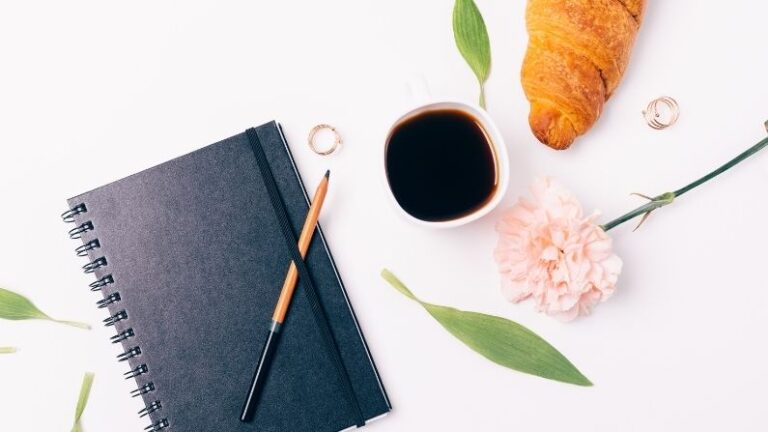 Planners are truly time-saving productivity tools, if you use them properly.
But the truth is, there are as many different ways to use a planner, as there are people who use them! It's a highly personal choice.
That can also mean that having a planner can be a bit overwhelming, or that we can start with high hopes that our planner or journal will "save our lives," only to be bored with it a few weeks or months into the year.
In this guide, I'm sharing 31 fun and useful planner hacks, so the next time you're feeling uninspired or bored with your planner, or feel like it's not working for you, you can choose a few items from this list to get your creative juices flowing, and fall back in love with your planner.
30+ Planner Hacks You'll Love to Use:
1. If the planner comes with labels or stickers, use them for things besides your planner! How about:
Labeling your kids' items
Reward chart stickers
They also make BEAUTIFUL Gift labels
Decorating handmade cards, etc.
2. Make a Symbol Chart for easy reference.  This is especially helpful if your planner is on the small side, and there isn't much room to write.  For example:
$ for "payday,"
P for menstrual cycle tracking,
% for "No Spend Day,"
WM for Work Meeting, etc.
3. Motivation hack: Instead of writing "workout" on the days you are going to work out, try writing in, "________ workout ____ mins." That way, you get to go back to your planner to write in your progress.  
It's great for holding yourself accountable, and giving priority to your healthy choices.
4. Change your "Contacts" page into a "Date Night Ideas" page, listing the name and phone number of the places you want to hit up for date night.  Your contacts are in your phone, anyway.
5. Stick a picture of your kids, partner, dog, favorite plant, or favorite travel destination on the inside cover, for fun.
Not everybody knows this, but you can order planner-size photo stickers from the Erin Condren website.  They are amazing!
The site lets you upload images from your computer or social media accounts, to turn into stickers. They can be all the same image, or all different images, totally up to you.
There are two options for the stickers, both at only $5.50 per sheet: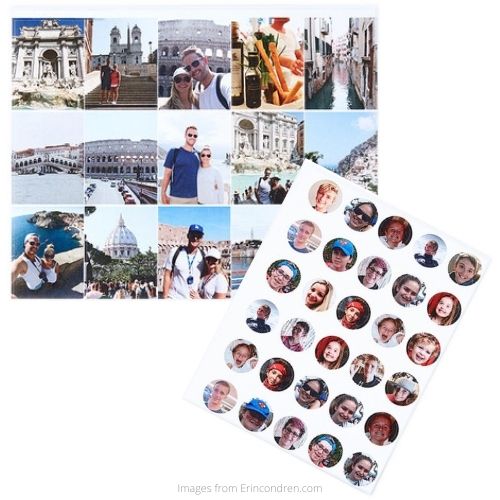 6. If you use a sticker and then hate it and pull it off, and the spot underneath ripped or pulled, use whiteout to smooth the paper again.  It's not perfect, but it isn't ripped anymore!
7. Make your own personalized planner cover for your coiled planner, with a laminator and small hole puncher.  Some planners come with free personalization, but most budget-friendly planners do not.
Small laminators are cheap at Walmart, or if you have a teacher supply store nearby, you can get your paper laminated there.
8. If you have a page in your planner with information on it that you are constantly turning to for reference, consider taping it to the inside back cover of your planner, so you can flip it open whenever you need it, instead of constantly turning to the page.  This is a perfect spot for your Planner Symbol Chart, class schedule or work schedule.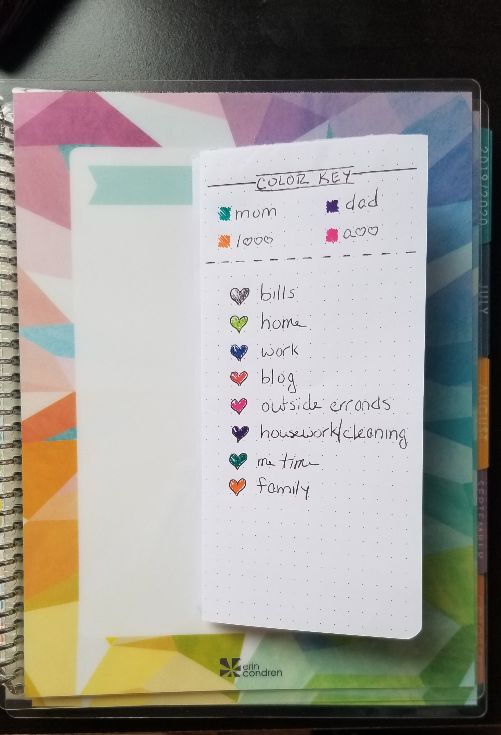 9. Cover up sections you don't need with washi tape or stickers.  If you don't use the weekly layout, cover the date numbers with a sticker and use the space to track your positive habits instead!
Check out this post with my epic planner hack for weekly layouts to show you how it's done.
10. Any awesome unused space labeled "Birthdays," or "Morning"?  Hate the hourly time slots?  Drop a sticker right over the words and write your own!
*Washi tape is very hard to write on because most of the time it is glossy.
11. If you are writing on a sticker that is glossy, use a marker instead of a pen.  Pens tend to skip if the thing you are writing on is thick & soft, like a sticker.
12. For vertical planners without hourly layouts, instead of the same old Morning, Afternoon & Night, use the sections for life categories:
Work, Kids, Home
Today's Top 3 Priorities
Chores, Work, Side Hustle
13. Use long, vertical or horizontal stickie notes like these to keep lists on your blank "Notes" pages. Now your notes pages are reusable! You can keep lists of:
Goals
Meal Planning Menus
Gift Ideas
Habit Trackers:

Books read
Vegetables eaten
Times you practiced a new skill (it's important for the brain!)
14. Use a blank "Notes" page to keep a home maintenance checklist, to check off each month you, say, disinfected the washing machine.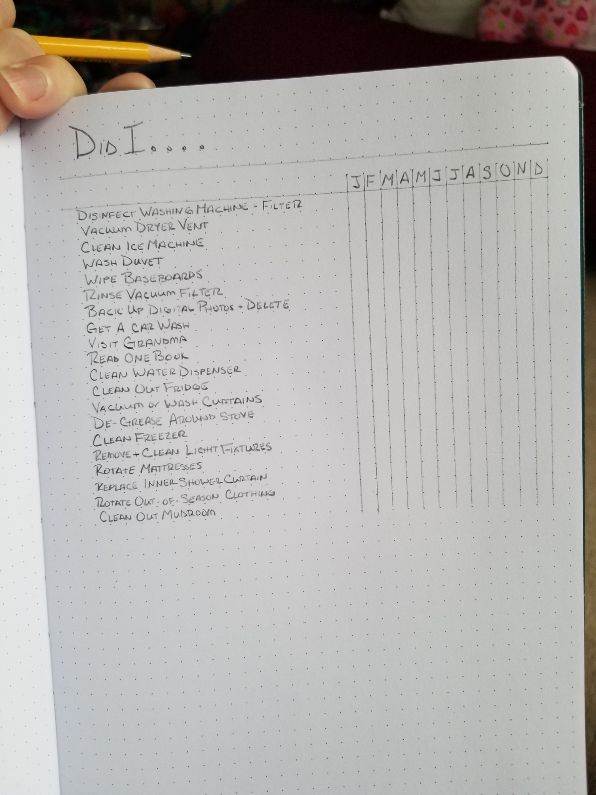 15. Dutch Doors Planner Hack.  This one is for the bullet journal/notebook planner babes out there.  You basically cut sections of paper so that you can flip through those sections during the week, while also keeping the "weekly spread" static.
It's easier than it sounds, and here's an amazing tutorial from Alexandra Plans showing you how it's done:
16. You can add pages to a coiled planner.  Most planner companies have their own (usually NOT cheap) custom hole puncher for sale.
If they don't, all you need is a small hole puncher from a craft supply store and some thick stock paper, or really any paper you wish!  
After punching the holes out, make a cut from the paper's edge to each hole, so you can "snap" the page onto the coils.
17. Add pages to a hardbound planner – with washi tape.  You can add to the dead center of the planner, or just after the front or back inside cover.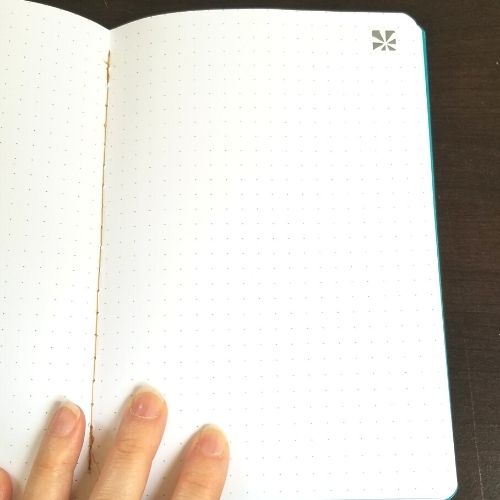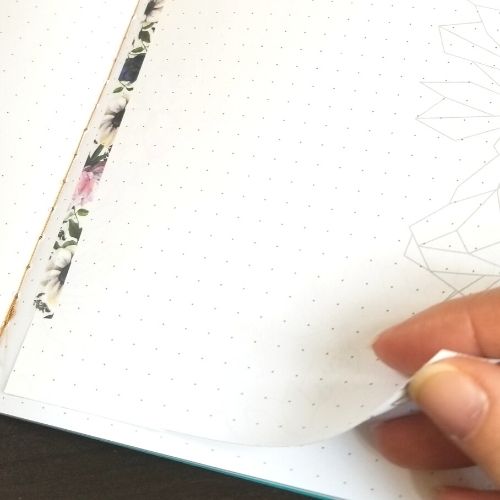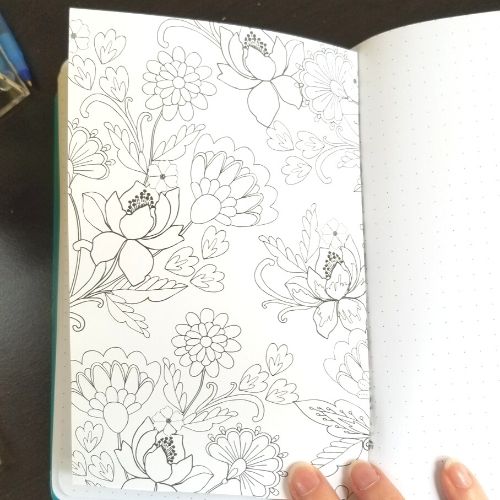 18. Use a 2-page blank "Notes" page spread as a mini vision board.  Use drawings, quotes and magazine clippings to represent your goals and dreams.
19. If you have a vertical weekly spread without an hourly layout, make your own!  You can:
use a thin line of washi tape
print out the numbers onto sticky label paper
Buy printable stickers for your planner (Etsy has TONS of options!)
20. Use your Month calendar spread to write in one great thing that happened each day. Easy, simple gratitude journal.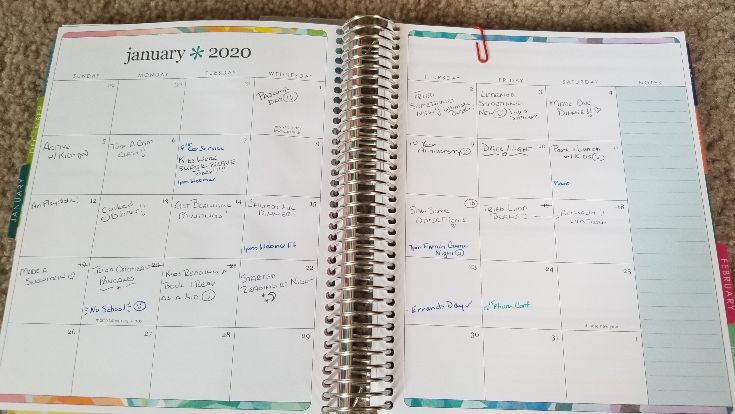 21. If you have kids, use the lined space on your Month page to jot down their growth stats or any milestones that are important to you, it's fun to look through at the end of the year.
22. Take some time to think about what your month's focus is, and find a short quote or prayer relating to it.  Write it into the side of the Month spread, where it will be a helpful reminder.
23. Color code your pages with washi tape.  This way, you can flip through the Notes pages easily to find specific lists.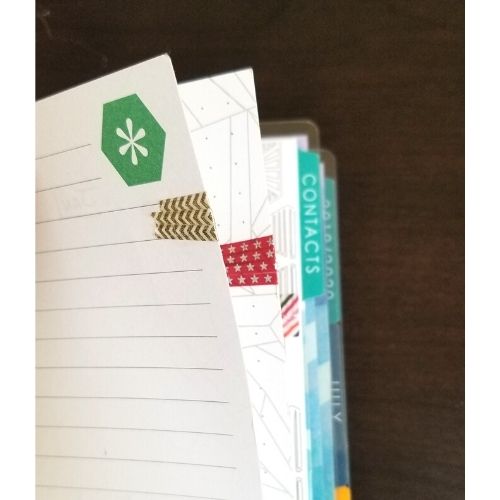 24. Color code your task entries by life category: Work, Home, Self-Care, etc.  You'll easily be able to see what areas of your life are taking up a lot, or not enough, of your time.
Here are some tips for color-coding your tasks & making it much easier to use your planner:
25. Time blocking!  Use color coding in your weekly or daily spreads to block out your work time, home time, eating times, learning times, etc. with highlighters, or good old-fashioned crayons.
If you want to try time blocking (it's life-changing!), here's my post to get you started today.
26. Use erasable pens!  I have Frixion pens, available on Amazon or really any office supplies store.  They're erasable and don't bleed through the pages.
27. Make your planner "travel-friendly."  The best purchase I made was my Erin Condren Planner Folio. It holds the planner snugly, plus has two pen holders and three pockets (small, medium and large) to hold papers, stickers, note pads, or whatever you want to bring with you.
28. Do you use an elastic band to keep your planner closed?  Sometimes the band will bend the planner cover, and also, they're expensive!  Use a thin cloth headband instead.
29. If you want to try doodling, drawing or watercolor themes in your planner, but you're nervous about messing up, draw it on a separate piece of paper, then cut & paste it into your planner.  It gives the page texture & dimension.  
Consider drawing a little "frame" around the picture to keep it neat.
30. Still too scared to draw your own designs? Try transfer paper, you can pick it up at any art supply or craft store.  You can trace any design and it transfers onto your planner page!
31. Did you make a mistake? Instead of covering the whole space with white out, try a white pen! Gel pens work best covering mistakes.
And here's the absolute best hack there is: make time for your planner. Even if it's just a few minutes each evening to jot down your top 3 priorities of the next day. Your planner and you need to work together.
I hope some of the hacks in this guide help you on your way to a happy year
with your beautiful planner!
XO,
Mina
P.S.: Here are some more guides that you will definitely find useful!