Red White and Blue Sprinkle Cupcakes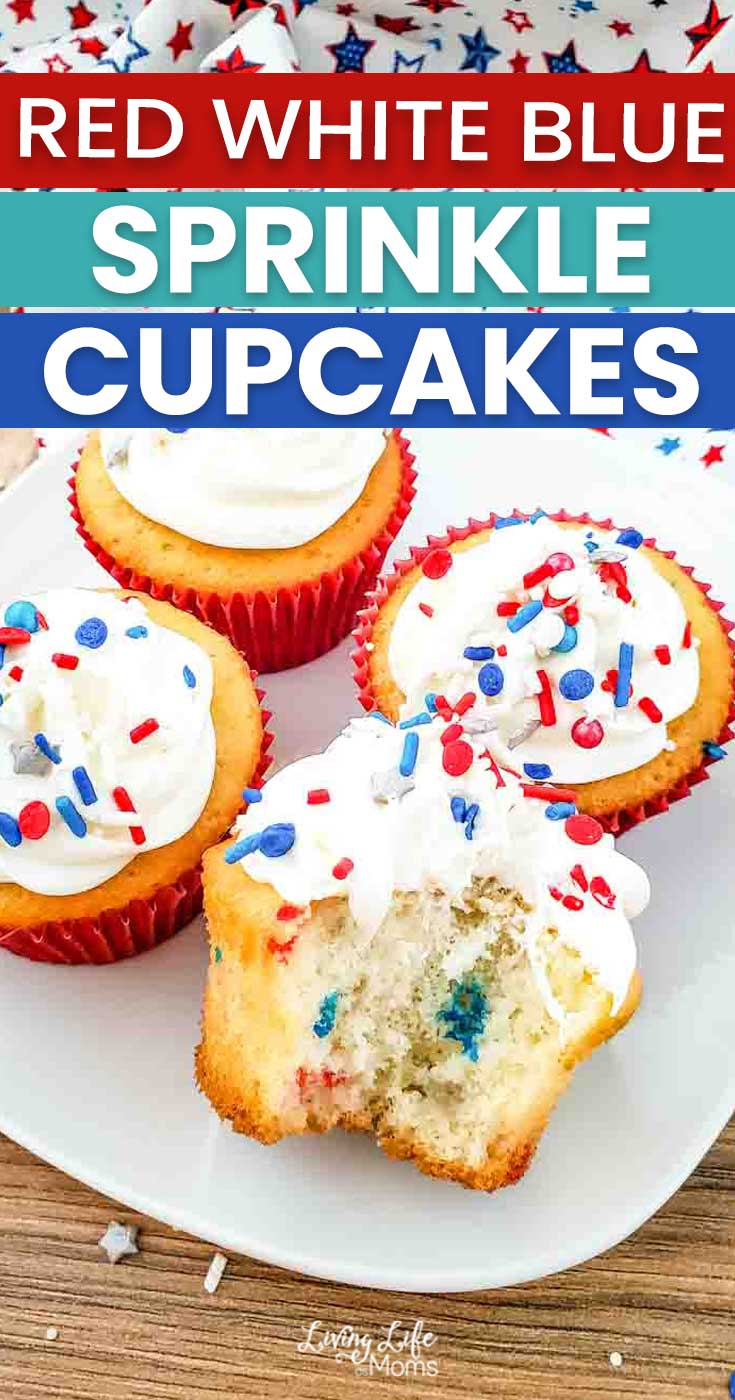 The kids are going to love these Red White and Blue Sprinkle Cupcakes. They're a fast and easy way to make a delicious patriotic treat. If you're looking for a simple and easy treat, you're not going to want to miss these cupcakes.
We love desserts. And when I can make it from a boxed cake mix, I know that it's going to save me so much time while giving me that flavor and taste that we love. We're big fans of cupcakes and we always have a blast making them throughout the months of the year.
They really are the perfect handheld treat that is all about portion control, too. Making cupcakes are great for desserts and fun for the 4th of July.
Be certain to check out our Cream Soda Cupcakes as well! They're super sweet and yummy.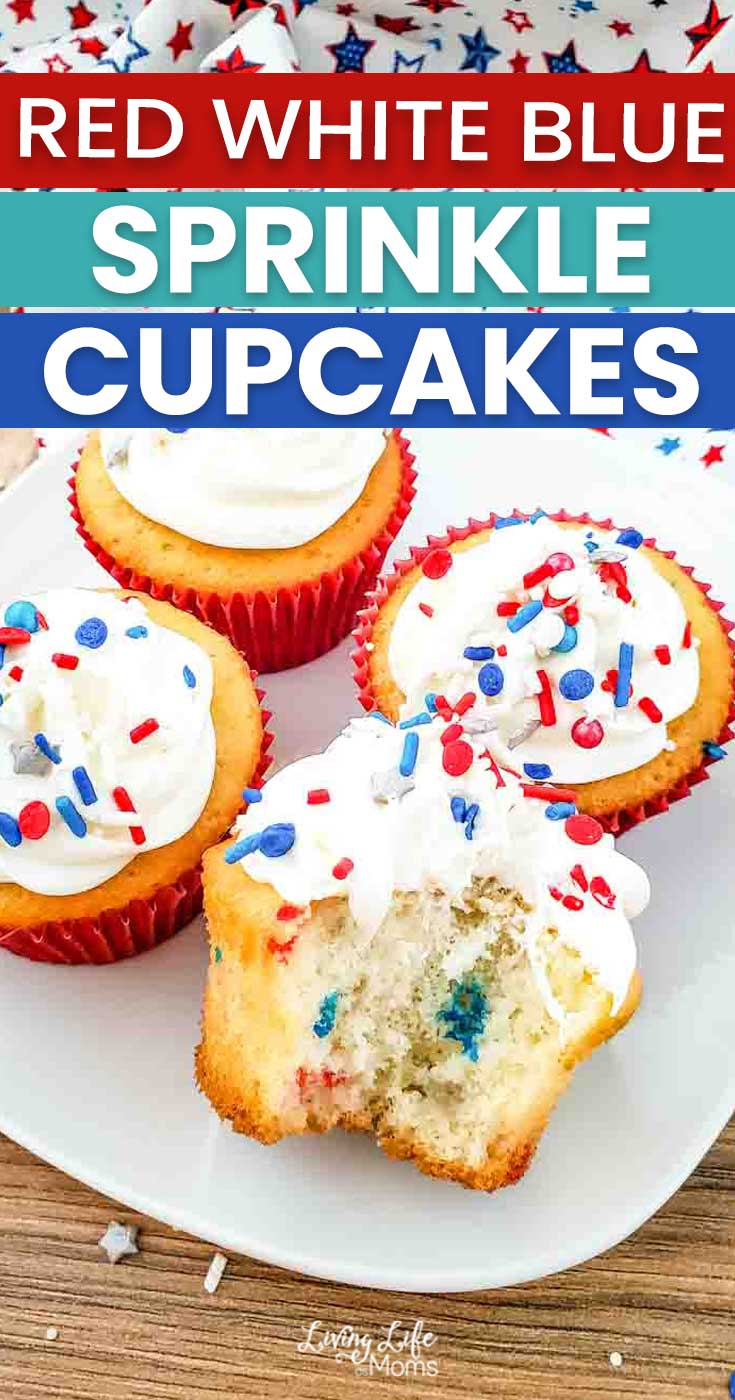 Red White and Blue Sprinkle Cupcakes
Making these cupcakes has been a fun tradition in our house. The kids love to jump in and help and I"m always looking for more help in the kitchen. Because we all know that when you help cooking, you get to help to eat, too.
The cupcakes are a simple way to bond over something sweet. Each kid has a different job in the kitchen and they do it quite well. One can stir, one can pour, and I can watch them build their confidence to cook more in the kitchen.
If you're ready to make these tasty cupcakes, you're in luck! They're really simple to do and are quite fun to make as well. Just gather up the list of ingredients needed to get started and you'll be well on your way.
Ingredients needed to make Red White and Blue Sprinkle Cupcakes
Before you get started, make certain that you have all the ingredients listed below.
Duncan Hines Classic White Cake Mix
1 cup water
3 large eggs
⅓ cup vegetable oil
8 oz whipped topping
16 oz vanilla frosting
½ cup red, white, and blue sprinkles; divided
Cupcake liners
Wilton 1M frosting tip
Piping bag or ziplock bag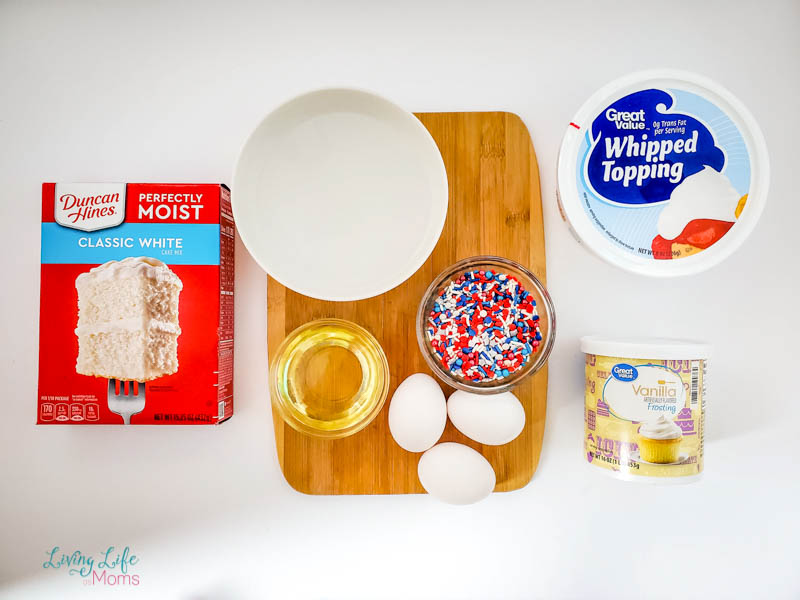 Once you make up the cupcake batter, it's time to add in the sprinkles! Can you have too many sprinkles? I don't know. We try and follow the recipe but I'm certain we always add in more! We haven't had an issue yet but if we ever do I'll come back and report it!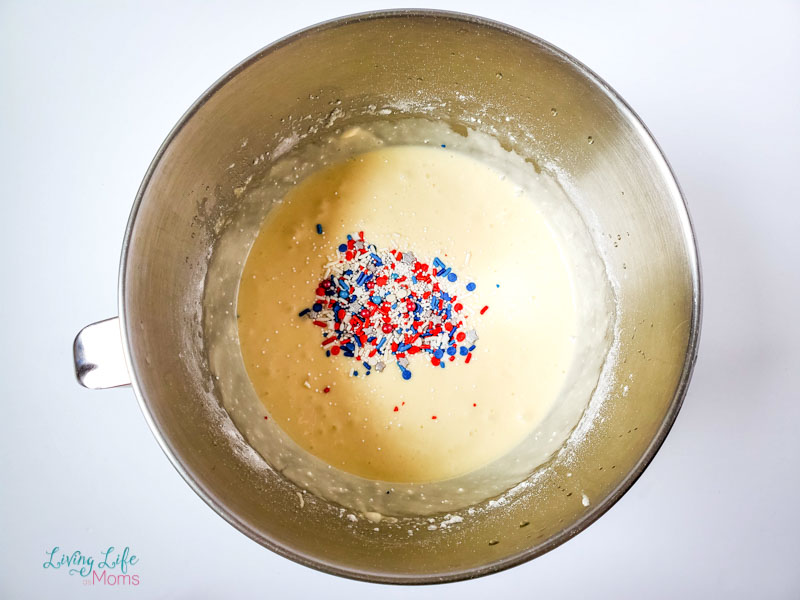 Pouring the cupcake batter into the pans takes a steady hand. Make certain that you don't fill them completely full because they might raise quite a bit and spew over the top.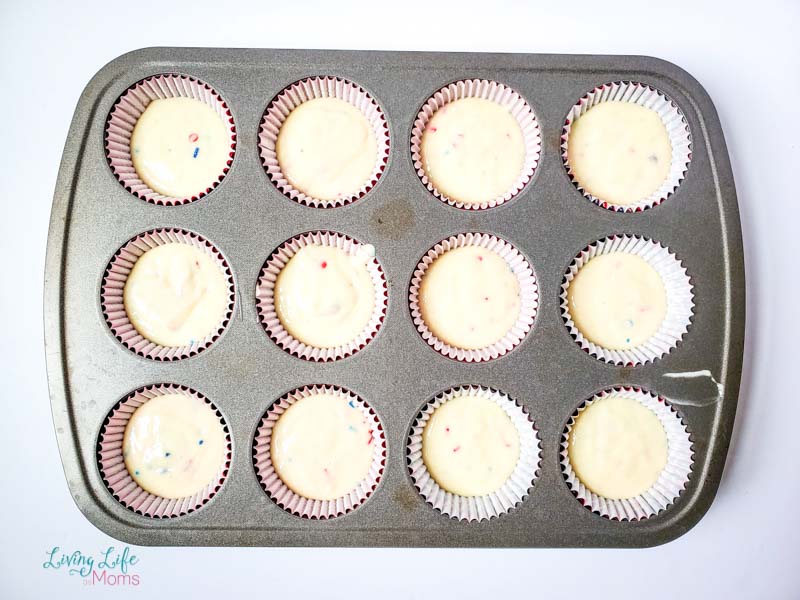 My kids have a trick for that if that happens. If the cupcakes are "too rounded", they just cut off the excess with a butter knife and eat it. I think that they are just sneaking in a bit earlier but it makes them happy.
Make certain that you let the cupcakes cool completely before adding on the frosting. If you rush it, there's a very high probability that the icing is going to melt off the top.
If that happens, it's fine but it's going to make a mess. You'll also waste a ton of frosting this way, too. If you can wait until they've cooled, it will save you a ton of time from having to redo it later.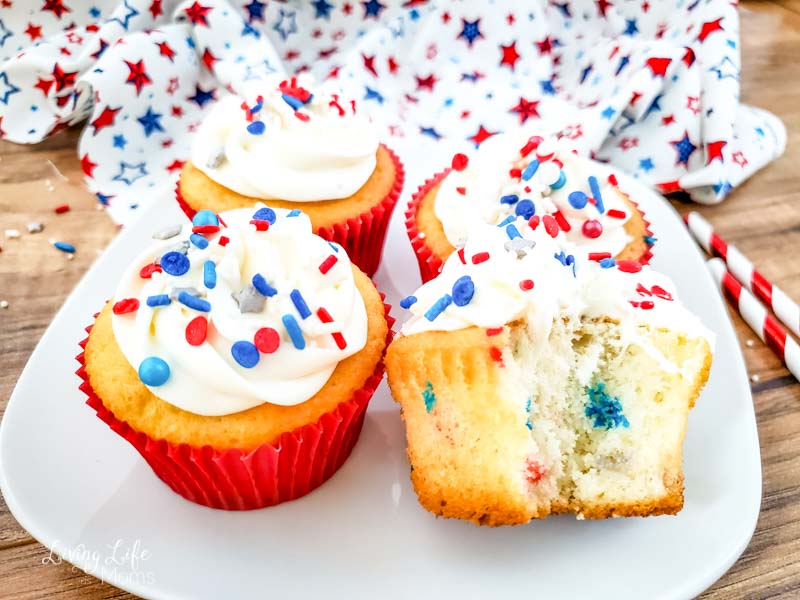 Since this recipe makes 24 cupcakes, it's a great treat to share with everyone this 4th of July! Have so much fun baking up these tasty treats. They're so fast and taste great.
Red White and Blue Sprinkle Cupcakes
This simple cupcake recipe is loaded with flavor!
Ingredients
Duncan Hines Classic White Cake Mix
1 cup water
3 eggs
⅓ cup of vegetable oil
8 ounces of whipped topping
16 ounces of vanilla frosting
½ cup red, white, and blue sprinkles
Instructions
Start by preheating the oven to 350 degrees.
Put the cupcake liners into the pan.
Mix the cake mix, water, eggs, and vegetable oil to a bowl mix for 30 seconds on low and then 2 minutes of medium speed.
Put in 1/4 cup of sprinkles and mix on low.
Pour batter into cupcake liners.
Pop in the oven and bake for 15-20 minutes.
Let cupcakes cool on a wire rack.
Combine the frosting and the whipped topping to a bowl and mix on medium speed for 45 seconds.
Snip off the end of a bag and put in a frosting tip. Add the frosting and pipe onto the cupcskes.
More Dessert Recipes