These Red, White and Blue Sprinkle Cookies are simple and easy to make. Plus, the combination of sprinkles makes them certain to be festive and fun as well!
We love a good cookie in our house. And sometimes, we like cookies that are just simple and delicious. You know what I mean, right? The kind of cookies that don't need added chocolate or anything like that…just easy ingredients with a few added sprinkles on top. (or in this case, a lot!)
These Sprinkle cookies are ones that the entire family can jump in and make together! Mixing up the ingredients is fun but when it comes time to add on the sprinkles, you're certain to have plenty of helping hands!
Celebrate the upcoming summer months with these red white blue cookies! They're certain to be a festive and tasty treat!
Red, White and Blue Sprinkle Cookies
When it comes down to finding the time to bake, it can honestly be a struggle some days. This is probably one of the best parts about making this delicious dessert. If you have just a few moments to spare, you and your family will be chowing down on homemade sprinkle cookies in no time at all.
As you can see, there are not a ton of ingredients needed for this cookie recipe!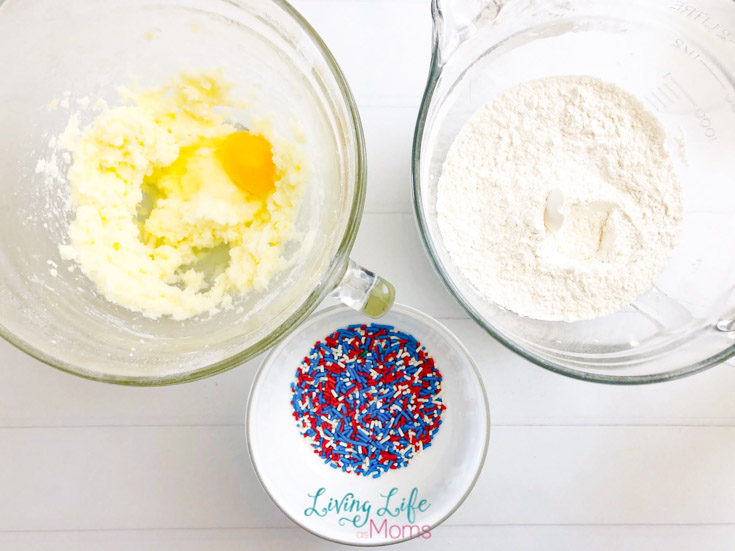 And once you have it all mixed together perfectly, you just need to shape them into bite-sized balls for the oven. Seriously. Does it get any more simple than that?
Mom tip from me to you? Dont' get fixated on trying to make them all the perfect size. They're going to get gobbled up the moment that you take them out of the oven anyway!
If you want to change how they look and make them a bit flatter once they've come out of the oven, that's entirely up to you. Some people prefer to leave them in a ball shape, while others take a fork and press down on them, making them a bit flatter.
You can do both if you want! But one thing is for certain…the taste out these cookies is out of this world!
I told you that this recipe was crazy simple, right? Now that you can see that, it's time for you to prepare and make them for yourself and your family!
CK Products Cake Decorating Bottle Jimmies, 3.2 oz, Red

CK Products Cake Decorating Bottle Jimmies, 3.2 oz, White

CK Products 3.2 oz Bottle Jimmies, Blue

Star Sprinkles – Red, White, & Blue

Red, White and Blue Sprinkle Cookies
Ingredients
1 1/2

Cups all purpose flour

1 1/2

Teaspoons baking powder

1/4

Teaspoon salt

3/4

Cup granulated sugar

1/2

Cup butter, softened

1

Egg

1 1/2

Teaspoons lemon extract

4th of July sprinkles
Instructions
Start by preheating the oven to 350 degrees. Take and line a baking sheet with parchment paper.

In a large mixing bowl, you are going to begin by combining your sugar and butter. Make certain that you mix well.

Add in and mix one egg and the lemon extract also.

In a separate bowl, combine the dry ingredients of flour, baking powder and salt. Once added, mix.

Slowly start to mix in the dry ingredients with the wet ingredients.

Once done, you're going to start to form the dough into small balls and roll in a bowl of sprinkles. Cover them with sprinkles!

After that, go ahead and place the cookies onto the lined baking sheet. Place in the oven and bake for 8-10 minutes.

Let cool on a wire rack and have fun eating them!
See how simple and delicious they are? This family-friendly cookie recipe is about to become one of your family favorites for sure!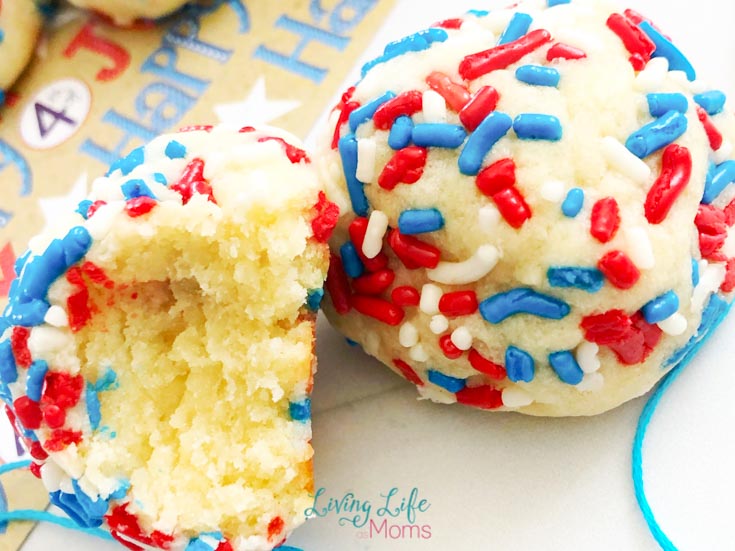 More Cookie Recipes You Might Enjoy
Get Weekly Updates
Taming the chaos of motherhood -
Subscribe and get a daily schedule printable