Red White Blue Sprinkle Cookies
These Red, White Blue Sprinkle Cookies are simple and easy to make. Plus, the combination of sprinkles makes them certain to be festive and fun as well! If you're looking for a fun patriotic treat, this is the recipe for you.
We love a good cookie in our house. And sometimes, we like cookies that are just simple and delicious. You know what I mean, right? The kind of cookies that don't need added chocolate or anything like that…just easy ingredients with a few added sprinkles on top. (or in this case, a lot!)
These Sprinkle cookies are ones that the entire family can jump in and make together! Mixing up the ingredients is fun but when it comes time to add on the sprinkles, you're certain to have plenty of helping hands!
I've made these so many times and I never hear a peep out of anyone's mouths that they don't like them. This might be because their mouths are full of cookies!
Celebrate the upcoming summer months with these red white blue cookies! They're certain to be a festive and tasty treat! You can easily make them and leave them out since you don't have to worry about anything on them melting in the heat!
Be certain to check out our Patriotic Pretzel Sticks as well. The more patriotic treats that you can have, the better. Because with all the fun 4th of July activities that you're going to be doing, everyone is certain to get hungry and want a snack!
Red White Blue Sprinkle Cookies
When it comes down to finding the time to bake, it can honestly be a struggle some days. This is probably one of the best parts about making this delicious dessert. If you have just a few moments to spare, you and your family will be chowing down on homemade sprinkle cookies in no time at all.
I always like to cook up something delicious and tasty for each and every holiday of the year and these simple cookies have never let me down. This is why I use them over and over again because people actually request that I make them now.
As you can see, there are not a ton of ingredients needed for this cookie recipe! This is just another reason why I love this simple cookie recipe. It's fast and doesn't have me remembering a ton of ingredients!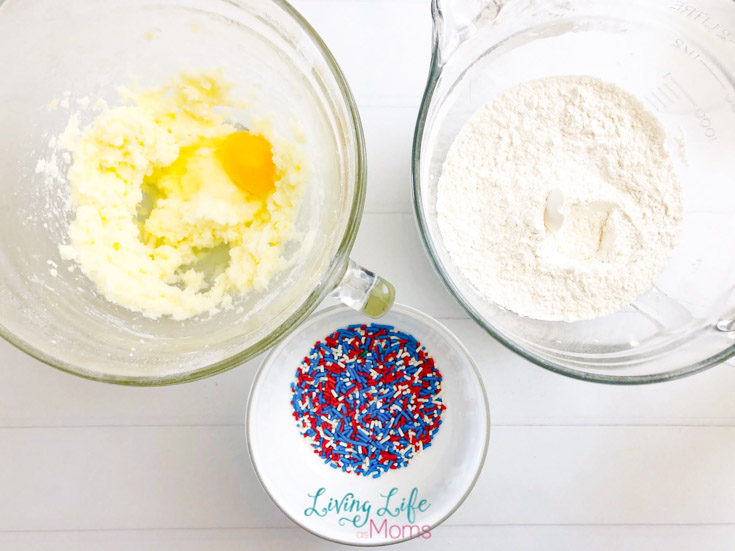 And once you have it all mixed together perfectly, you just need to shape them into bite-sized balls for the oven. Seriously. Does it get any more simple than that?
Mom tip from me to you? Dont' get fixated on trying to make them all the perfect size. They're going to get gobbled up the moment that you take them out of the oven anyway!
This is a great recipe for the kids to jump in and help with as well because they can easily make them all different sizes. Plus with how simple this recipe is they can take over and make it all themselves!
I've even made these up ahead of time and they've turned out great as well. You can also put them in the freezer too and save a few for later also. This is a simple way to have a dessert on hand when the craving strikes.
If you want to change how they look and make them a bit flatter once they've come out of the oven, that's entirely up to you. Some people prefer to leave them in a ball shape, while others take a fork and press down on them, making them a bit flatter.
You can do both if you want! But one thing is for certain…the taste out these cookies is out of this world!
I told you that this recipe was crazy simple, right? Now that you can see that, it's time for you to prepare and make them for yourself and your family!
CK Products Cake Decorating Bottle Jimmies, 3.2 oz, Red

CK Products Cake Decorating Bottle Jimmies, 3.2 oz, White

CK Products 3.2 oz Bottle Jimmies, Blue

Star Sprinkles – Red, White, & Blue

Fun Tips for Making these Cookies
While this recipe is super simple to make, let's not overlook the fact that there are always tips that can make any recipe easier. You're going to love having the options to make something new and delicious.
The fun part about these cookies is that you can change out the sprinkles and make them great for all holidays. The more that you cook them up, the more that you're going to want to make them.
I also love how they're not a "perfect" cookie. They're just a fast and simple way to make a fun treat.
Red, White and Blue Sprinkle Cookies
Inactive Time:
20 minutes
Ingredients
1 1/2 Cups all purpose flour
1 1/2 Teaspoons baking powder
1/4 Teaspoon salt
3/4 Cup granulated sugar
1/2 Cup butter, softened
1 Egg
1 1/2 Teaspoons lemon extract
4th of July sprinkles
Instructions
Start by preheating the oven to 350 degrees. Take and line a baking sheet with parchment paper.
In a large mixing bowl, you are going to begin by combining your sugar and butter. Make certain that you mix well.
Add in and mix one egg and the lemon extract also.
In a separate bowl, combine the dry ingredients of flour, baking powder and salt. Once added, mix.
Slowly start to mix in the dry ingredients with the wet ingredients.
Once done, you're going to start to form the dough into small balls and roll in a bowl of sprinkles. Cover them with sprinkles!
After that, go ahead and place the cookies onto the lined baking sheet. Place in the oven and bake for 8-10 minutes.
Let cool on a wire rack and have fun eating them!
See how simple and delicious they are? This family-friendly cookie recipe is about to become one of your family favorites for sure! Everyone in the family agrees that these cookies are literally the best. We've been creating these together for years and everyone really loves them.
Fun ways to share this simple cookie recipe
Keep in mind that these cookies are great for a weekend at home but they're also great for sharing with family and friends. If you have to take something to the 4th of July BBQ, you can rest easy knowing that you can easily take this simple recipe.
You can even make a fun care package for people and take it and drop it off for them. These cookies are also really great for birthday cookies, too. I've made these with pink and purple sprinkles as well as black and orange for Halloween. They're just really fun to change around and use.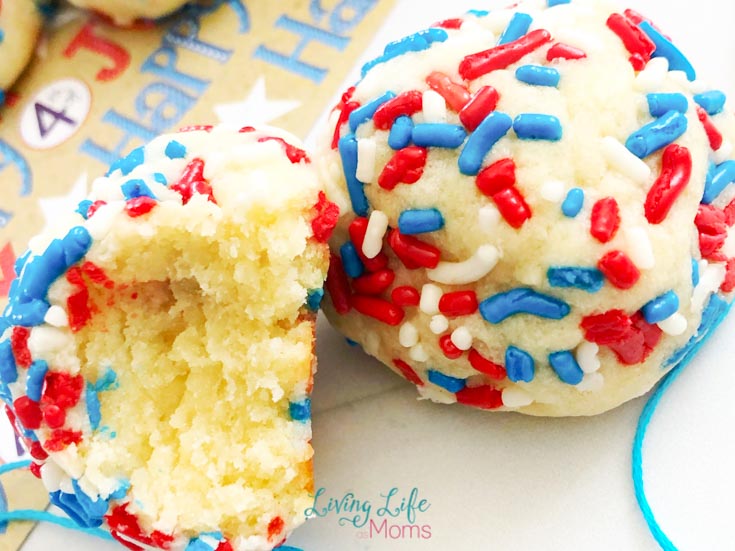 If you want more cookie recipes, this Strawberry Crunch Cookie recipe is a must-try!
More Red White and Blue Recipes
If you like this simple cookie recipe, make certain to check out these other delicious cookie recipes, too! They're all a great way to celebrate the 4th of July holiday.
Red White and Blue Sprinkle Cupcakes
Red White and Blue Dipped Pretzel Rods