How to Make Homemade Rainbow Bath Salts
Are you ready to learn how to make homemade rainbow bath salts? This simple tutorial will give you all the steps and information that you need! Having brightly colored bath salts makes bath time that much more fun!
If you or your kids love bath salts, you're not going to want to miss out on these. They're not only fun to make but they look really cool as well! They're the perfect addition to any rainbow activity that you can easily make at home.
The next time that you're needing to nudge the kids to get into the bath, give these rainbow bath salts a try. They're fun to make and even more fun to use! The kids will love having bath time and you'll love that they're actually wanting and willing to get into the bath!
Make certain to check out our DIY Mermaid Bath Salts Tutorial as well for another super fun bath DIY recipe.
How to Make Homemade Rainbow Bath Salts
When I say this activity is easy, I totally mean it. There's nothing hard about it but it sure does look like a lot of work. If you make this, be prepared to impress everyone with your skills. They're going to think that you're uber creative and that's up to you to correct them or not!
Supplies needed to make DIY Bath Salts
1 ½ cups Epsom salts
I told you this was simple, right? Once you have the short list of supplies, it's time to get started in making the bath salts!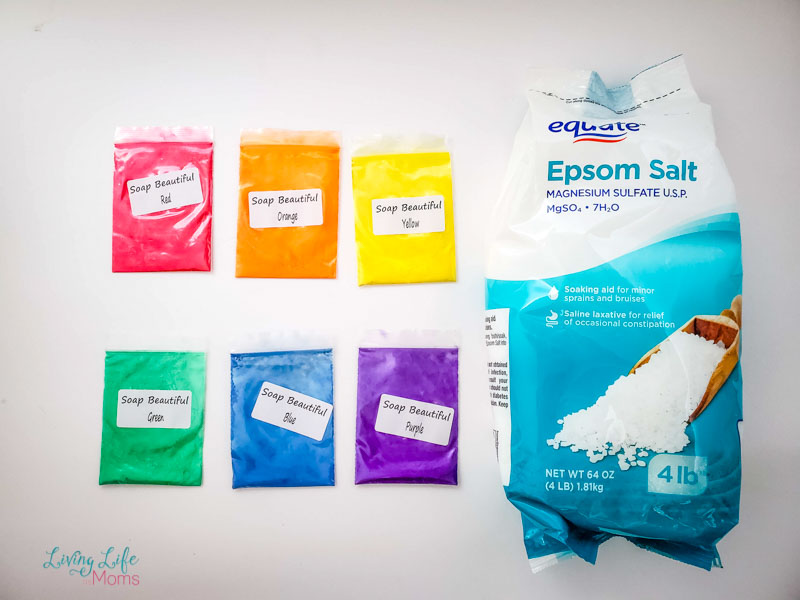 To be certain that you get all the colors of the rainbow, divide the salts up into 6 bowls. Then you get to add in the coloring so that you can make them the right rainbow colors.
Make certain to get a glass jar or a small mason jar with a lid that you can store the salts in. You can then layer the rainbow colored salts and make a rainbow right there in the glass.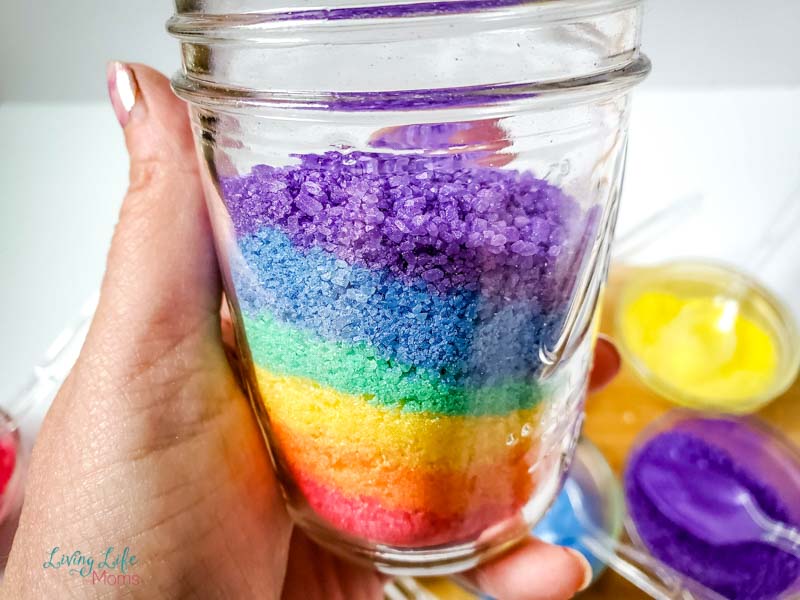 While it's probably best to go in the order of the colors of the rainbow (ROYGBIV), it's up to you if you want to. I think that no matter what, it's going to look awesome when you get done.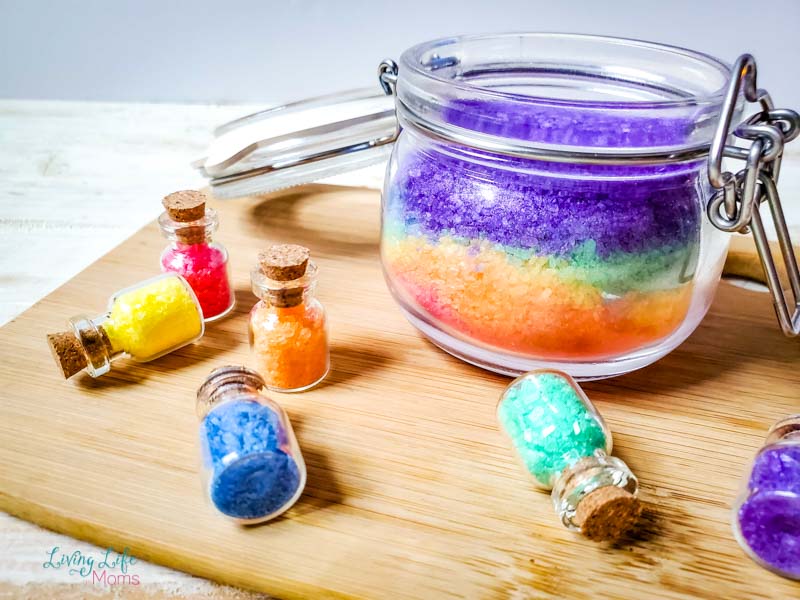 Will colored bath salts change the color of my bath water?
Yes, they will. The good news is that it shouldn't discolor your skin. The bath water will turn a fun and funky color but your skin should be just fine.
How do you use bath salts?
The easiest way to use bath salts is to fill up the tub with warm water and add in a few scoops. They'll instantly dissolve with the warm water and the coloring of the bath salts will start to spread.
If you use more than one color of bath salts in the water, you're going to end up with a bath that has a different color and will be of what they all mix to be. More than likely it will be a dark color of purple or something like that since the darker colors are going to be more powerful.
Are you ready to learn how to make homemade rainbow bath salts? The full recipe and directions can be found below!
This simple bath salt recipe is quick and easy to do. If you're looking for another super simple recipe, I've got more for you to check out like this DIY Unicorn Sugar Scrub Recipe that will make your skin feel more amazing!
How to Make Homemade Rainbow Bath Salts
How to make DIY rainbow bath salts.
Ingredients
1 ½ cups Epsom salts
Red, orange, yellow, green, blue, and purple mica powder
Instructions
Have 6 bowls and put in 1/4 cup of Empsom salts to each bowl.
Put 1/2 tsp of the colored mica into each bowl. If you're using the same spoon, rinse after each color before moving on to the next.
Stir to spread the color onto all the salt in the bowl.
Form a rainbow by layering the salts in the jar.
More Bath Tutorials
DIY Mermaid Bath Bomb Tutorial
DIY Unicorn Bath Bomb Tutorial