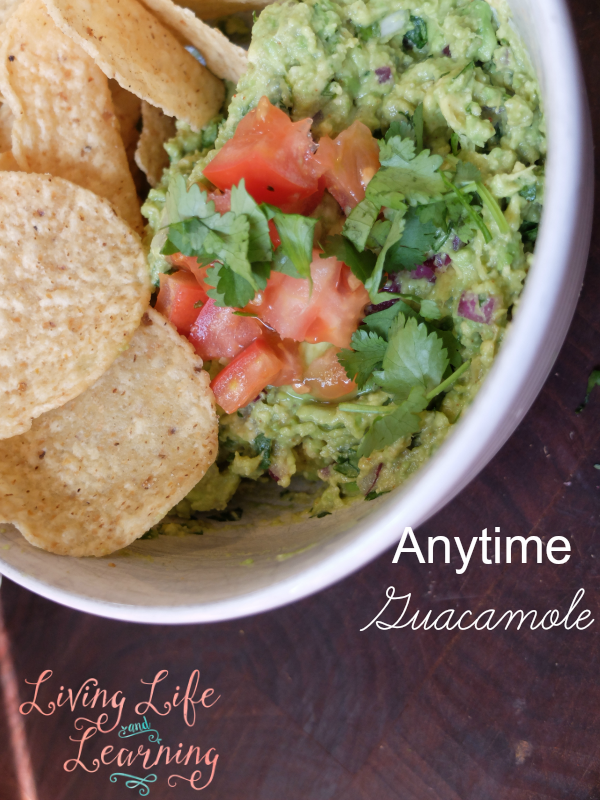 I'm really not much of a fruit eater.  I'd much rather have something salty instead of sweet.  Thankfully the avocado falls into the fruit category and is where most of my fruit and vegetable requirements are met.  There really is no limit to what you can do with an avocado.  Throw it into your chocolate pudding and it takes some of the sweet out of your dessert.  Add it to your eggs in the morning and it can liven up your otherwise boring breakfast.
But my all time favorite way to eat an avocado is mixed together with onions, garlic, cilantro, lemon juice, and spices to create a dynamite guacamole.  I've turned every member in my household into guacamole fanatics and most of my friends as well.
I don't like the texture of a smooth guacamole.  So after I throw all of the ingredients into a bowl, I use a fork to lightly smash and mix it all together.
There are many ways to eat guacamole.  Simply eat it with a whole bag of tortilla chips, on top of scrambled eggs, salads, Mexican dishes, or crackers and hummus.  If I have a bowl of guac in the fridge I throw it into every meal.  It really is the perfect condiment!
The recipe I'm about to share with you is pretty heavy on the onion and garlic flavor.  Surprisingly my kids don't mind and will eat the whole bowl if I don't limit their snacking.  If it's not for you, just cut back on the onion and garlic amounts, or leave out one or the other.  There really is no wrong way to make a bowl of guacamole.
You could even throw in some of your favorite salsa or add some sour cream if you're wanting to make the dish go a bit further.  The sour cream will dull down the flavor somewhat, but I do have a friend who loves adding it to her guac.  Whatever floats your boat.  Whatever makes you happy.  Guacamole is happiness in a bowl and should be made the way you like it.  Experimentation is a must!
Anytime Guacamole Recipe
PREP TIME:    15 Minutes
SERVINGS:  5 Servings
DIFFICULTY: EASY
INGREDIENTS:
3 Avocados mashed
1/4 red onion chopped
2 garlic cloves chopped
handful of cilantro chopped
1/2 lemon juiced
1 Tablespoon cumin
1 teaspoon cayenne pepper
1 teaspoon salt
INSTRUCTIONS:
In a large bowl mash together the first four ingredients.  Add lemon juice and seasonings.  Stir to combine.  Taste to adjust seasonings and serve with tortilla chips.
Tip:  To store leftovers, place a layer of Saran Wrap on the surface of the guacamole to prevent browning.
See this Super Easy Salad Dressing as well.