The hubby wanted me to make one of his favorite Vietnamese desserts, coconut pandan sticky rice. It's not something I've had before but after I made it, it's become a favorite with everyone in the family.
I used pandan extract which is made from pandan leaves which can be found at your local Asian supermarket. I'm told that pandan extract to Asian dessert is what vanilla extract is to western bakers. I've had desserts made with pandan extract before but never thought to make it myself since it looked complicated, but this recipe is quite easy.
You can also cook it in a rice cooker but don't expect it to be cooked after one time, you may need to try it 2 or 3 times to get it cooked. You can also cover the rice with a piece of parchment paper in the rice cooker to help trap the steam even more.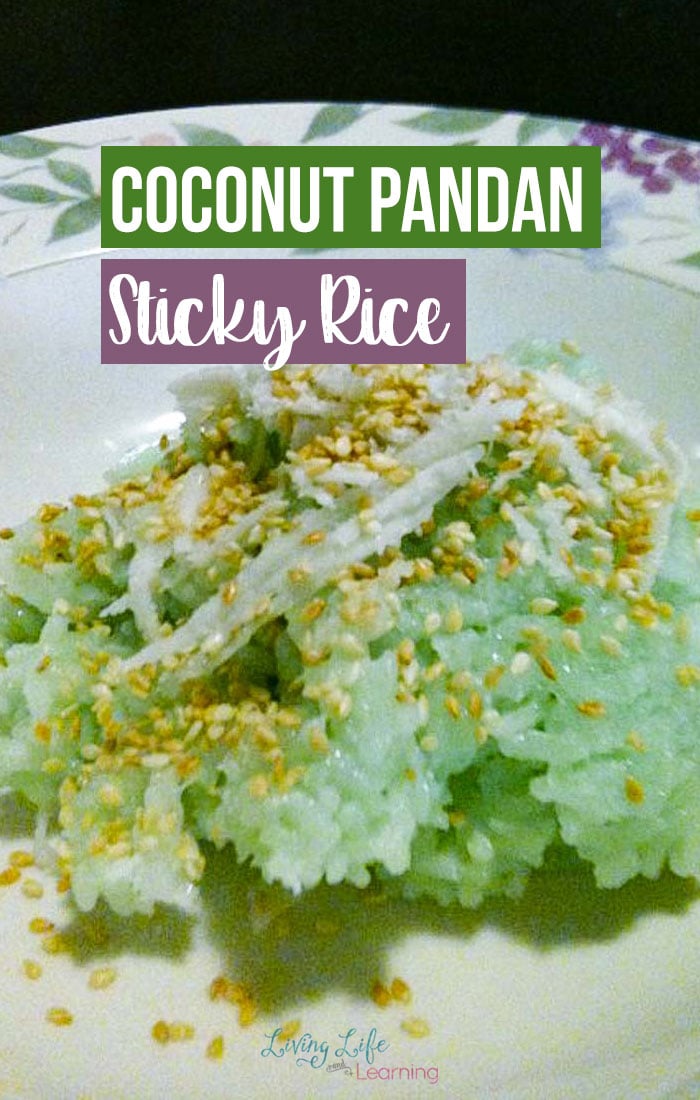 I used a bamboo steamer and placed the entire bowl inside and it's sitting in a wok and water at the bottom. I like this set up because the bamboo steamer is quite large. I also like to steam veggies and fish in it.
All of the ingredients are added to the bowl.
 When you mix the ingredients together, it turns into a green sticky rice soup, don't worry about how it looks, it will turn out to be delicious.
I dry roasted sesame seeds to give them more flavor.
And this is what you get after it's finished steaming. We love this, it's not super sweet and very delightful after a heavy meal.
 When it's cool add it to a bowl and add one or two tbsp of sugar. When the rice has cooled you serve it with the remaining shredded coconut and toasted sesame seeds/sugar mixture.
You can use crushed peanuts instead of sesame seeds if you like or both even.  You can find shredded coconut in the freezer section of the Asian supermarket or use the dehydrated kind from the baking aisle. It's super easy and delicious.
Coconut Pandan Sticky Rice
Ingredients
2

cups

Sticky or glutinous rice

2

tbsp

Sugar

1/2

tsp

Salt

1

can

Coconut milk

3

drops

Pandan extract

1/4

cup

Shredded coconut

1/4

cup

Roasted sesame seeds or crushed peanuts
Instructions
Soak the sticky rice in water for at least 4 hours or overnight.

Rinse the rice and drain.


Add it to a large bowl along with the sugar, salt, coconut milk, 3 tbsp shredded coconut and pandan extract.


You'll get a large green soup. The coconut milk should just cover the rice


Steam it in a bamboo steamer for 30 minutes or until the rice is cooked to your desired consistency.


You want to make sure to stir it every 10 minutes because the rice at the bottom of the bowl gets cooked more quickly than the rest.

Have you had a pandan sticky rice recipe that you love? I'd love hear about it.
More Vietnamese Recipes
Vietnamese Coconut Sticky Rice with Black Eye Beans Recipe
Get Weekly Updates
Taming the chaos of motherhood -
Subscribe and get a daily schedule printable