Vietnamese Butter Beef Recipe
Our favorite time is spent enjoying great food with my mother's home cooking. No matter how much I watch her cook, I can never replicate what she does with her food. Mine are never as good.
It's also the memories we share as we all sit around the table and eat together as a family. You can feed the entire family with these amazing Vietnamese Butter Beef Recipe, and it will be a huge hit.
With a house full of boys, food is a major love in our house. Good food does not leave leftovers for us, seriously, unless it was a huge meal. This time we were at my mother's house.
I love that she enjoys hosting us over because it means, I don't have to do the shopping and prep. I happily help with the clean up after we've all stuffed ourselves.
The kids love going to Grandma's house because they get spoiled with food and love while they're there. We don't get to see them as often as I'd like but when we do the kids think it's really special.
We use Gay Lea butter as the oil so everything gets cooked in it. It's simple and makes it delicious. Knowing that Gay Lea uses local farms to produce their products means I'm very happy to support them.
Vietnamese Butter Beef Recipe
This meal looks like a lot of work but after you get everything washed and chopped. It's so easy to cook and well worth it. It's one of our favorite family recipes to make during the week and it doesn't disappoint in taste or flavor.
We have an electric griddle that we can cook with on the countertop. This makes it super easy to cook everything at once. I love using it because it's fast and really simple to clean, too.
Presto 07061 22-inch Electric Griddle With Removable Handles
Presto 07046 Tilt 'n Drain Big Griddle Cool-Touch Electric Griddle
Presto 07047 Cool Touch Electric Griddle
Another benefit of cooking with the griddle? Everyone can see what is being cooked and ask for their favorites to be cooked first.
While we all love this Vietnamese Butter Beef Recipe, we all do have our favorite variation to it as well.
Recommended Vietnam Hand-painted Items
Vietnam Hand Painted and Glazed Ceramic Utensil Holder
If you fell in love with Vietnam hand-painted items, you should add this very pretty ceramic utensil holder. It will make your kitchen look amazingly beautiful.
Vietnam Hand Painted Blue Floral Ceramic Measuring Spoons
Cooking (Vietnamese dishes or not) will be so much fun with these hand-painted ceramic measuring spoons.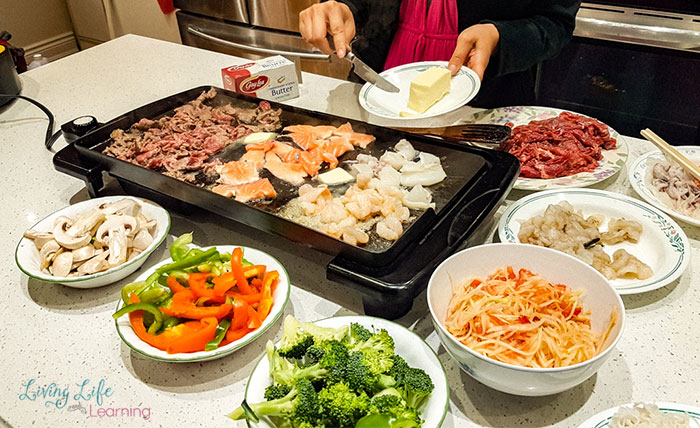 Traditionally, this is served with rice paper along with lettuce and thinly sliced cucumbers, bananas leaves, and a whole host of herbs. You grab the meat, add your noodles, veggies, and herbs and wrap it up in a rice paper that was dipped in warm water. (Look how much food my griddle holds!)
Because the act of wrapping everything up is a chore in itself. This would mean I'm making wraps for 3 people before I eat. I feed the two littlest and then make my own. It's just not worth it and people start crying when their roll falls apart. The rice paper is more difficult for my daughter to chew through so it becomes a safety concern so we've changed things up to suit us.
This means everyone gets their own bowl of noodles and then can grab whatever meat or veggies they want. Hence, the broccoli because my kids won't eat any of the other veggies.
Turning this Vietnamese Butter Beef Recipe into a veggie bowl is a great way to add in more veggies and still have that same great flavor and taste.
I hope that you enjoy this simple beef recipe as much as we do. It's such a simple recipe that will feed the whole family and put some great tastes and veggies in their bellies.
Let me know what you think after you make this Vietnamese Butter Beef Recipe! What other additions did you add, if any?
Vietnamese Butter Beef Recipe
Total Time:
1 hour
30 minutes
Ingredients
Beef Sirloin
Salmon, shrimp, squid (optional) – cleaned and deveined
1 package Cooked Vermicelli noodles
1 package Sliced mushrooms
1 each Sliced green and red peppers
Chopped Chinese broccoli
1 bunch Spinach
2 heads Chopped broccoli
Fish sauce
1/3 cup Fish sauce
1/3 cup Sugar
1 Lime
2 cloves Garlic (minced)
1 Chili pepper
2 1/2 cup Boiling water
Instructions
Make the fish sauce – In a small sauce pan, boil the sugar in the water. Turn it off and let it cool. Add the fish sauce and the juice of one lime, garlic and one finely chopped chili pepper.
Season the beef along with any other meat ie shrimp, salmon with salt and pepper.
Cook the rice vermicelli noodles according to the packaged directions, drain and set aside.
We use a large flat top griddle, turn on the heat and add the butter.
Add the meats first and grill until they are cooked.
Add the veggies until they are cooked.
In your bowl serve the meat, veggies with the noodles and the fish sauce as your dressing.
Disclosure: I am part of the PTPA Brand Ambassador Program with Gay Lea and I received Compensation as part of my affiliation with this group. The opinions on this blog are my own.
More Vietnamese Recipes
Vietnamese Coconut Sticky Rice with Black Eyed Beans Recipe
Classic Banh Mi Recipe by The Spruce Eats
Pompano Fish and Sour Bamboo Soup (Canh Ca Chim Mang Chua) by Vicky Pham