Strawberry Crumble Muffins Recipe
These Strawberry Crumble Muffins are the perfect way to start the day. Delicious, moist and so full of strawberry flavor!
When you have a surplus of strawberries, what do you do with them? Make this delicious strawberry crumble muffins recipe that will leave your family wanting more.
It's super easy to make and you'll be thrilled with this treat as will your family.
You can't go wrong with strawberries or muffins. This homemade muffin recipe is just that good.
Be prepared to make another batch right away because they'll be gone the moment that you pull them out of the oven. Pair them up with some butter…and you've got a breakfast (or dessert!) that everyone in your family will love.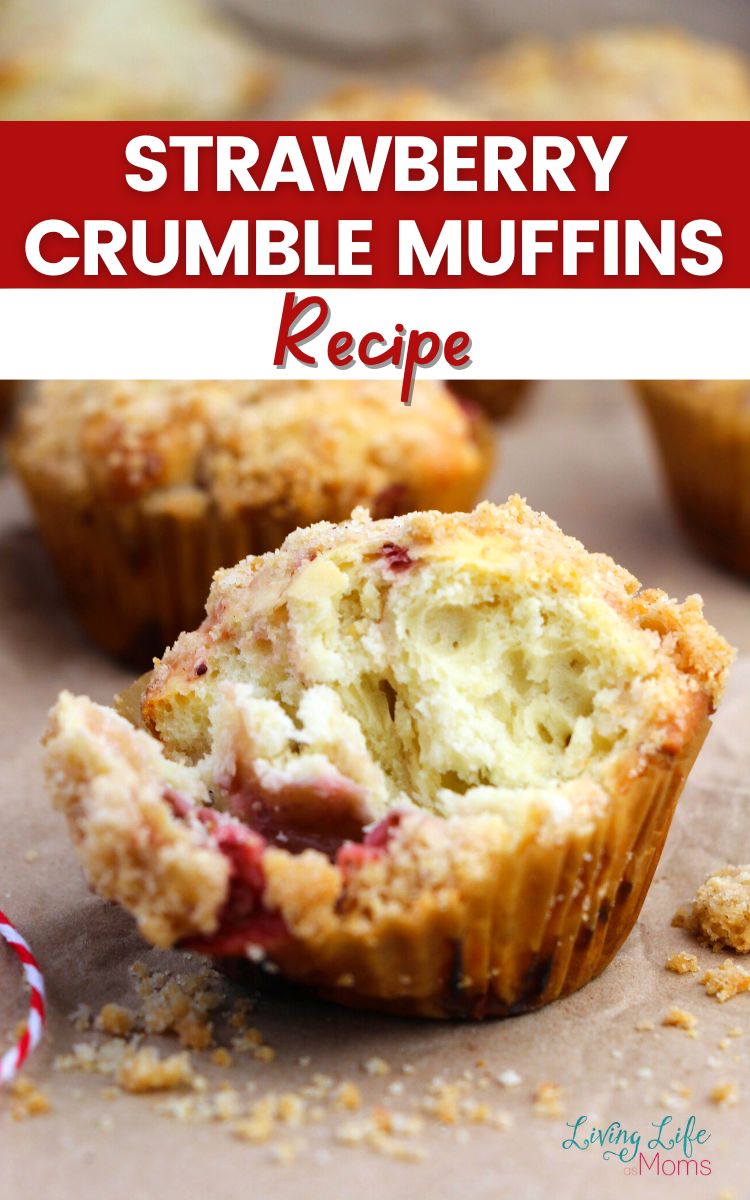 Recommended Dessert Recipe Books
Do you want more dessert ideas? Grab these recipe books and start making your tasty desserts.
Dessert Boards: 50 Beautifully Sweet Platters and Boards for Family, Friends, Holidays, and Any Occasion
Le Cordon Bleu Pastry School: 101 Step-by-Step Recipes
Tasty Dessert: All the Sweet You Can Eat (An Official Tasty Cookbook)
Dessert Person: Recipes and Guidance for Baking with Confidence: A Baking Book
How to Cook That: Crazy Sweet Creations (Chocolate Baking, Pie Baking, Confectionary Desserts, and More)
FitWaffle's Baking It Easy: All My Best 3-Ingredient Recipes and Most-Loved Sweets and Desserts
Recommended Baking Tools
This baking mat turns the ordinary baking sheet into a reusable non-stick and easy-to-clean baking surface.
Grab this cute silicone spatula for personal use or as a gift for your closest baking buddy.
Strawberry Crumble Muffins
Don't even worry, you probably have everything in your kitchen right now to make these amazing muffins.
Desserts are more greatly appreciated when you make them yourself. You can control the amount of sugar you'd like in them and you know exactly what ingredients go into them.
And that is such a relief! Plus, there is something almost therapeutic about cooking and baking, right? The stirring and adding ingredients resulting in a beautiful and delicious dessert? Amazing.
Even better than that? This homemade muffin recipe gives you and your family a great opportunity to cook and create together! Make memories baking up a batch of these delicious strawberry muffins. It's a fun way that you can work together with a tasty outcome!
Amazing right? We never have any leftovers, with a teen and two other kids in the house, these disappear fast.
What do you need?
Muffin batter
butter
sugar
egg
vanilla
flour
baking powder
salt
milk
strawberries chopped
Crumb topping
butter
brown sugar
flour
cinnamon
As a mom, I'm super happy that I can fuel their day with a muffin recipe that I trust and adore.
When's the last time that you look at the ingredients in those store bought muffins? More than likely, you can't even pronounce half the words! Instead of stressing out about what you're feeding your family, take charge and make these muffins instead!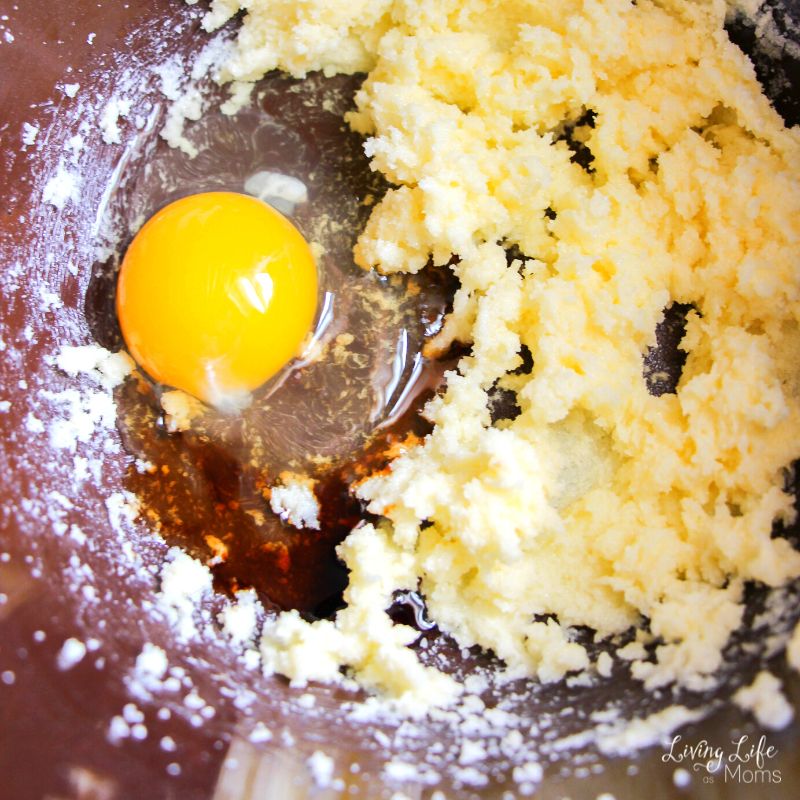 Can you use frozen strawberries in this recipe?
While I haven't specifically tried using frozen strawberries, I would be careful. The reason being is that when the muffins are cooking, those frozen strawberries will release water and moisture that they have in them. That could then result the muffins being watery and not cooking properly.
I've had great results using fresh strawberries from the garden or store.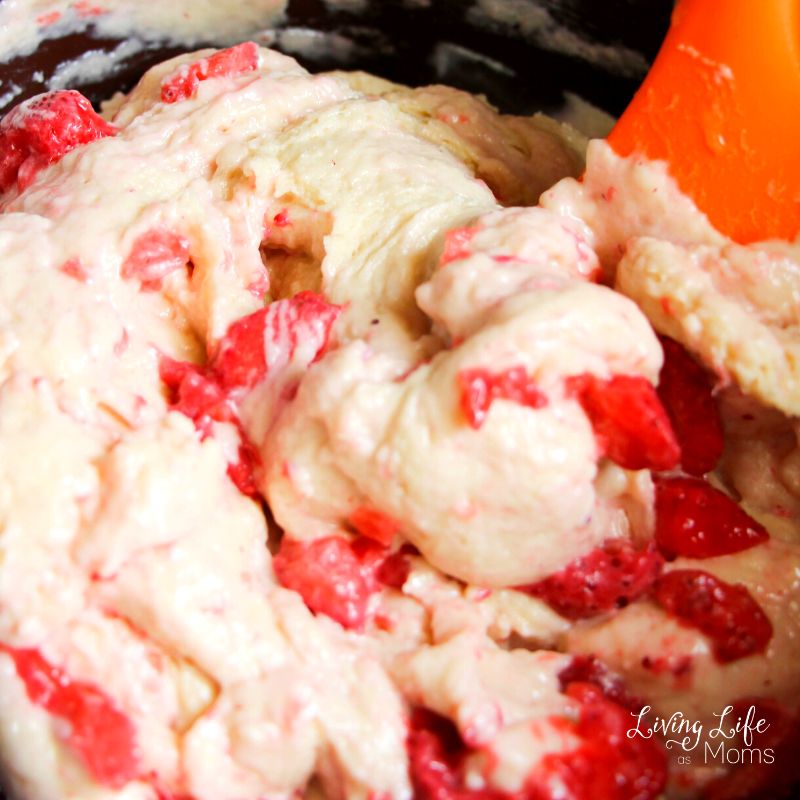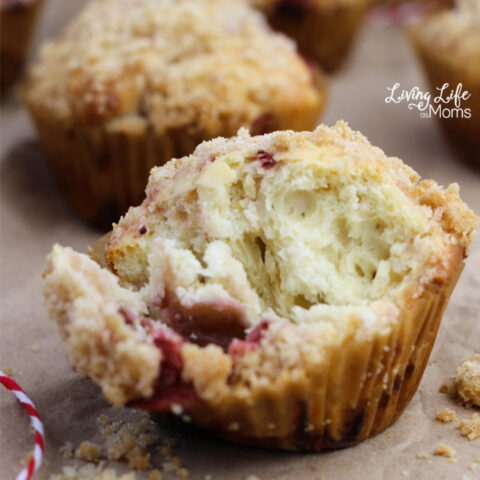 Strawberry Crumble Muffins Recipe
Ingredients
Muffin Batter
1/4 cup butter
1/3 cup sugar
1 egg
1 tsp vanilla
2 1/4 cup flour
4 tsp baking powder
1/2 tsp salt
1 cup milk
1 cup strawberries chopped
Crumb Topping
1/4 cup cold and cut into 1/2″ cubes
1/2 cup brown sugar
1/2 cup flour
2 tbsp cinnamon
Instructions
Preheat the oven to 350F
Line a muffin tray with liners and set it aside.
In a large bowl, beat the butter and sugar together until creamy, about 1 minute.
Add the egg and vanilla and mix again.
In a second, small bowl, stir together the flour, baking powder and salt.
Add half of the flour mixture to the sugar-butter mixture. Fully mix, then add in half of the milk, and repeat until incorporated.
Carefully stir in the strawberries and then portion out into the muffin cups in 1/4 cup increments.
Mix together the crumb topping until the butter is in small pea-sized amounts and no excess flour is remaining.
Top each muffin with about a Tablespoon of the crumb topping.
Bake for 22-25 minutes, until firm to the touch and an inserted toothpick comes out clean.
Recommended Products
As an Amazon Associate and member of other affiliate programs, I earn from qualifying purchases.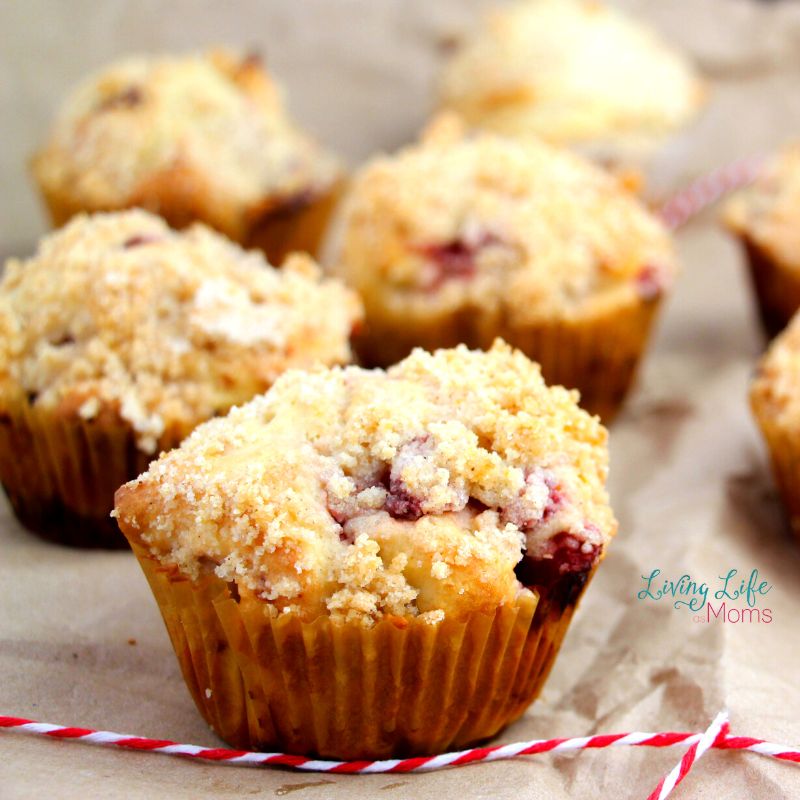 More Strawberry Recipes
Mini Strawberry Cheesecake Recipe
Healthy Strawberry Yogurt Parfait
Five Minute Strawberry Dessert by One Sweet Appetite