Creamy Garlic Avocado Sauce Recipe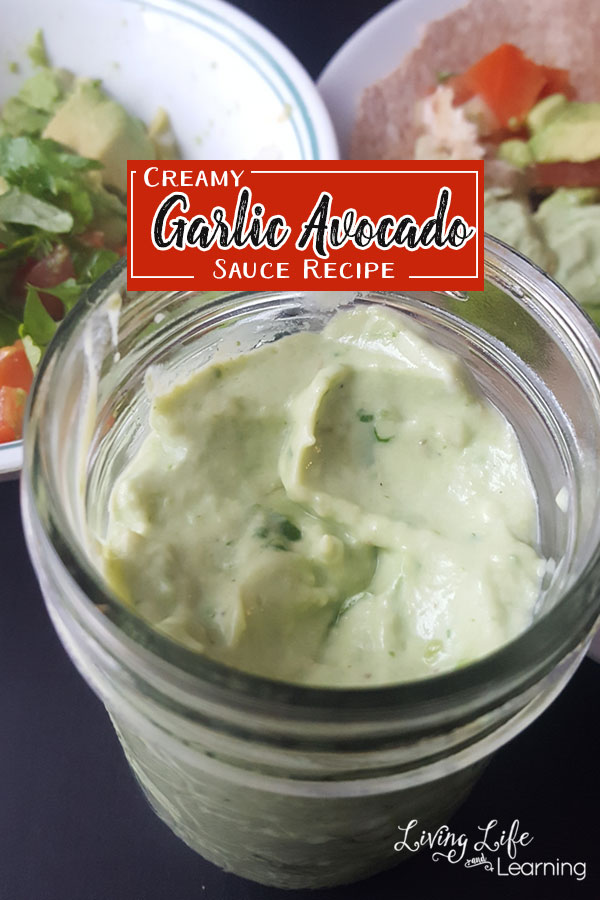 One night of the week I like to have a meatless dinner. This means saving money and we appreciate those meaty dinners even more. For a house full of carnivores this isn't always a popular choice but mama's got to save on my grocery bill.
My favorite go to meatless meal is beans and tortillas. I soak black beans overnight and cook them down with onions, garlic, tomato sauce, and spices. The kids don't complain about the beans as long as they can make their own tortillas, they top them with lettuce, cheese (lots of cheese) and salsa. This creamy garlic avocado sauce is a new way to spice up your favorite meals.
It doesn't matter how much food I buy at the start of the week, my boys are in a huge growth spurt and along with my husband, it's all gone by the end of the week. The only person I have to ration out food for is my daughter but I never have to worry about the boys eating. This can start to hurt my grocery budget if I'm not making smart choices so when we're having our meatless meal, it's a good idea if you can add a twist to things and change it up so they don't feel like they're eating the same thing each week.
Even for our regular meals, it's easy to slip into that pattern of making your favorite recipes, again and again, each week. Stimulate your family's taste buds by throwing in new veggies or trying new things. Try to expand those palettes and if they don't like it, try it again in a few months. My boys have learned to love some new things this way.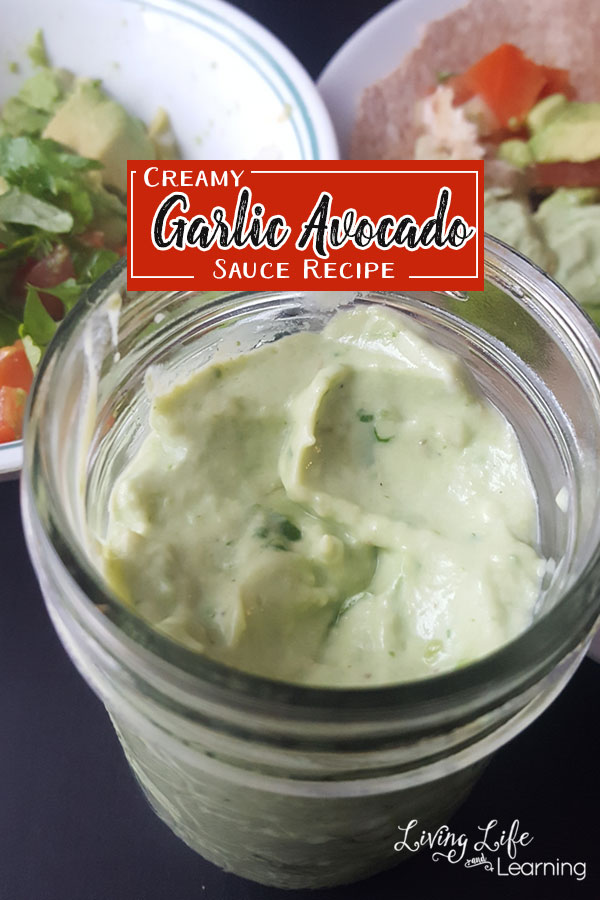 Ingredients
1 avocado
1/2 cup sour cream (I used Gay Lea Low Fat Sour Cream)
1 tbsp lime juice
2 cloves of garlic
2-4 tbsp of water
cilantro
salt and pepper to taste
Directions
Add all of the ingredients into a blender and puree. That's it. Store in an airtight container and it should be good for one week. Easy and peasy and it's a great addition to your meatless and meaty meal.
You can cover your container with plastic wrap and push it down to squeeze out the air so it doesn't turn the sauce brown, I've had this happened and I mix it up and it tastes just as good.
You can add them to your sandwiches, tacos, fajitas, burgers or salad. It's very versatile and I particularly love it with my baked potatoes.
While this is not a favorite for my kids right now, my hubby and I eat this up with every meal we can. It really adds another dimension to tacos and we're huge fans of garlic this could also work with your chicken wings as well.
Disclosure: I am part of the PTPA Brand Ambassador Program with Gay Lea and I received Compensation as part of my affiliation with this group. The opinions on this blog are my own.