Delicious Canada Cupcakes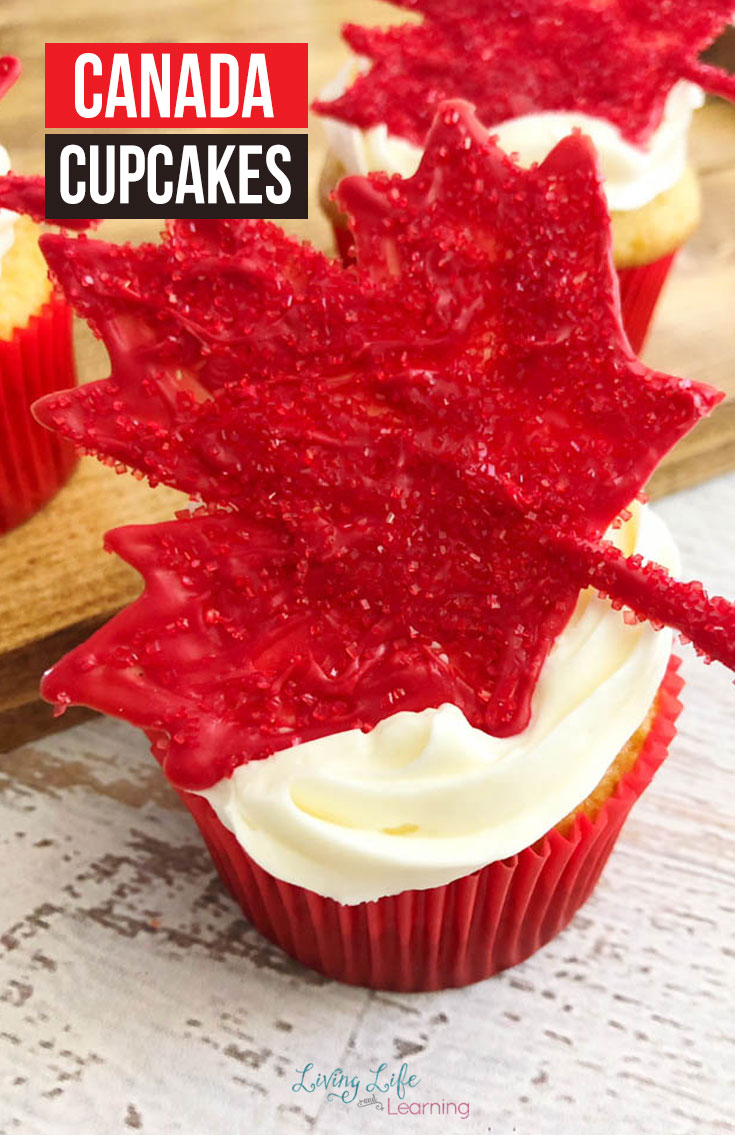 Canada Day is right around the corner. Are you celebrating? It's a quintessential day for barbeques, parades, block parties, fireworks, and more. Which I love. I enjoy putting up Canada decorations and making a big deal out of such an important national holiday.
One of my favorite things is to create delicious snacks. We have made these Canada Day Oreo Pops, which were a major hit, but these Canada Cupcakes are to die for. It was so much fun to make them. The maple leaf is key to setting these cupcakes above the bar.
You will be the hit of the family or neighborhood, people will be talking about these cupcakes for years to come! At the same time, if your interest lies in flavor and deliciousness, this easy to make Canada Cupcake recipe will not disappoint!
And if you need more cupcakes, we've got more creative cupcake decorating ideas here.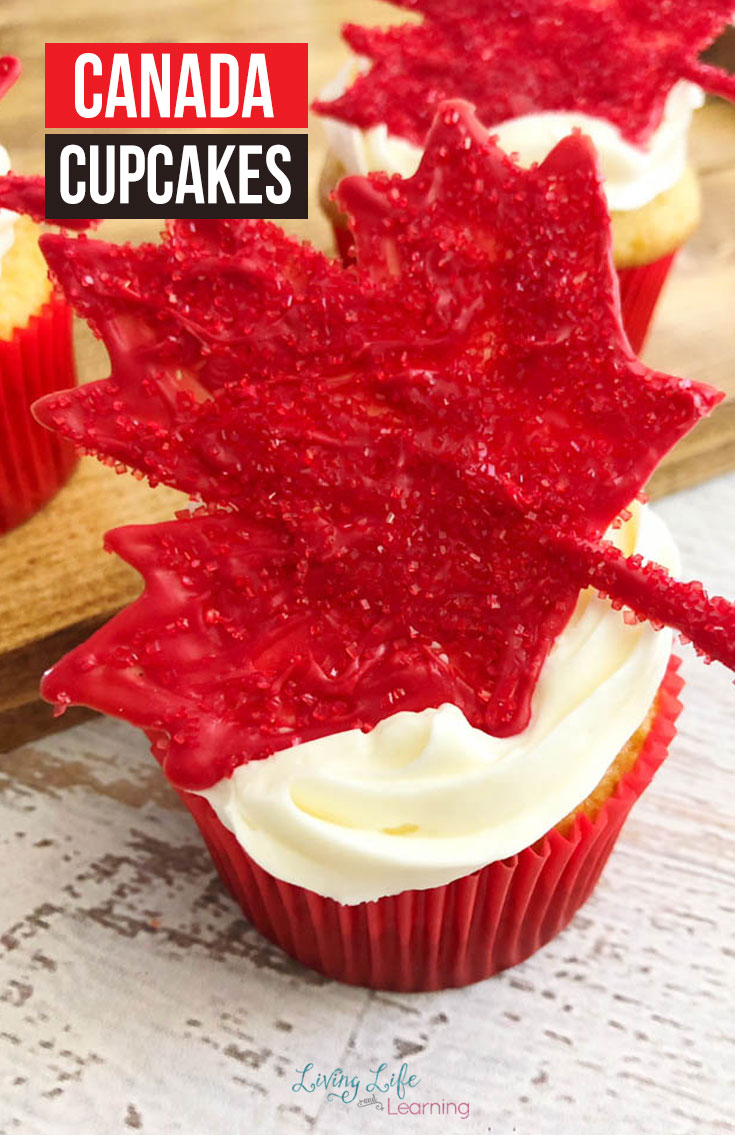 We only have one day a year dedicated to celebrating this country, make sure your cupcakes are on point!

Delicious Canada Cupcakes
Everyone loves cupcakes and I'm no exception! Being able to have a dessert that I can easily grab as I'm walking through the kitchen and eat as I'm on the go is such a great idea! The more cupcake recipes in our house, the better! And we couldn't pass up the chance to make our very own Canada Cupcakes. They're easy to do, they're adorable, and they have an awesome flavor and taste as well!
If you're looking for a simple cupcake recipe, check out how you can make cupcakes just like this. You can have your very own delicious cupcakes in no time at all.
This is one of the easiest cupcake recipes that I have ever made. The maple leaf on top is just the sparkle that any Canada Day party needs!
Canada Cupcake Supplies
Below you'll find the list of cupcake ingredients that you need to make this simple cupcake recipe.
Directions to make Canada Cupcakes
1. Preheat your oven to 350° and line a cupcake pan with cupcake liners.
2. According to your cupcake mix box, mix together your cupcake mix, eggs, oil and water until mixed.
3. Fill each cupcake liner halfway with your cupcake batter, bake for 15 minutes and let cool.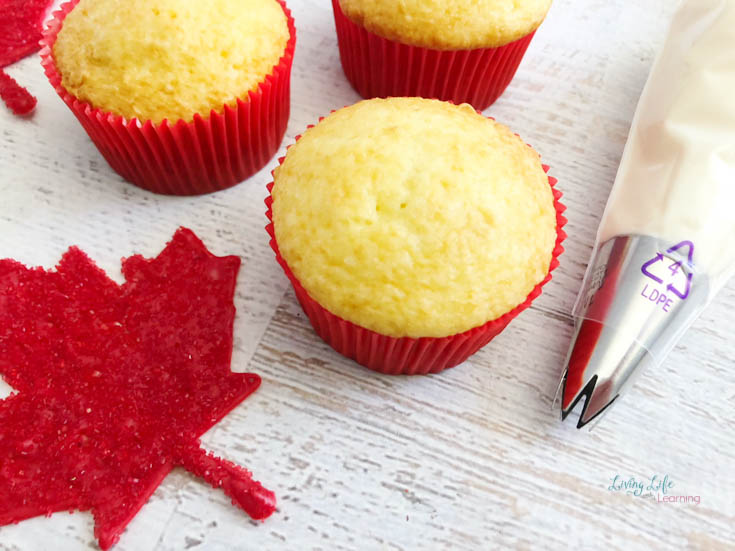 4. In a small microwave-safe bowl, heat your candy melts in the microwave on 50% power for 3 to 4 minutes, stirring every 30 seconds until melted and pour into a decorating bag.
5. Trace a maple leaf cookie-cutter several times onto a white sheet of paper and place underneath a sheet of parchment paper so you can see the maple leaf through the parchment paper.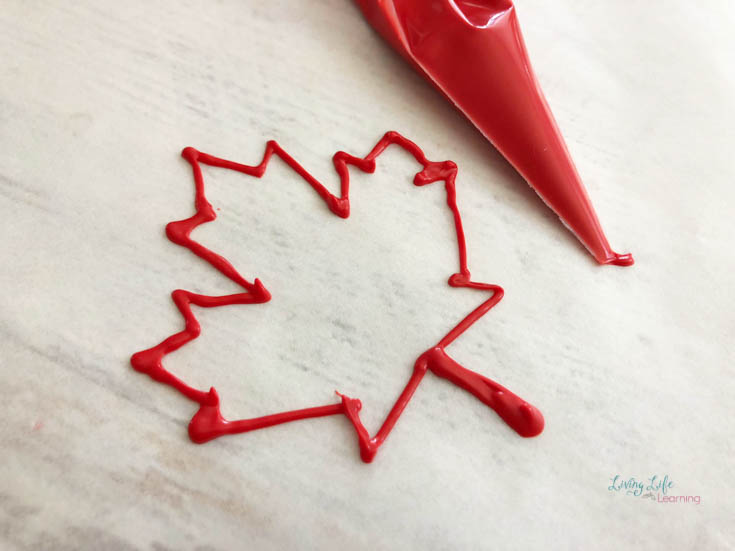 6. Cut a small tip of the end of your decorating bag and trace over the Maple leaf drawings with your red melted candy.
7. Fill in the Maple leaf with your melted red candy and top off with sprinkles.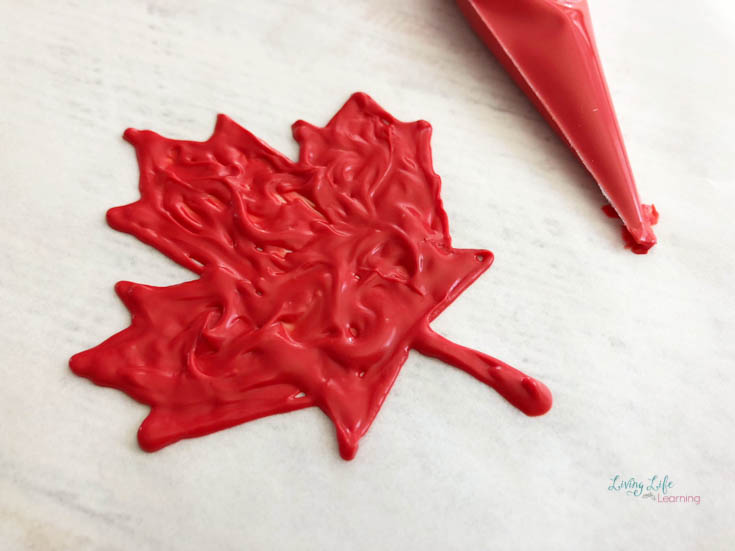 8. Carefully transfer your maple leaves to the freezer for about five minutes or less set on the counter for about 30 minutes.
9. Frost the cupcakes using a large star tip in a decorating bag filled with vanilla frosting and top each cupcake off with a candy Maple leaf.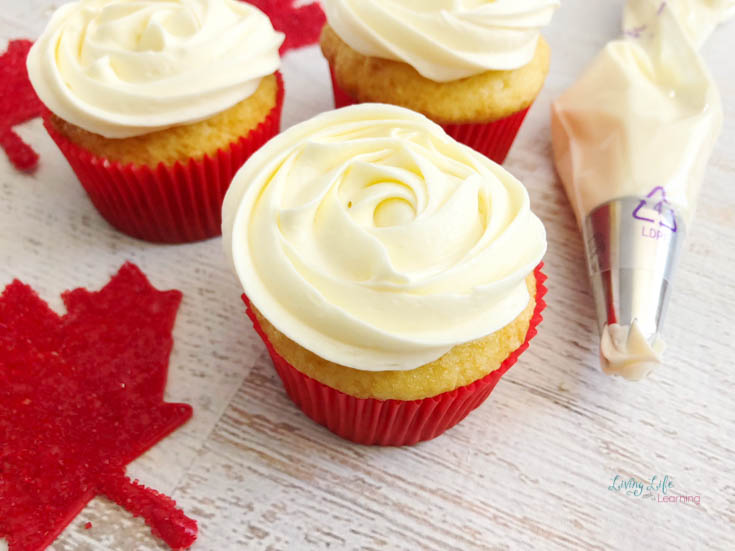 Aren't they so beautiful? Don't be sad when you take a bite of the maple leaf, that's what it's for!!
How do you know when cupcakes are done baking in the oven?
No one wants to have cupcakes pulled from the oven only to find out that they're not cooked all the way! If you're wondering if the cupcakes are done baking, there is a way to make that answer happen.
Once the cupcakes have baked for the length of time listed per the directions, take a clean toothpick and insert it into the middle of the baked cupcakes. If the toothpick comes out clean, that means that they're done baking and are ready to be pulled from the oven.
If the toothpick still has raw cupcake batter on it, it means that they need a few more moments of time to bake. Just stay close so that you don't overcook because you don't want to burn the cupcakes.
Why isn't my frosting sticking to the cupcakes?
The biggest issue that you're going to have with the frosting sliding off the cupcakes is that you didn't give them enough time to cool down. If the cupcakes are too hot, the frosting is going to slide right off the top.
You'll also find that if the cupcakes are too hot, the frosting is going to literally melt into the cupcakes as well. And while this might create super moist cupcakes, you're going to be left without any cupcake frosting on top.
Be certain to let the cupcakes cool down all the way before trying to add on any frosting of decorations.
How do you store baked cupcakes?
Since this cupcake recipe makes quite a few cupcakes, you're probably going to have a few left over for later. All you need to do is put them in a storage container with a lid to keep out the air.
The air is what is going to make them dry out and turn hard so you can overcome that by storing them in an airtight container.
Can you freeze cupcakes?
You can but I recommend you freeze the cupcakes before you add on any type of frosting. Then, when you're ready to eat and enjoy them later, you can apply fresh frosting so that it has the best flavor.
I think that you're really going to like the flavor of these cupcakes. I love making them during the entire year but they're really fun for a themed-Canadian treat. The kids never object when I'm making them either as they love having freshly baked cupcakes in the house. Such a simple and sweet dessert!
More Canada Dessert Ideas