School is starting soon for us and I hate having to come up with new and exciting lunch ideas. Of course, we do a ton of peanut butter and jelly sandwiches because it's easy and the kids can make it themselves, but it can grow old. Sometimes a new lunch can lighten up the whole day, well at least until dinner anyways.
I hate thinking that August is ending because September means the cool fall weather is heading back in which means winter is only a few short months away. Our winters are cold and long so brings on the feeling of dread.
To combat this, we take the last two weeks of August off from our summer homeschool schedule and just enjoy the last bits of summer outside and creating fun projects. We really soak up the wonderful weather and little time is spent indoors.
It's a nice change of pace before we start back to our full-time homeschool schedule in September.
We're pretty laid back here for breakfast and lunch so I like keeping those meals lighter and easy to fix. It's hard to find any food that will be a hit with all of the kids because of their age range. Of course, pizza and burgers are always a hit but those are a treat rather than a norm in our house.
This recipe was inspired by the love of meat from my house of carnivores and tortillas. So when I combine them together it's always a big hit. This time I wanted to try something different and I had some smooth cottage cheese from Gay Lea. I already had all of the ingredients in the fridge and it was a good mix of flavor for the kids to spice up our lunch. My kids aren't usually a fan of the consistency of regular cottage cheese so the smooth version was a welcome change.
I also like that we're supporting Canadian dairy farmers when we buy Gay Lea products and it's great know that they're using quality ingredients in their products.
Well there you have it, these chicken and cheese tortilla rolls were a huge hit with the kids. This is something they could definitely help you make as well. I love encouraging the kids to make their own lunches and this is definitely doable for them. You just need to be careful with the toothpicks for little ones who are eating these too.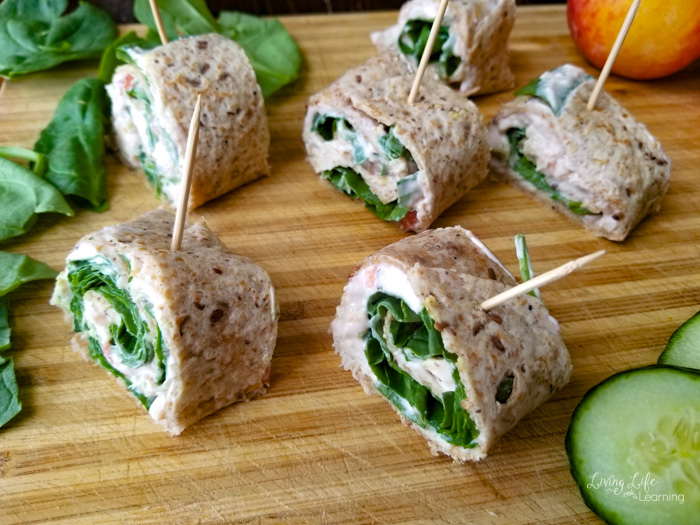 For some reason, tortilla rolls seem to be more fun than regular tortillas so that was one reason why it was a huge hit. Try the Gay Lea Cottage Cheese to add a new texture to your old lunches.
Disclosure: I am part of the PTPA Brand Ambassador Program with Gay Lea and I received compensation as part of my affiliation with this group. The opinions on this blog are my own.
More easy snack recipes