Ever have one of those meals that brings back wonderful memories of your childhood? Enter the crunchy fried egg roll, my mom makes the most wonderful egg rolls.
It's my go-to comfort food when I'm missing her home cooking. This is also a family favorite with the entire family, however, I don't deep fry much of anything so this is a definite treat for us and well worth it. You have to try this amazing egg roll recipe.
It means a trip to the Asian supermarket which is one we don't make often because it's so hard to find parking downtown. I like making these on the weekend since they do take a bit to prep and cook. But it's so worth it.
You can eat vermicelli with egg rolls, but you can ad chicken, pork,fried eggs as well.
How to serve egg rolls with vermicelli
You can also serve this meal with more vegetables and herbs as well. Herbs like Thai basil, mint, green onions as well as sliced tomatoes, pickled carrots and radish are good options too.
You can see pictured below are the dried black fungus that I used for this recipe. Alongside the bean thread vermicelli noodles are my favorite egg roll wrappers that you can find in the freezer section of your Asian supermarket.
This is the medium sized wrappers as there are larger and smaller ones available. For my family, the smaller ones were too small and the larger ones take too long to cook.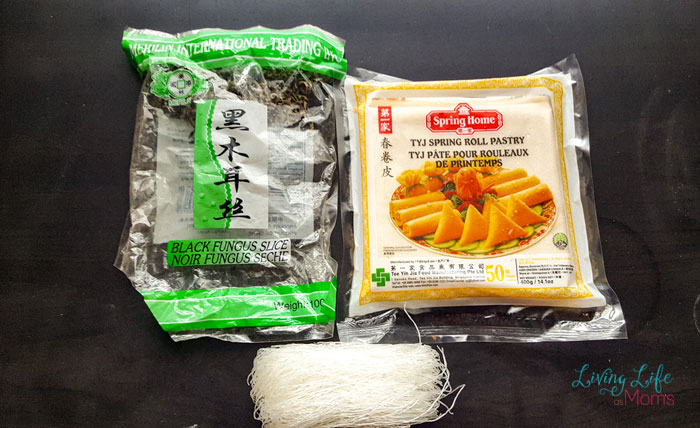 Spring Roll Wrappers, 8
You'll notice that the bean thread noodles are different from the vermicelli noodles that it is served with. The bean thread noodles when cooked become clear and they look like glass.
The noodles that they are served with is thicker, it's confusing because sometimes the packaging just states vermicelli and they're both vermicelli noodles. You can find the bean thread noodles sometimes bundle together inside the packaging if that helps you look for them.
I don't buy my noodles on Amazon so I didn't have a picture to show you but will update once I do.
Chopping up all of the ingredients may be the most time-consuming process since I do it all by hand, I imagine if you have a processor it would take much less time to prep.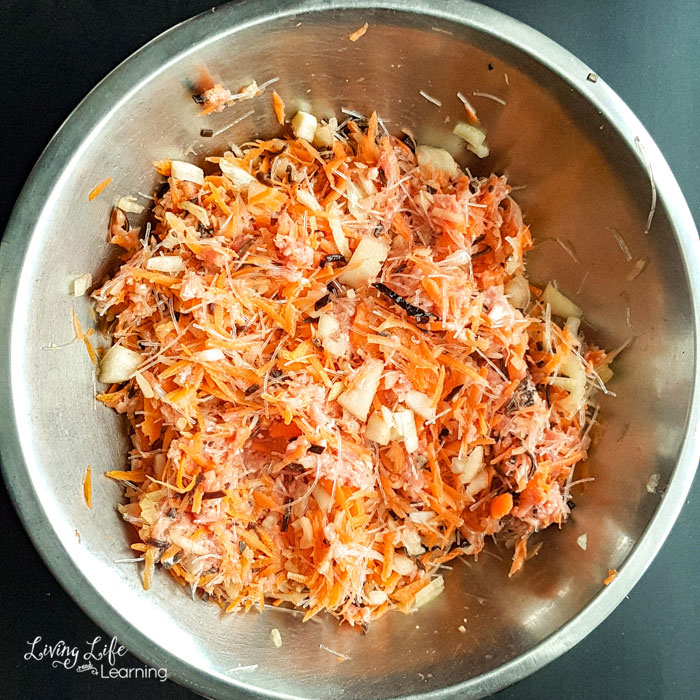 Once your filling is ready, you're ready to roll up the egg rolls. At this point, I set up my saucepan and heat up the oil. You can fry the egg rolls as you roll them up to save time. You will get faster with practice.
Add a good amount of filling and roll up the wrapper from the bottom and tuck it underneath the filling. You want to make sure it is as tight as possible so no filling is lost during the cooking process and it doesn't unravel.
Fold in the sides then continue to roll it up. Place a drop of milk at the tip to help seal it close, you can also use egg white but it's much easier with milk and it does the same thing.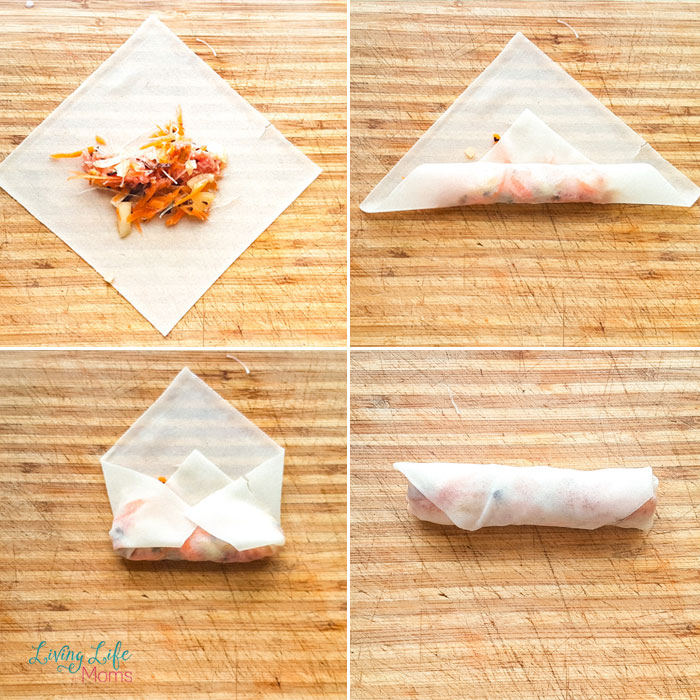 When you place the egg roll down on the plate as it awaits it's frying time, I put the seam side down so that it will keep it closed.
I use a small saucepan to fry my egg rolls and let it drain on a few layers of paper towel to remove the excess oil.
Nothing tastes worst than oily egg rolls.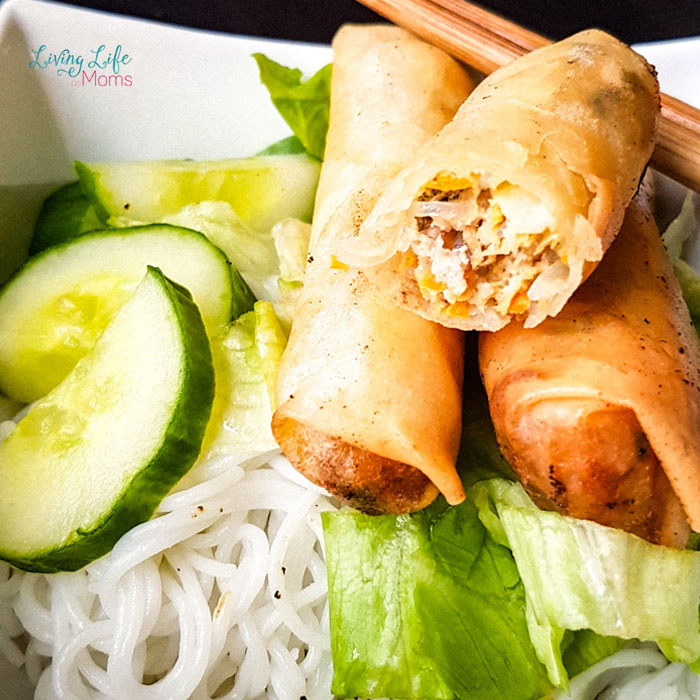 The kids will also eat the egg rolls with plum sauce on their own.
You have to watch them, they disappear quickly. However, I like to make a meal out of them with the vermicelli noodles and it feeds the whole family.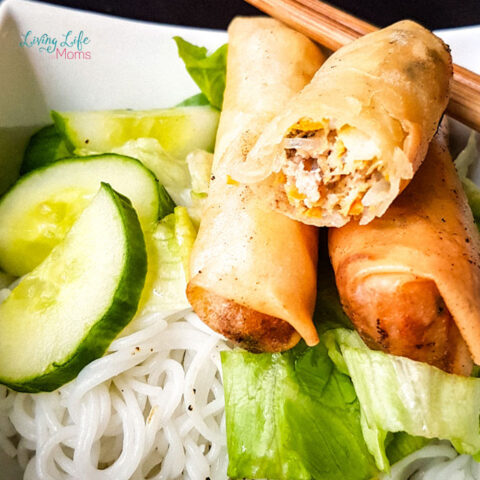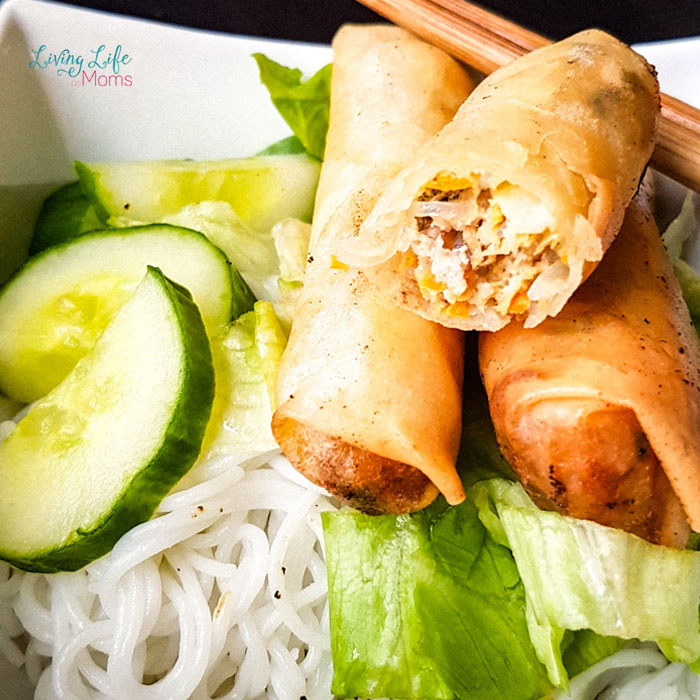 Amazing Egg Roll Recipe
Total Time:
1 hour
30 minutes
Want to eat an authentic vermicelli meal with egg rolls? This is our family's favorite all time meal and reminds us of my mom's cooking.
Ingredients
Egg Rolls
454 g Ground pork
1 bundle Bean thread vermicelli noodles soaked in warm water for 30 minutes, drained and coarsely chopped
1/2 cup Dried mushrooms soaked in warm water for 30 minutes, drained, rinsed and chopped
2 cups Carrots, shredded
2 cups Onions, chopped
1 Egg
Salt and pepper to taste
1 package Egg roll wrappers thawed
1/4 cup Milk
Canola or vegetable oil for frying
Served with
1 package Vermicelli noodles cooked according to package instructions
1 Cucumber, sliced
1 head Lettuce, sliced
Peanuts- roasted and crushed (optional)
Fish sauce
2 cup Water
1/2 cup Sugar
1/2 cup Fish sauce
2 cloves Garlic, crushed
1 Chile Pepper finely chopped
1 Lime, juiced
Instructions
For the Egg Rolls
Mix all of the ingredients except for milk, wrapper and oil together well with a spoon or use a plastic glove to work in the ingredients by hand
Set out wrapper on cutting board or counter in a diamond shape so the corner is at the bottom and place egg roll filling into the center
Roll up the egg roll from the bottom corner as tightly as you can until you get to the center and tuck it in underneath the filling
Fold the left and right flaps over
Continue rolling the egg roll up and use the milk to seal it close at the tip
Lay the egg roll down seam side down to hold it in place on a plate and continue rolling the rest
Fry the egg rolls in oil on medium for 4 minutes and drain on paper towel
Serve with vermicelli, cucumber, lettuce and fish sauce
For the Fish Sauce
Bring the water and sugar to a boil and take off of the heat when done
Add the fish sauce, garlic, pepper and lime and let cool
Keep refrigerated until serving
Notes
You can store leftover egg rolls in the fridge up to a few days. To reheat the egg rolls, use a toaster oven or the oven to reheat, if you microwave them, they will be too soft.
Recommended Products
As an Amazon Associate and member of other affiliate programs, I earn from qualifying purchases.
More Asian Recipes