Are you looking for a super simple fall treat? You're going to love the taste and flavor of this Simple No-Bake Apple Cheesecake recipe. One bite just isn't going to be enough!
Reds, oranges, yellows, and brown are my favorite colors in the fall. We love watching the leaves change colors in our backyard. Cool-weather means summer is over and we're heading into the fall.
Fall is here! The perfect time to go apple picking and take advantage of those fresh apples. A simple no-bake apple cheesecake recipe that is easy to make and will please the whole family.
We make it a point to plan a camping trip every fall so that we can enjoy the fall foliage in Ontario. The whole family can go bike riding and take long hikes in the forest and watch fall happening all around us.
It's a wonderful opportunity to talk about the science of fall and how leaves turn different colors as they lose the chlorophyll from their leaves. We love watching animals and talk about how the squirrels and chipmunks are getting ready for the long cold winter.
Make the most of fall by using ingredients that are in season. September means apples, apples and more apples for our family.
We love the different types of apples with some kids enjoying Macintosh while others prefer Royal Gala.
This time I had some Paula red apples on hand and decided to make a wonderful fall treat for the whole family.
No-Bake Apple Cheesecake recipe
I love preparing this dessert because it's super easy and I don't have to use the oven at all. And while I love cooking with my oven, sometimes…it's nice to have a break. (This is so true when the weather outside is hot – who wants to turn on the heat inside when it's so hot outside?!)
During the fall months, apples are plentiful and there are so many varieties that you can experiment with different flavors. You can use a tart apple or a sweeter apple and make this simple apple recipe taste different each and every time.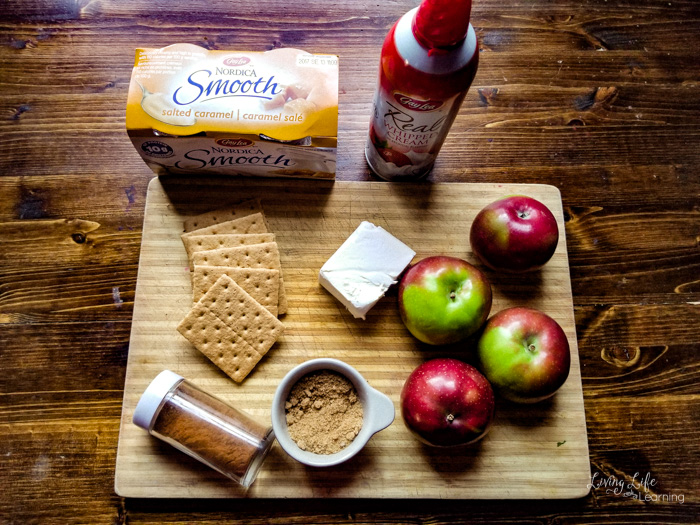 Did you know Gay Lea has Caramel Smooth Cottage Cheese? I wanted to make a cheesecake but really did not have the energy to bake anything this time. Then I saw that they had caramel smooth cottage cheese and thought that may work very well with apples.
I love that my food is made of products that are found right here in Ontario and we're supporting the dairy farmers.
If you go apple picking, you won't be short of apples for your favorite desserts. I topped this with Gay Lea whipped cream that I had on hand and it was the perfect finish for a mouth-watering treat for the family.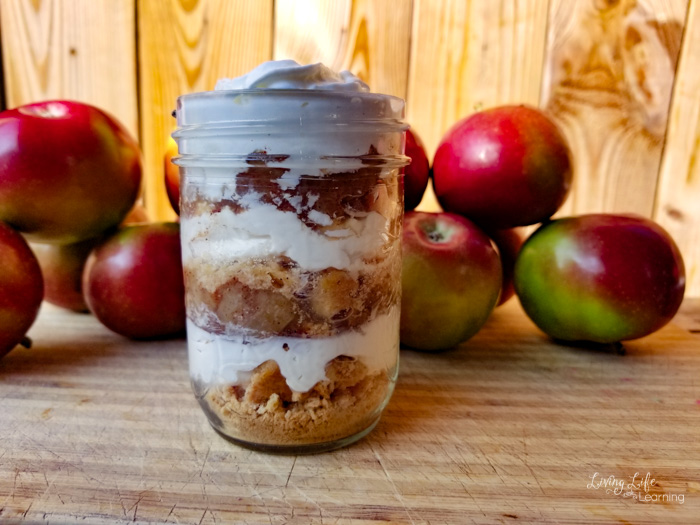 Have the kids help out in the kitchen
The fun part about this recipe is that the kids can help out with this recipe. In fact, my son crushed the Graham crackers for me and he said that if I needed anymore just ask him, he'd be happy to do it. (I'm totally going to take him up on that!)
I enjoyed creating something for the kids that was produced with quality food that was bought from my local farms. Knowing that my money supports local farmers is a huge thrill for me.
And since I was able to put in minimal work with huge taste, this is one of my favorite recipes that I'm going to make over and over again! – Crushed graham crackers
Disclosure: I am part of the PTPA Brand Ambassador Program with Gay Lea and I received Compensation as part of my affiliation with this group. The opinions on this blog are my own.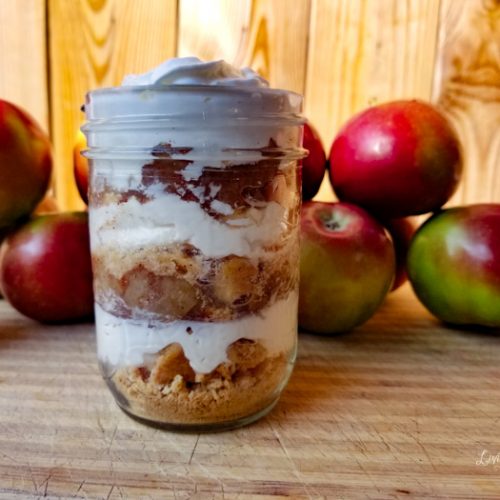 Simple No-Bake Apple Cheesecake
You're going to love the taste of this no-bake cheesecake recipe!
Ingredients
3 Apples - peeled, cored and diced
1 tsp cinnamon
2 tbsp brown sugar
1/2 cup water
1 package cream cheese, softened
2 individual cups of smooth caramel cottage cheese
1 tbsp sugar
Crushed graham crackers
Instructions
Place apples, cinnamon, water, and brown sugar into a small saucepan, cover and bring to a boil, cook for 5 minutes and then take off heat and let cool.
Mix cream cheese, cottage cheese, and sugar saucepan, until mixed well and smooth.
Top with whipped cream.
More Cheesecake Recipes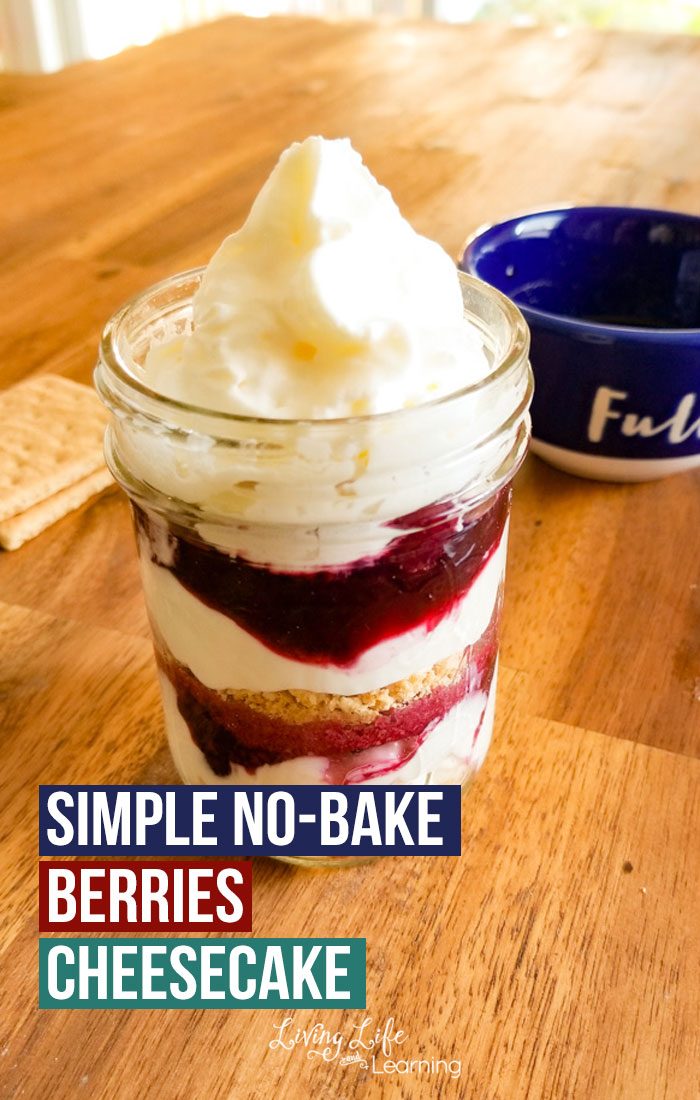 Simple No-bake Berries Cheesecake