Here is a tutorial on how to make these super cute Reese's turkey treats. They are perfect to make on Thanksgiving Day while your little ones wait for the food to be ready or make them after eating so they can be eaten as a dessert. Either way, they will be enjoyed and so delicious for all peanut butter lovers.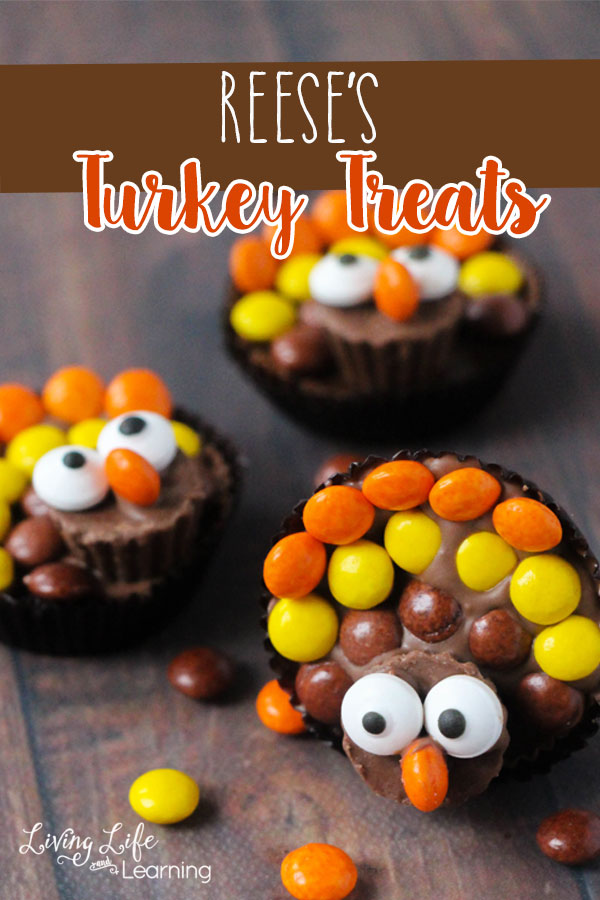 Oh, these are the cutest Thanksgiving turkey treats ever! Make the with your little ones or make them on your own and surprise them on Thanksgiving Day.
 Reese's Peanut Butter Cups Miniatures, 40-Ounces
 Edible Icing Royal Eyes Cake Candy Cookie Decorations
 REESE'S Peanut Butter Cups (1.5-Ounce Packages, Pack of
&
Reese's Turkey Treats Ingredients
 Directions
1. Place the chocolate chips and shortening in a microwave-safe bowl and heat for 25 seconds. Stir well and reheat as needed.
2. Lay out all of your ingredients as you will want to work smoothly and quickly.
3. Using a spoon, add a 1/2 teaspoon or so of melted chocolate on a Reese's Cup
. Smooth it out to cover the entire top.
4. Place a Reese's Mini peanut butter cup in the bottom center of the Reese's Cup.
5. Create an arc of a single color of Reese's Pieces around the Reese's Mini.
6. Create a second arc in a second color around the first arc.
7. And finally, place a third color arc on the outskirts of the Reese's Cup.
8. Attach the Candy Eyes
to the top half of the Reese's Mini using a touch of melted chocolate, and repeat with an orange or red Reese's Pieces for the beak.
9. Repeat until all 12 Reese's Cups are converted into chocolate turkeys!
Happy Thanksgiving!
Enjoy these lovely turkey treats for kids! You might also enjoy:
Save Money Over the Holidays This Thanksgiving
Get Weekly Updates
Taming the chaos of motherhood -
Subscribe and get a daily schedule printable