Here is a tutorial on how to make these super cute Reese's turkey treats. They are perfect to make on Thanksgiving Day while your little ones wait for the food to be ready or make them after eating so they can be eaten as a dessert.
Either way, they will be enjoyed and so delicious for all peanut butter lovers.
Oh, these are the cutest Thanksgiving turkey treats ever! Make the with your little ones or make them on your own and surprise them on Thanksgiving Day.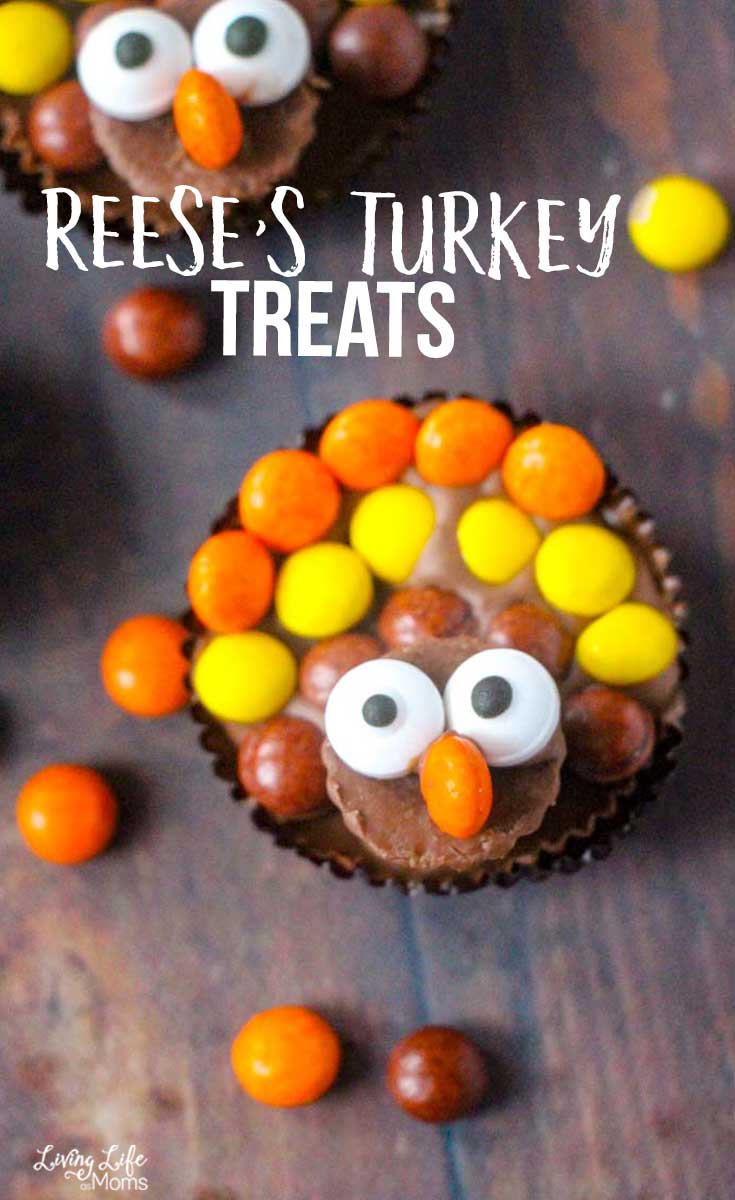 Reese's Turkey Treats
I understand the importance of teaching our children not to play with their food…but these are just too cute to pass up! Look at those eyes?!
And while everything about them screams sugar, this is what makes these a fun Thanksgiving day treat.
Recommended Thanksgiving Recipe Books
Not sure what to make along with these delicious turkeys? Grab one of these Thanksgiving recipe books to have a wonderful Thanksgiving meal.
The Side Dish Bible: 1001 Perfect Recipes for Every Vegetable, Rice, Grain, and Bean Dish You Will Ever Need

The Art of the Host: Recipes And Rules For Flawless Entertaining

Fine Cooking Thanksgiving Cookbook: Recipes for Turkey and All the Trimmings

The Best of Thanksgiving (Williams-Sonoma): Recipes and Inspiration for a Festive Holiday Meal

All Time Best Holiday Entertaining

Betty Crocker Complete Thanksgiving Cookbook: All You Need to Cook a Foolproof Dinner

Is there any baking required?
This is the best part! You don't even have to turn on your oven! So while your oven is being overtaken by everything turkey, dressing, and side dishes, the children can be creating this fun and edible Thanksgiving treat as well.
If you give them the task of making these up as a treat for everyone to enjoy, they'll spend a large portion of their time making them over and over again. (and snacking, of course!)
As you can see from the few items below, you really don't need a ton of supplies or ingredients to get started. Order these ahead of time and you'll be ahead of the game and prepared.
They are just the cutest, right? You can even have them as place settings on the dinner plates for your Thanksgiving meal if you want! The biggest thing to remember is that you can give your children the ability to create these all on their own.
And when it comes to kids creating their own food ideas, it's such an important creativity tool to have. Not only does it teach them that they have the ability to create something simple and fun, but it also gives them the confidence to continue to do so all throughout life.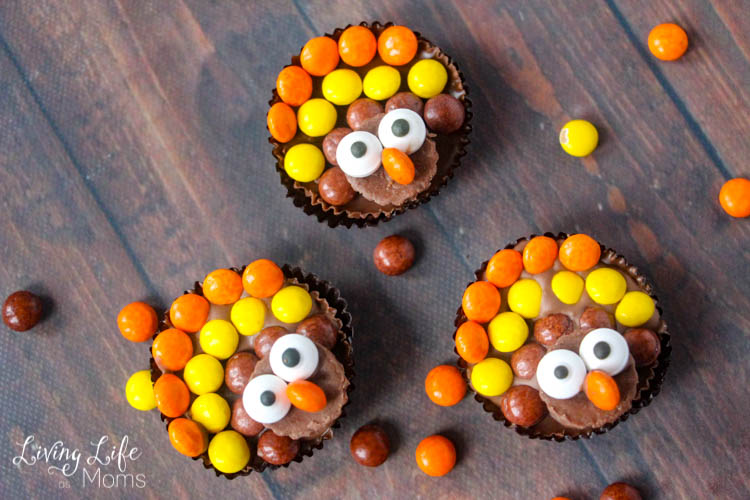 Reese's Chocolate Peanut Butter Cup Candy, Miniatures, 35.6 oz Bulk Bag

REESE'S Chocolate Peanut Butter Cup Candy, Minis, 7.6 Oz Pouch, Pack of 8

Festival Candy Eyes Treat Toppers, 2.9 Ounce

These turkey treats would also be a great gift to give to others on Thanksgiving as well. Pack up a little box and hand-deliver some of these treats to your family and friends. They'll be so thankful that you thought of them and are wanting to share these homemade treats with them!
They're super easy to put together once you have everything ready. Then you can make one for each guest to enjoy. The whole family will love it.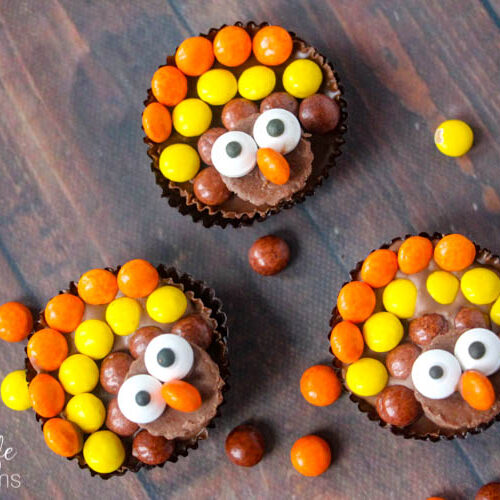 Reese's Turkey Treats
They are perfect to make on Thanksgiving Day while your little ones wait for the food to be ready or make them after eating so they can be eaten as a dessert.
Ingredients
12 Reese's Peanut butter cups
1/2 cup chocolate chips
1/2 Tablespoon shortening
24 Candy Eyes
Instructions
Place the chocolate chips and shortening in a microwave-safe bowl and heat for 25 seconds. Stir well and reheat as needed.
Lay out all of your ingredients as you will want to work smoothly and quickly.
Using a spoon, add a 1/2 teaspoon or so of melted chocolate on a Reese's chocolate cup. Smooth it out to cover the entire top.
Place a Reese's Mini peanut butter cup in the bottom center of the Reese's Cup.
Create an arc of a single color of Reese's Pieces around the Reese's Mini.
Create a second arc in a second color around the first arc.
And finally, place a third color arc on the outskirts of the Reese's Cup.
Attach the Candy Eyes to the top half of the Reese's Mini using a touch of melted chocolate, and repeat with an orange or red Reese's Pieces for the beak.
Repeat until all 12 Reese's Cups are converted into chocolate turkeys!
More Thanksgiving Snacks and Ideas