30 Days of Gratitude Printable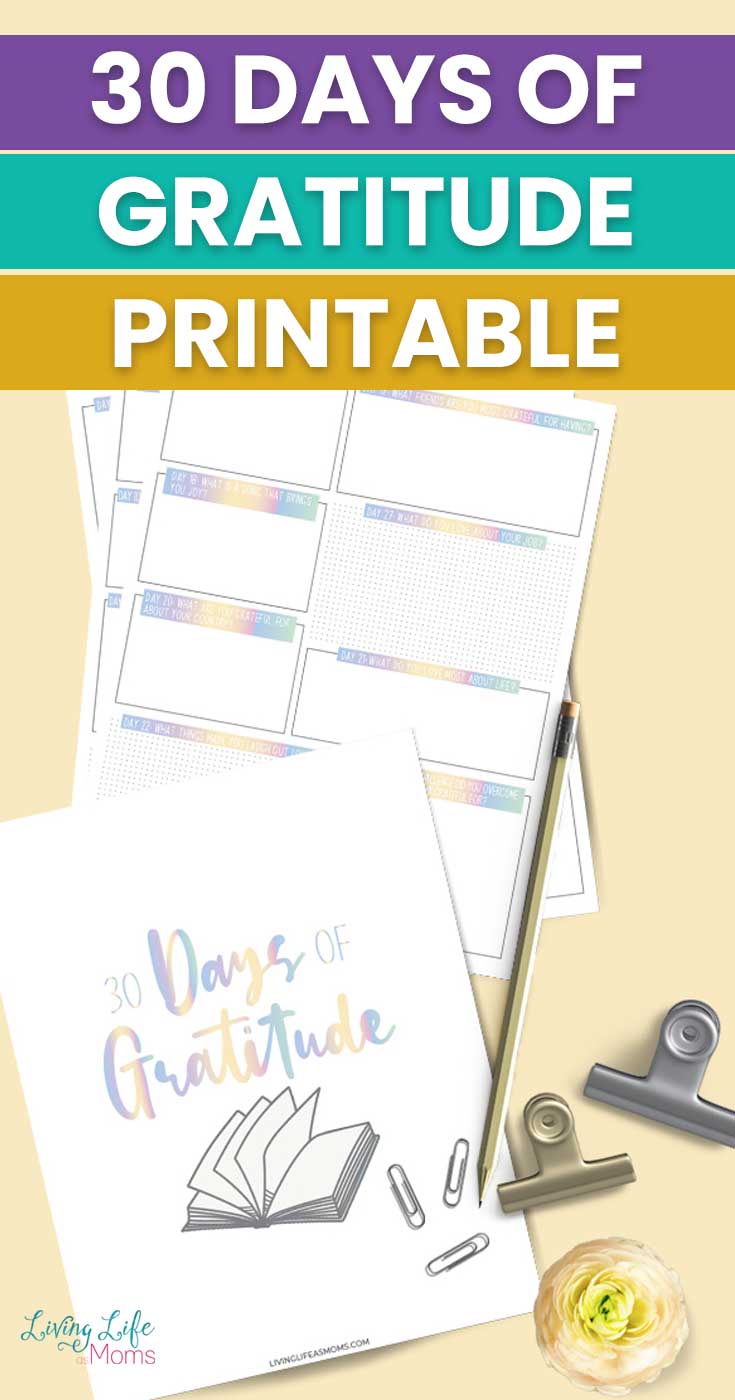 Now is the perfect time for this 30 Days of Gratitude Printable! If you're ready for a way to remind yourself daily of all the blessings in your life, this is it! Print and get started asap!
I've found that having a reminder every day for 30 days is a great way to make a habit of something. If you find yourself looking for a positive way to start each and every day, why not start off your morning by being grateful for your life?
Every day we're surrounded by people and places and events and actions that can make a positive impact on our life and make the day turn out great. For that reason, we need to remind ourselves daily that its' a good idea to take time to remember that life is good!
Make sure to check out my Free Gratitude Printables for fun printables that can help you have a positive outlook and a good frame of mind.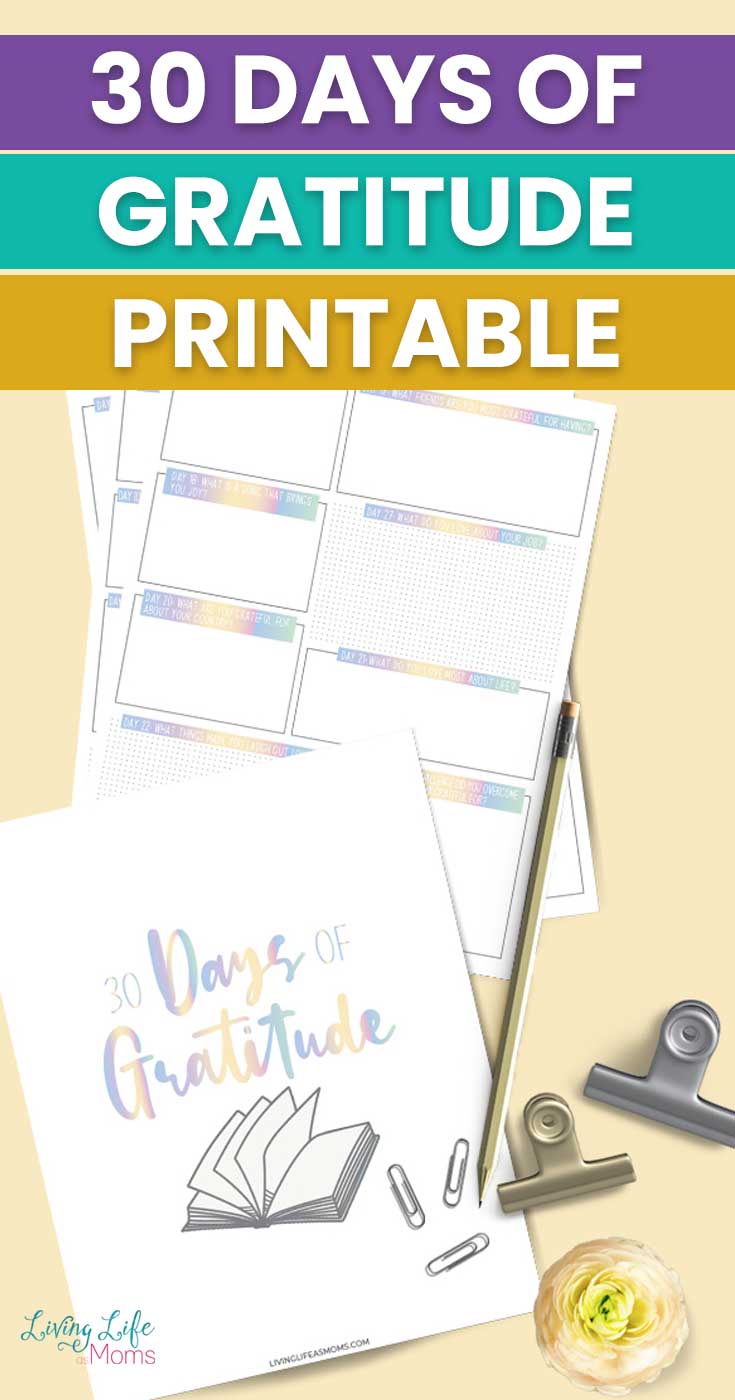 30 Days of Gratitude Printable
Isn't it amazing when you step back and think about all the things that we're grateful for? Every day brings about a new look and opportunities that can easily turn into something wonderful, too.
But let's be honest. Sometimes, it's hard to see past the negatives and think about all the positives. This is what this printable helps with! You can easily write out what you want to be grateful for and it can instantly make your day brighter!
Because when we all stop and think about it, there is always something or some part of every day that makes us smile. A simple smile, a kind word, good food, a hot cup of coffee, or a good book are all things that can easily turn a gray day amazing.
Recommended Gratitude Journals
Need to add more gratitude to your day? Keep things organized with your own gratitude journal in various styles.
Gratitude Journal for Women: A Daily 5 Minute Guide for Mindfulness, Positivity, Affirmation and Self Care (Premium Keepsake Edition)
Habit Nest The Gratitude Sidekick Journal: A Habit-Building Gratitude Journal & Mindfulness Journal. The #1 Gratitude Journal for Women & Men.
The 5-Minute Gratitude Journal: Give Thanks, Practice Positivity, Find Joy
Gratitude Journal Notebook: Daily Gratitude Self-Care Affirmations
Gratitude Finder® 52 Week Non-Dated Journal for Women, Teens & Girls with 165 Hand-Illustrated Stickers (Summer Chevi)
Gratitude Journal: 100 Days Of Gratefulness: Be Happier, Healthier And More Fulfilled In Less Than 10 Minutes A Day (Gratitude Journal, Thankfulness Workbook, Gratefulness Challenge)
What is the 30 day gratitude challenge?
Don't think of it as a challenge in a bad way. Instead, use it to find the motivation to be thankful daily. It's not a challenge that is meant to add a ton of extra stress to your day, either.
In fact, it can be one part of your day that calms you and brings you peace. I know that when I'm feeling stressed, the thought of things that make me happy really does help. This can be something simple, or something unique – and I instantly feel better.
The "hardest" part of the challenge is to remember to do it daily. That's why having a printable is the best. It's a concrete pack of paper that you'll see and be reminded to do.
I always keep mine in a place that I'll see daily so that I don't let it escape from my mind.
What should I put on my gratitude list?
This is totally up to you? It can be something big, small, or anything, really. I love to add things that make me smile or make me laugh. I also like to add things that the kids do that warm my heart as well.
Don't put extra stress on yourself to try and find something perfect. You can be grateful for your home, your animals, your children, a fresh cup of coffee in the morning, the sunrise or sunset, your favorite piece of chocolate, or anything else that you want.
There are no rules that you have to abide by when using this printable so have fun. If you were to take a peek at mine, you'd see that some days I'm thankful for actions, some days things, and some days, thoughts. (and some days just peace and quiet!)
Can kids join in on the daily gratitudes?
Of course. I'm always talking to the kids about being grateful for what they have and their surroundings. And to be honest, it's a great conversation to have.
This is a reminder for them that happiness doesn't come from "things" but more from thoughts and feelings. We also like to try and do nice things for others so this is a good time to talk about random acts of kindness, too. Sometimes my gratitude for the day is the fact that we were able to help another person out.
How can I practice gratitude every morning?
It's actually really great practice to start off your day with what you're grateful for. This printable is an easy way to do that since it's formatted and ready to use.
I like to start my day with a little bit of quiet time as that gets me mentally ready to tackle anything and everything that might come at me. I'll then follow it up by thinking of 1-3 things that I'm grateful for and jot them down!
Yes, you read that right! This printable is not just for one thing that you're grateful for! It can be used to write out as many as you want. If you have 10 things one day, and 1 the next – that's fine! It's all about putting out those positive thoughts and energy in the best way that works for you.
Don't forget to grab your gratitude printable below
Now that you know what it takes to start off your day in the best and most positive way possible, use this gratitude printable to keep you on track! Life is full of beauty and kindness so recognize it to keep that smile on your face.
More Gratitude Journals
There's always room for more gratitude in your life! Use the following resources to keep that momentum going!
Unicorn Gratitude Journal for Kids Printable
This is such a great addition for the kids. It helps them focus their thoughts and realize all the things that they have to be grateful for as well.
Fun Gratitude Journal for Elementary Students
Use this for your kids and watch their thoughts and emotions grow! You can even start these exercises off in the morning together as a family if you really want to. As long as everyone is on board with recognizing the beauty of each day, it's a great way to start the day!