Easy Ocean Themed Dipped Pretzel Rods
These Ocean Themed Dipped Pretzel Rods are just too cute to pass up! And while you're staring at them in awe, get ready to treat your tastebuds to a true treat.
These dipped pretzel rods are perfect for a quick snack to have around the house or as a fun addition to an ocean-themed birthday party. Another great idea is to have these as treats if you're doing a homeschooling lesson on the marine and ocean life as well.
The best part about these dessert pretzels is that anyone in the house can help. Grab up your supplies and have everyone decorate their own dipped pretzel rods to eat once they set and dry! They're a fast and easy snack and a great way to have the kids jump in and help make them!
And don't forget to check out more pretzel snacks you have to try!
Ocean Themed Dipped Pretzel Rods
These are probably the easiest dessert treats that you'll ever make. All you need are 5 simple ingredients to get started. And once you make and decorate your very first one, you're going to want to keep going with that trend.
Gather up all the simple ingredients below and let's get to it!
As you can see from the picture below, one of the key steps to this recipe is to make certain that you're melting the chocolate wafers in a way that they don't get burnt.
If you do happen to burn it, you're going to need to add in 2 tablespoons of coconut oil to get it to then in. (Burning it just means that it gets super thick so you have to thin when that happens.)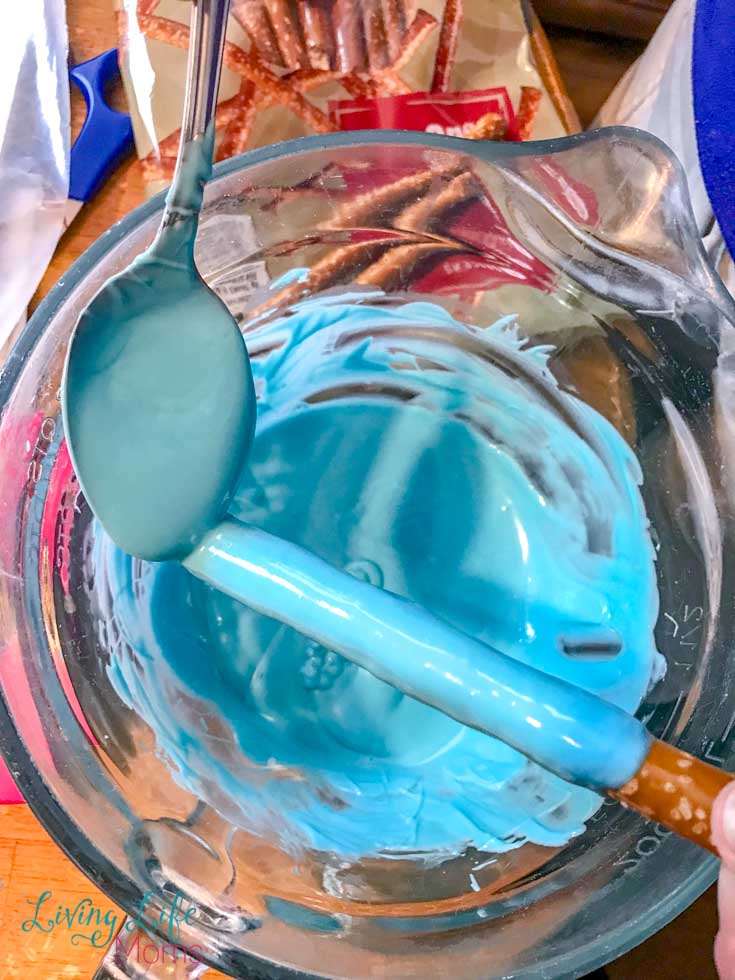 Also, keep in mind that making these pretzel rods can tend to get a little bit messy. I highly recommend to have them on a wire rack or wax paper when you're letting them dry so it's just less for you or someone else to have to clean up later.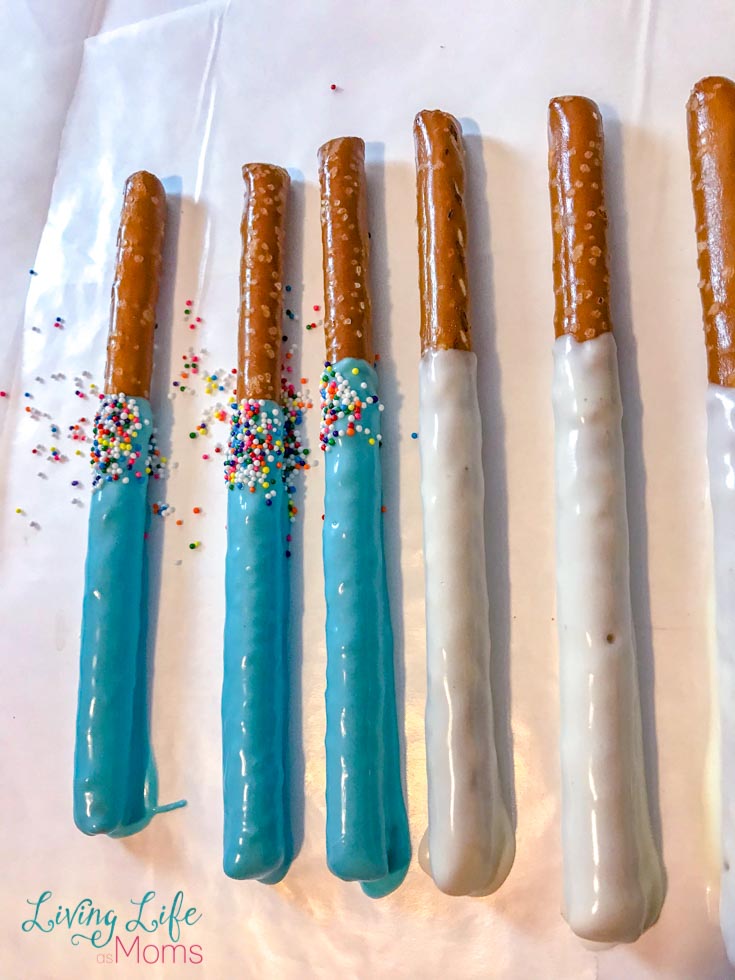 How difficult are these ocean-themed pretzel rods to make?
This is what makes this dessert so awesome. These pretzel rods are so simple to make. It's actually a great recipe to make with younger children because they can literally do the steps (with supervision) from start to finish.
We've made these for all different types of holidays and times of the years and they're always a huge hit. The kids love making them and they're overall just a ton of fun!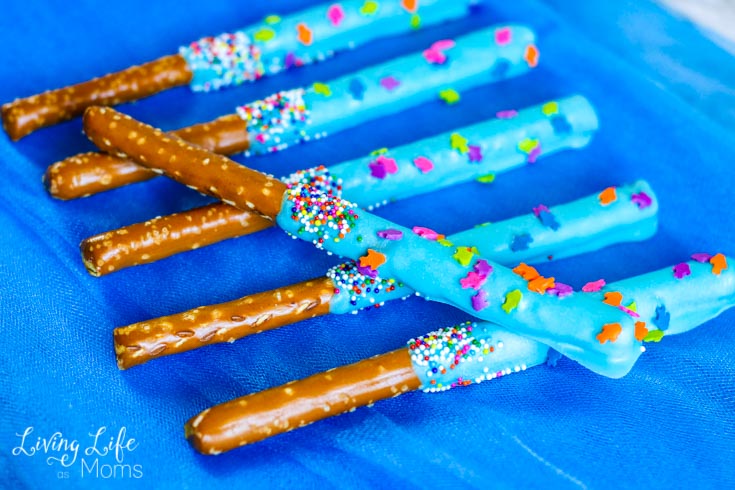 Make certain that once they are made, store in an airtight container at room temperature. (Putting them in the fridge will cause them to soften)
If you don't keep them in an airtight container, the air will make them soft, too. The key is to keep out the air!
You're going to love the ease of these pretzel desserts. So simple and perfect for a wide variety of ages! Have them really work on their own dipping skills so that they can easily create these pretzel rods themselves. They're such a great treat and so fast and easy for the kids to do!
Make it a family fun cooking event and spend time with one another! Cooking in the kitchen creates amazing family memories!
Recommended Ocean Pretzel Rods Supplies
Wilton 710-1176 Animals and Stars, Bright, 2.4-Ounce

Rainbow Nonpareils Sprinkles, 1.5 lb by Unpretentious Baker, Round Sprinkles, Gluten Free, Kosher, Made in America, Clear Resealable Bag

Wilton 16911-1352 Blue Candy Melts, 12-Ounce(2pk)

Wilton Candy Melts Flavored 12oz, Bright White, Vanilla

You can also try the Ocean themed dipped Oreos to go along with your pretzel sticks.
Are you looking for some outdoor activities for your kids to do this summer? Try this Outdoor Summer Challenge for Kids and get them busy, active, and learning.
Ocean Themed Pretzel Rods
These Ocean Themed Pretzel Rods are so simple and easy to make.
Ingredients
Pretzel rods
Blue candy melts
White candy melts or vanilla-flavored almond bark
Rainbow nonpareil sprinkles
Fish sprinkles
Instructions
Follow the directions on the package to melt the candy coating. Make certain that you don't overheat.
(If you do happen to overheat, add 2 teaspoons of coconut oil to help thin)
Once melted, pour the candy of 2/3 of the pretzels rods. Pick up and shake to let excess coating fall off.
If you're putting on sprinkles, do so when the coating is wet and turn the rods so that you're coating all sides.
Take your pretzel rods on waxed paper and let them cool.
If you're wanting to add on other colors or sprinkles at this point, you'll need to make certain that your first coating is dried completely.
Once done, you can melt other colors and drizzle over the pretzels with a fork. Then, set on wax paper again to dry.
Make certain to store in an airtight container at room temperature. (Putting them in the fridge will cause them to soften)
More Pretzel Rod Recipes that You'll Love: 
Red White and Blue Pretzel Rods