Adorable Ocean Themed Dipped Oreos for Any Ocean Lover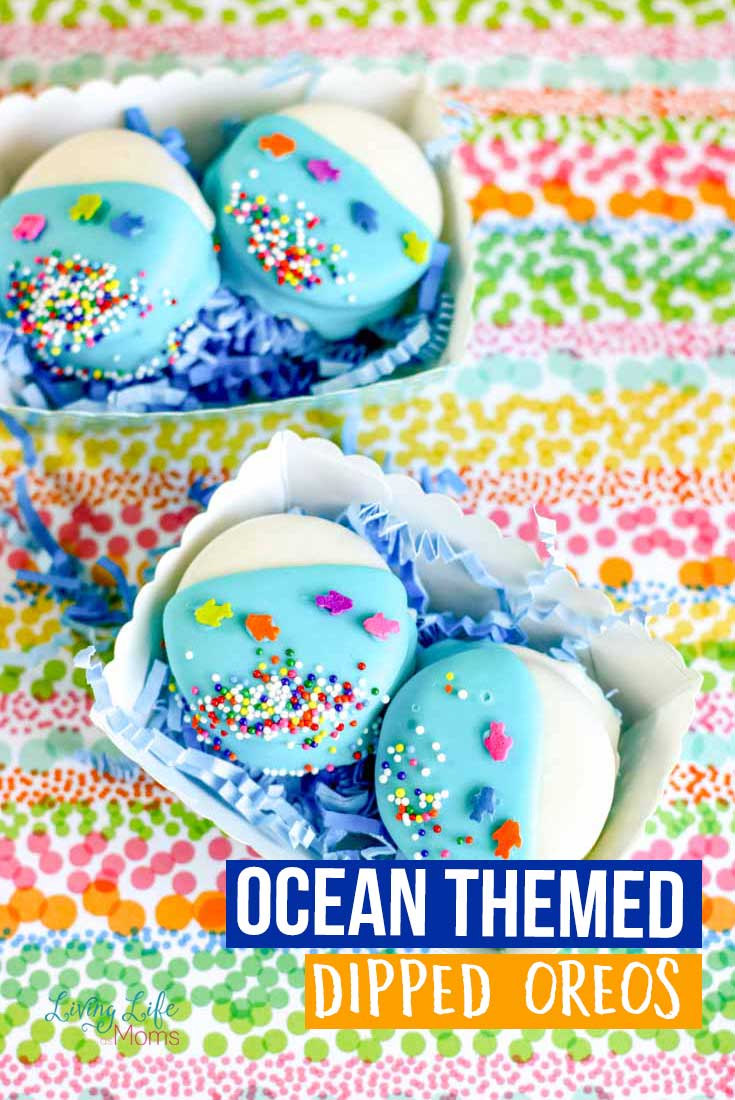 These Ocean Themed Dipped Oreos are too cute to pass up. Not only do they look like little oceans but they are out of this world delicious as well.
If you have a child who loves to decorate cookies, they're going to love this recipe. While the end result is that you get to eat the Oreos and that's always a win, the biggest part of the fun is getting to decorate the Oreos.
Let each person in your household take charge and create their own Ocean Oreo. It's so much fun to see every single one turn out into their own edible art.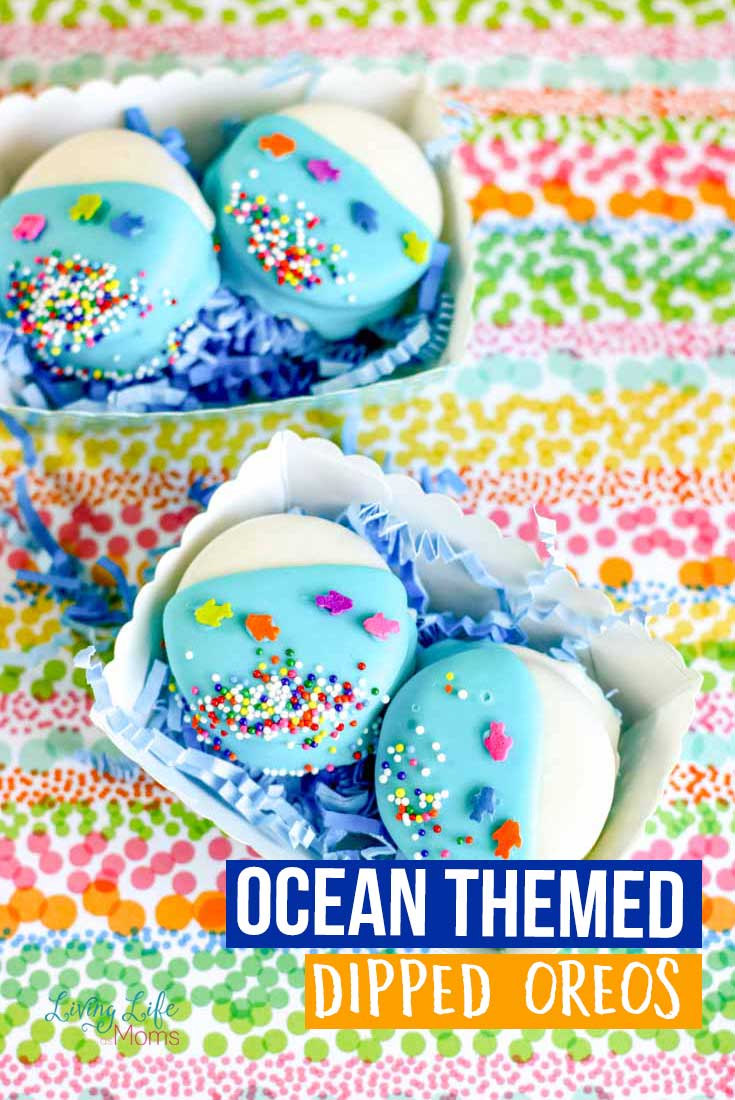 Ocean Themed Dipped Oreos
While you don't have to technically do any baking here, that's no reason to disclaim these dessert Oreos. They look fun and festive and taste great as well!
I think that not only are they super cute, but they'd be perfect for an ocean-themed party or a movie night where the family movie is centered around something relating to water.
Anytime that you can combine the power of cooking with something fun and exciting, do so! It's little ideas like this that your children will remove for a very long time.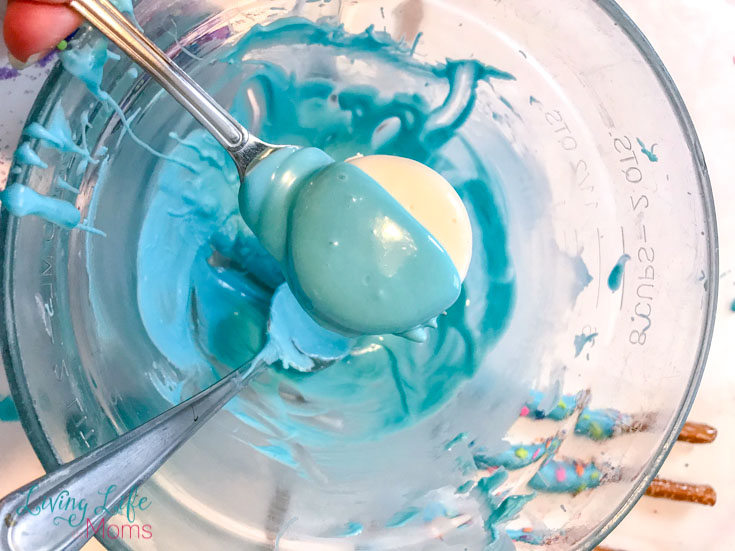 The key part to getting the look and consistency of these Oreos is that you need to not overheat the chocolate melts. If that happens, you'll need to thin it out again with coconut oil (and only coconut oil!) by about 2 tablespoons.
You'll know that you went too far in the microwave if the chocolate becomes really, really thick.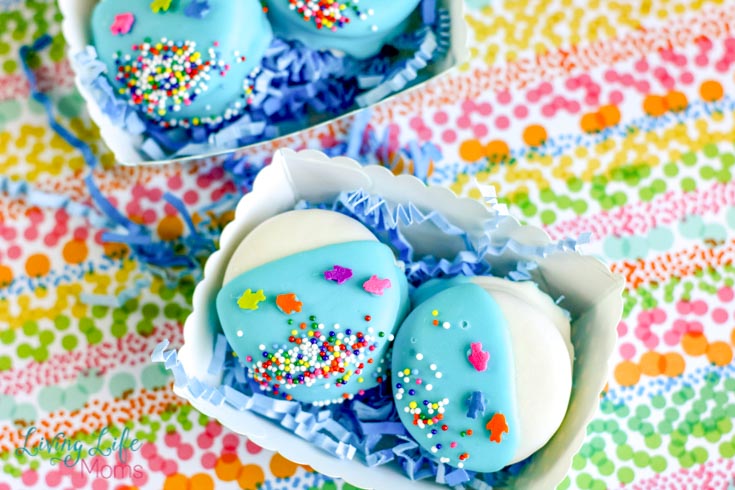 Then once you dip into the white and let dry, dip into the blue and add sprinkles and let dry, these Oreos are done and ready to eat!
Recommended Baking Tools
Do you like baking for the family? If your answer is yes, then you'll totally love these baking tools! I love having good baking tools on hand when we decide to cook in the kitchen!
Get the Silicone Baking Mat that turns the ordinary baking sheet into a reusable non-stick and easy-to-clean baking surface. Grab the Personalized Silicone Spatula, too, for personal use or as a gift for your closest baking buddy.
Can you do this same dipping and decorating process with other cookies?
You can. I love to use Oreos for a couple of reasons.
Oreos are awesome and taste amazing
They're the perfect round size and shape that just makes it easy to use. Plus, the size is helpful for portion control.
However, if you have another round cookie that you want to try this simple decorative design out on, you can! Use your judgment and have fun creating this ocean-themed design however you want.
Recommended Dipped Oreo Supplies
OREO Chocolate Sandwich Cookies, 1.59 oz (Pack of 30)
Wilton Candy Melts Flavored 12oz, Bright White, Vanilla
Wilton 16911-1352 Blue Candy Melts, 12-Ounce(2pk)
Wilton 710-1176 Animals and Stars, Bright, 2.4-Ounce
Rainbow Nonpareils Sprinkles, 1.5 lb by Unpretentious Baker, Round Sprinkles, Gluten Free, Kosher, Made in America, Clear Resealable Bag
Sprinkles | Fish Tank Sprinkle Mix | Edible Sprinkles | Birthday Sprinkles | Cake Decorations | Baking | Cupcake Toppings (4 ounces)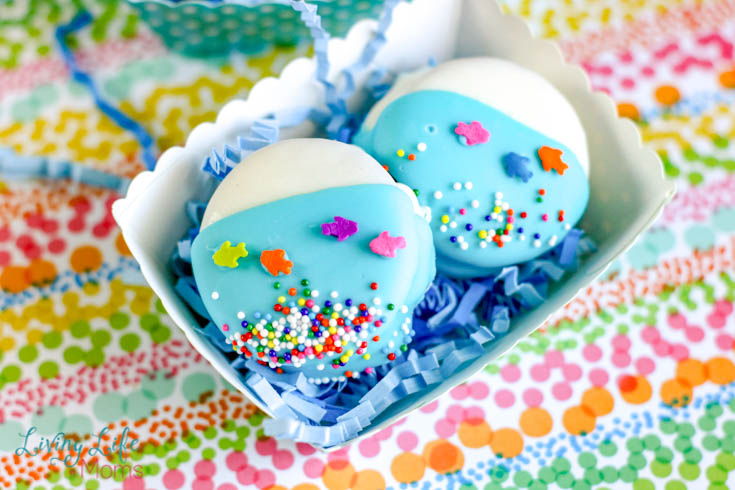 Have fun making and decorating these Ocean Themed Dipped Oreos. They're perfect for little hands and big imaginations to create and eat!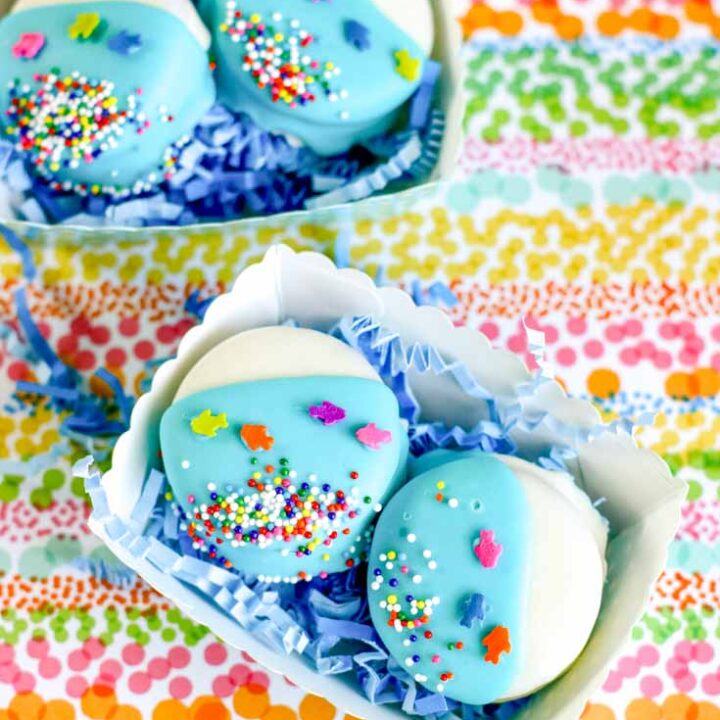 Ocean Themed Dipped Oreos
These adorable Ocean-Themed Dipped Oreos are so cute and fun! Perfect for ocean lovers!
Ingredients
1 (15.35 ounce) Package Oreo Chocolate Sandwich Cookies
1 (12 ounces) Package blue candy melts wafers
2 (12 ounce) Packages white candy melts wafers or vanilla-flavored almond bark
Rainbow nonpareil sprinkles
Fish sprinkles
Instructions
Start by lining a baking sheet with waxed paper.

Next, melt the white candy coating and make certain that you don't burn it. If you notice that it's too thick, you can add 1 teaspoon of coconut oil to help. (only 1 tablespoon of coconut oil per bag of candy melts)

Grab an Oreo and dip each one into the melted candy. Take out the Oreo and shake off any excess.

If you notice air bubbles that start to form, pop them with a toothpick.

Place the Oreo on the waxed paper and allow it to cool completely. (If you want it to be quicker, place it in the fridge or freezer)

Next, melt the blue candy coating the same as you did the while. (if it gets too thick, follow the same steps to thin)

Take half the blue coating and spoon it over the white cookies. Then you have to add the sprinkles asap to create an aquarium scene.

Let it sit and dry and then store in an airtight container.
Recommended Products
As an Amazon Associate and member of other affiliate programs, I earn from qualifying purchases.
Did you love these ocean themed dipped Oreos? Why not try these easy ocean themed dipped pretzel rods?
Are you looking for some outdoor activities for your kids to do this summer? Try this Outdoor Summer Challenge for Kids and get them busy, active, and learning.
More Oreo Recipes To Try
Red Peppermint Oreo Truffle Recipe
Cookies & Cream Cookies by Sally's Baking Recipes