Fall Daily Journal for Kids
Check out this great fall daily journal for kids! This is the perfect way to get the kids writing and using their spelling skills and make fun plans for fall! You'll find that this journal is a fun way to motivate the kids to have fun and make plans, too!
I'm the type of person that I'm always looking for things to hold me accountable so this journal is something that I think is great for kids. Sometimes we all get stuck in a bit of a rut and that is when a journal can be just the boost that we all need.
Make certain to check out my Gratitude Journal Printables for Kids as well for another great journal idea.
Fall Daily Journal for Kids
If you're looking for a reason to get the kids to start journaling, look no further than this fun idea. Fall weather is one of our favorite times and the kids love to start making plans of all the activities that they hope to get done.
Sometimes – I don't even know what those activities are! This is where a journal comes into play! The kids can easily write down what they want to do and then I can make a plan once I see it.
I love that journaling not only helps them get their thoughts and ideas out but it also opens up the lines of communication for us as well.
Recommended Journal for Kids
I love having the kids journal and I'm always shocked at how many different types of journals there are. The kids can easily use whatever type of journal that they want, it honestly doesn't matter to me.
I like to have them sit with me while we're talking about the journals and picking out ones that we like so that they take an active role in the choice. When they do that, they're much more likely to use them and put them to good use.
The best part about choosing a journal for kids is that there are so many other great options out there. Some kids are creative while others like their journals to be a bit more factual. Whatever works for them is totally fine!
The following journals below are even more great journal ideas for kids that can help them get comfortable with writing and planning.
Creativity Journal for Kids: Fun Activities to Spark Imagination and Inspire Self-Expression
Unicorn Journal and Sketchbook: Journal and Notebook for Girls – Composition Size (7.5
Big Life Journal – Second Edition: A Growth Mindset Guided Journal for Children – Interactive Journal and Goal Planner for Kids – Guided Journal for Kids with Prompts
Diary with Lock and Key PU Leather Kids Journal with Lock Personal Organizer Combination Travel Secret Notebook for Women, 5.3×7 in, Pink
Life is a Doodle Girls Diary with Lock – Gift Set Includes PU Leather Journal with Password Combination Lock, Sleek Pencil Pouch That Wraps Around The Notebook, Bangle Bracelet & Pink Writing Pen
Draw and Write Journal for Kids: 100 Pages, Large 8.5×11 inch
People sometimes ask me what the real point of journaling is and I actually think that it's going to be a different answer for each and every person.
I tend to think of journaling as a way to get prepared and plan out the week. In a way, I view journaling as a combination of writing and planning. For me, it helps me get my head on straight and allows for me to find a way to be productive, too.
But for the kids? It can be all that and more. I've found that each child who journals is different, just like we are as adults. Some kids like to journal to be busy while others find that it's a great way to calm the body and mind.
I think one of the benefits of journaling is that each person can really do what works for them.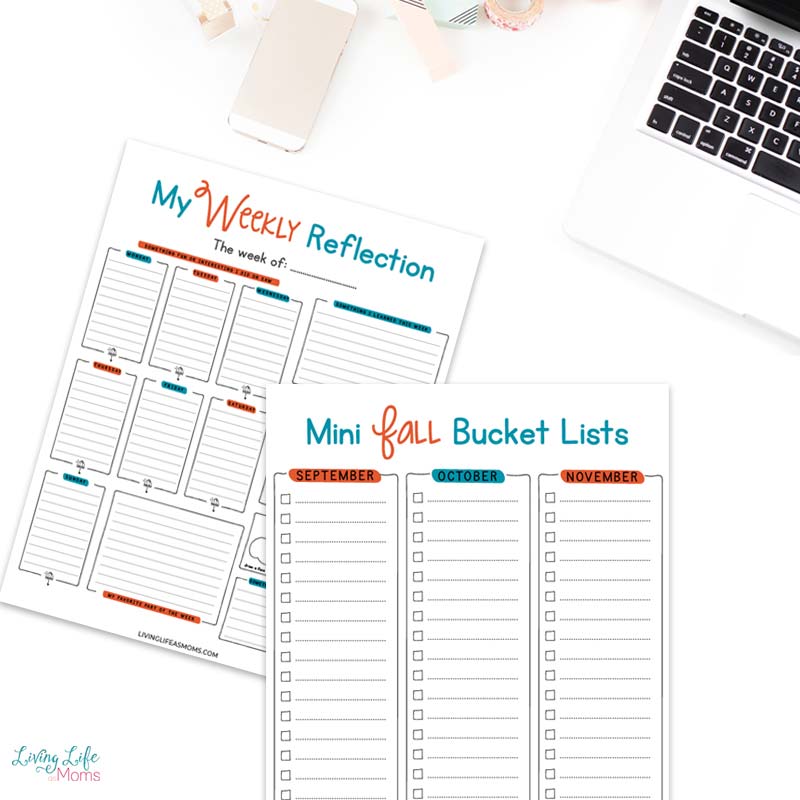 Since there are several months during fall, this bucket list option gives the kids the chance to write down everything that they're hoping to do! This is an easy way to make some fun family plans that everyone can join in on as well.
There are always a ton of family friend fall activities that you don't want to miss but sometimes we do miss a few when we don't take the time to write them down.
What journaling does is helps us be certain to get to everywhere that we need to so that the kids can do all the fun fall activities.
I'm also a big believe in setting daily and weekly goals. I do this for myself and the kids have started to do it, too.
I think that it adds a bit of hard work ethic and responsibility to the kids when they know that something is expected of them. Plus, when they have their own daily journal that is literally their very own, they tend to do a great job of taking care of it and treating it really importantly as well.
Make certain to grab your copy of the fall journal for kids! This is a great way to get them excited about all things fall!
If the kids are a bit nervous about journaling, make sure to talk to them about how they can use the journal in whatever way works best. This might help to take a bit of the stress and pressure off the kids so that they can then focus on filling it out and having fun doing so!
And who knows – they may find out that they love journaling and use it as a great way to stay organized and on top of all their activities and ideas moving forward.
This also means less work for you and also is great knowing that you're raising a planner who likes things to be organized and ready each day!
More Journaling Ideas
Here are a few other journals that you might get great use out of as well.
Floral Gratitude Journal Printables
Unicorn Gratitude Journal for Kids Printable
More Fall Ideas