Felt Basket Weave Heart Craft
Valentine's Day is quickly approaching and we are already thinking ahead to the big, special day. The kids and I will make a felt basket weave heart craft for close friends. Wouldn't it be fun if we mixed it up and made them in all kinds of rainbow colors? We can't wait to show you this awesome tutorial on how to make a cute craft.
This is one of those great Valentine's Day crafts that are perfect for holiday crafting fun. Anytime we can create a fun Valentine's day project, we do so! This felt weave basket is an amazing way to get the kids to work on their fine motor skills as well as their hand-eye coordination also.
I also love that they can create a great craft for Valentine's Day that they can then show off to their family and friends!
Recommended Valentine's Day Decor
Use these fun Valentine's day decor ideas to brighten up your space and bring some love into your home.
Medoore 2 Pieces Valentines Day Gnome Plush Decoration Valentines Day Mr & Mrs Handmade Swedish Tomte Decor Handmade Gnome Ornaments for Home Table Decoration
Big 36 Inch Love Balloon – Rose Gold Love Balloon Letters | Love Balloons for Romantic Night, Bridal Shower Decor | I Love You Balloons, Heart Balloons | Script Love Balloon, Valentine Day Decoration
Heart Garland Decorations for Valentines Decor – Red,Rose Red Pink Color, NO DIY | Valentines Heart Banner for Valentines Decorations, Anniversary | Love Felt Valentine Garland for Room and Fireplace
6 Pieces Reversible Valentine's Day and St. Patrick's Day Wood Signs, Heart Shamrocks Self-standing Blocks Table Centerpiece Decor,Farmhouse Love Luck Sign for Kitchen Tiered Tray Decor
3 Pcs Valentine's Day Table Wooden Sign Coffee Mug Shaped Tabletop Decor Romantic Love Be Mine Decorative Table Centerpiece Signs Valentine's Day Tiered Tray Home Decor (Funny Style)
Aoke Valentines Day Pillow Covers 18×18 Inch Set of 4, Buffalo Plaid Red Heart Valentines Throw Pillow Cover, Loads of Love Farmhouse Cotton Linen Cushion Case for Home Outdoor Indoor Decor
Felt Basket Weave Heart Craft
Keep in mind that this is one of those easy crafts that doesn't take long at all. I love to use this when the kids are looking for a fast and easy afternoon craft that is about the Valentine's Day holiday. We've also made these and given them out to people as a fun DIY gift as well.
Talk about a cute and simple way to spread kindness and cheer! These felt hearts always do the trick! 
Felt Basket Weave Heart Craft Supplies
All you need are the simple supplies listed below to get started. Let the kids choose their favorite felt colors to start creating!
Scissors
Craft glue (optional)
flic-flac 44PCS 4 x 4 inches (10 x10cm)
Scotch Precision Ultra Edge Scissors, 8 Inch, 3-Pack
ALEENES 15599 All Purpose Glue, 8-Ounce
Decide on the two colors you'd like to use for your heart. You can choose two different colors that complement each other than cut them into a U shape.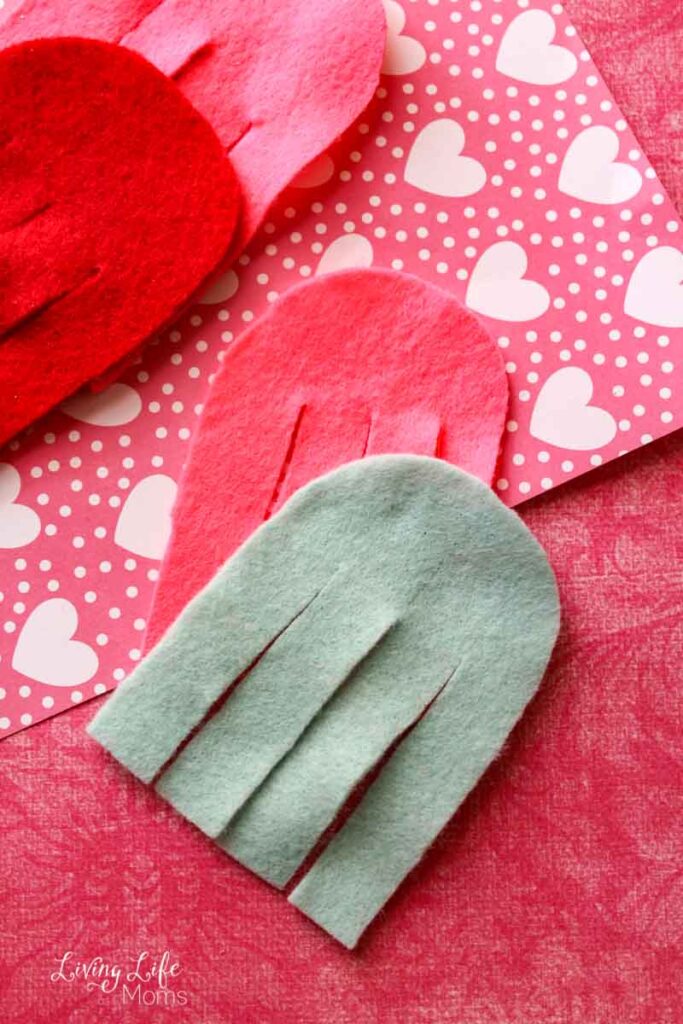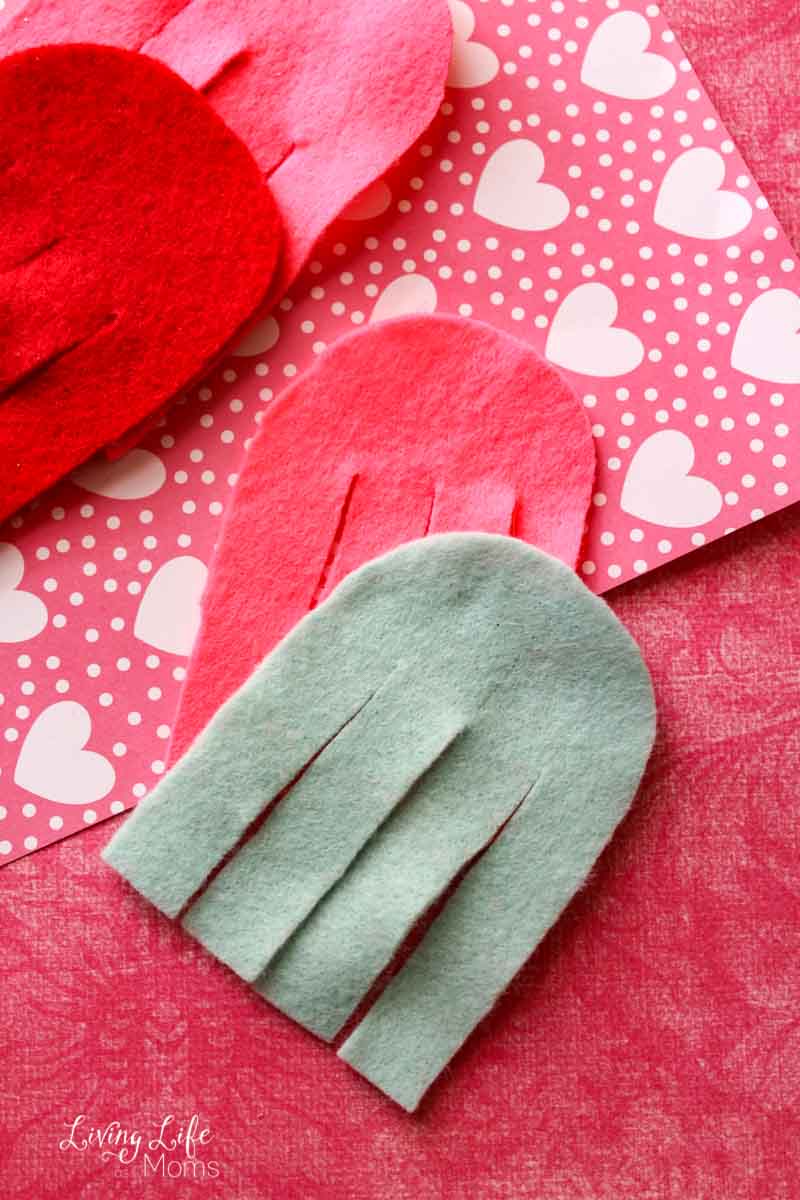 Cut strips from the flat side of the felt. Make sure they are evenly spaced apart.
Begin to weave them together so that they alternate.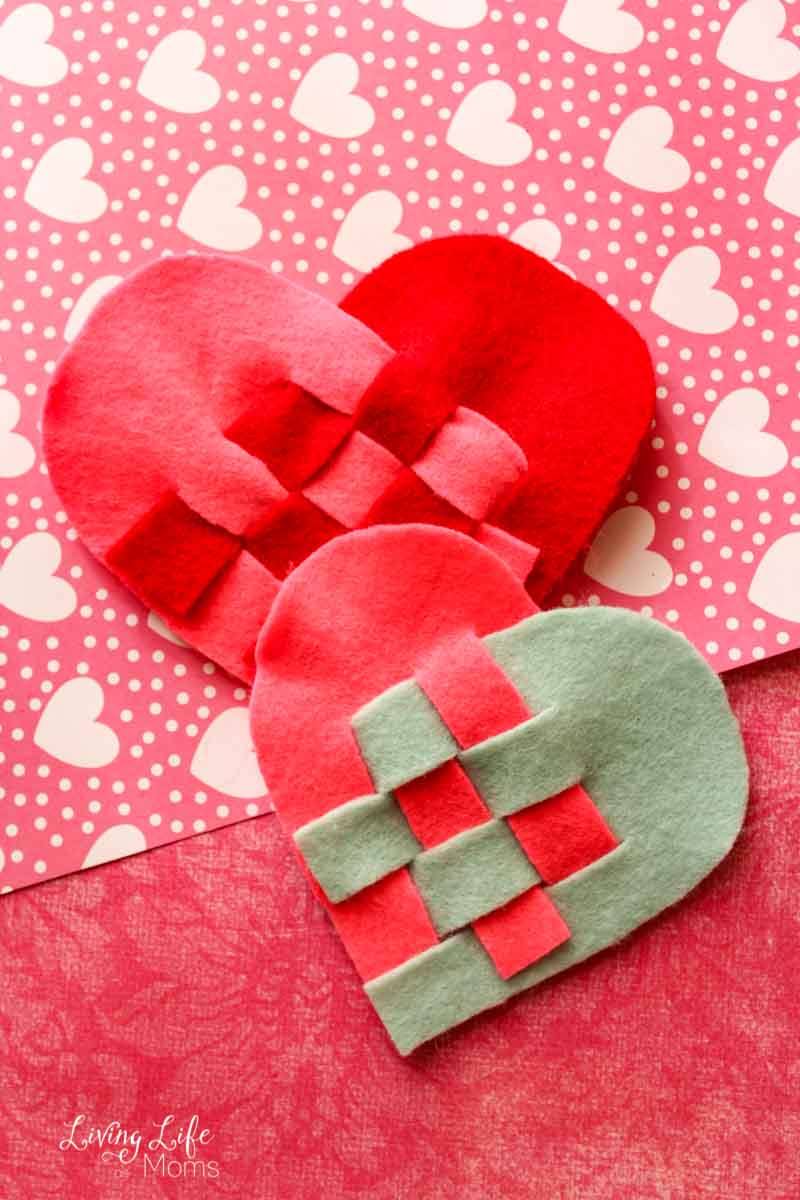 Your felt woven hearts are now ready to be enjoyed.
Fun Ways to Use This Felt Basket Weave Heart Craft
What I love about this simple craft is that you can use it for so many different reasons. As I mentioned earlier, these would be great for a Valentine's day gift for family and friends.
You can also use them on homemade Valentine's Day cards as well. 
We've also used these to decorate around the home and have the little hearts to remind us of kindness and love.
You can have the children make up some of these hearts and then hide them throughout the house! It's a fun way to play a game together and have everyone up and moving as well! 
Felt Basket Weave Heart Craft
Materials
Felt sheets in choice of colors
Scissors
Craft glue (optional)
Instructions
Begin by choosing the colors of felt you wish to use. You can use the same for each side of the heart or opt for two different shades for contrast.
Cut out two U shapes from the felt as shown. The size of the U will depend on how big you want the heart to be.
Now, starting from the flat end of the U, cut strips that go up the shape about ¾ of the way. Remember you do not want to go all the way to the top!
You want your strips to be even, and equally spaced.
You can now start weaving the strips as shown. Gently pull the felt to help it reach across. You will find it stretches nicely. You will use an over/under method as you weave.
The woven heat will stay together nicely but you can add a dab of craft glue to each end of the strips to help secure them in place.
I hope you enjoyed our Felt Basket Weave Heart Craft post!
More Fun Valentine's Day Activities
Valentine's Day Chocolate Hearts