Simple Apple Fondant Cupcakes You Have to Try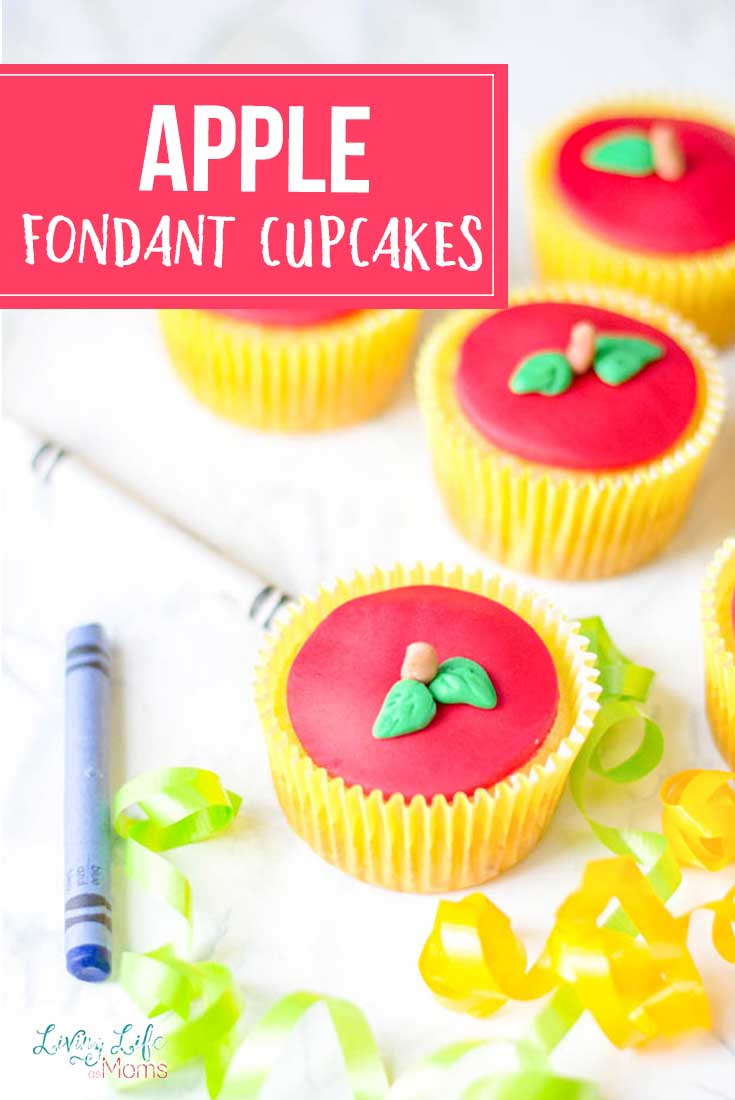 These Simple Apple Fondant Cupcakes are perfect for back to school time! If you're looking for a delicious and cute treat to share with others, these are the cupcakes for you!
And if you need more cupcakes, we've got more creative cupcake decorating ideas here.
Every teacher loves getting apples on the first day back to school, right? Even if you homeschool and you're the teacher, apples are such a fun treat.
But truth be told….these apple cupcakes are an even bigger, better and sweeter treat that any teacher is certain to love.
While they're decorated using fondant, they're still super simple and easy to create. This is one cupcake decorating project that you can do easily with your child.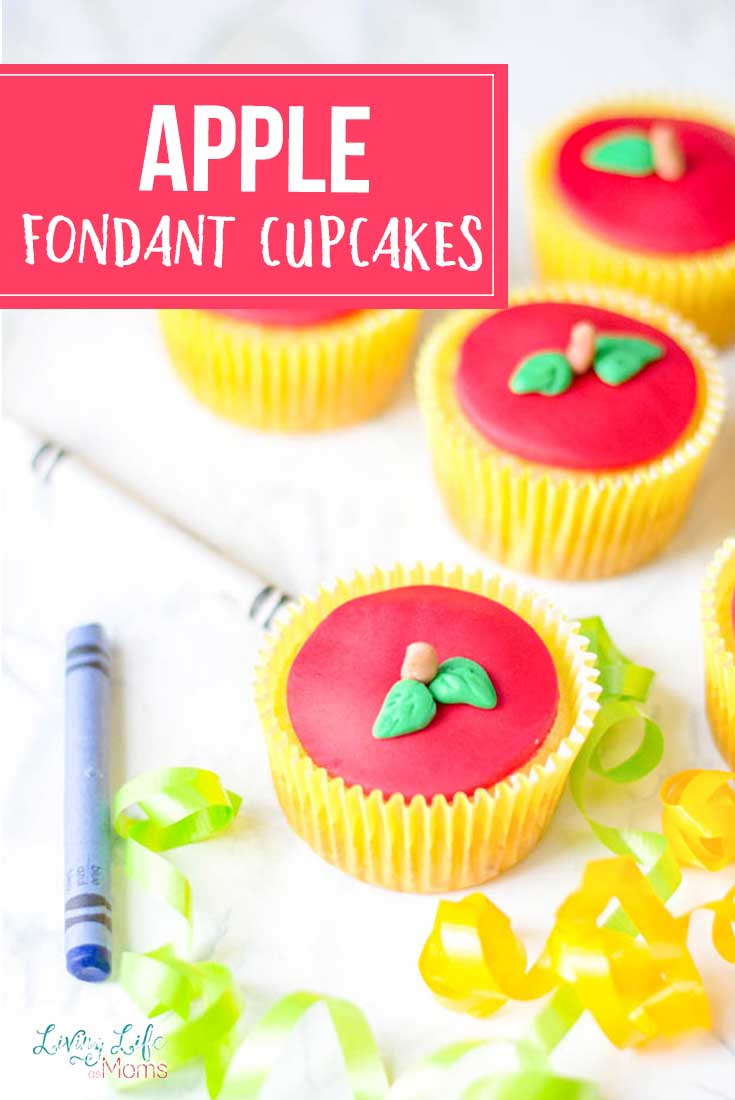 Apple Fondant Cupcakes
If you've never used fondant to decorate, you're in for a real treat. It's super simple to work with and can create some of the coolest cupcake toppers and decorations, ever.
Plus, being able to have fondant in different colors is a great way to really spruce up these cupcakes. The red and green are perfect for creating that fun apple look!
All you need are a few simple ingredients to get started.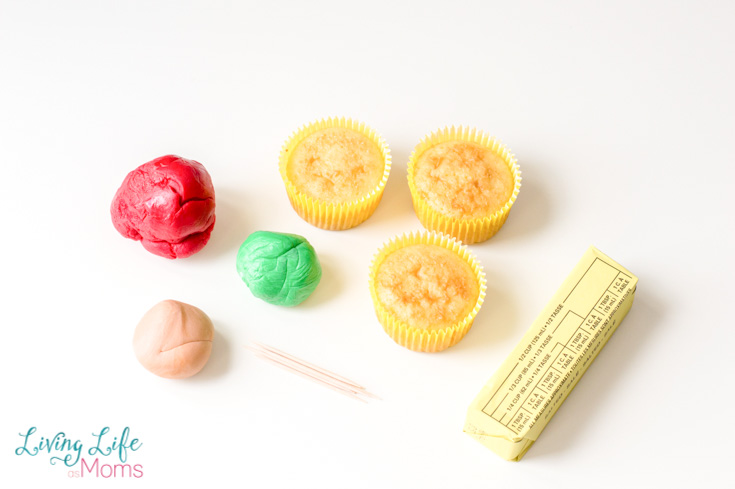 As you can tell, I used premade cupcakes but you can absolutely make them from scratch if you want. It's totally and entirely up to you.
Just make certain before you do anything that you're cupcakes are cooked off completely if you do bake them. There's nothing worse than melted fondant when you're trying to make apple cupcakes!
Make certain that you definitely get a cookie cutter to cut out the circles. You'll want to get them uniform and as round as possible.
Is fondant edible?
It is! Some people like it, some people don't care for it. The big thing to keep in mind is that fondant isn't sweet so it doesn't have a taste that carries it typically by itself.
You wouldn't want to go up and grab a hunk of fondant and eat it like you would a spoonful of icing…but when you use fondant on sweet items, such as these cupcakes, it creates a nice taste and texture and works well together.
Can you buy white fondant and dye it with red or green dyes?
You can. It does take quite a bit of working the fondant around to achieve a consistent color so this is why it's honestly just easier to buy the fondant in the colors that you want already premade.
As you can see, these cupcakes are super fun and simple to decorate. Make the first day of school memorable and try to make up a dozen or so of these sweet treats yourself!
Anyone who tries them is certain to love them
Recommended Apple Fondant Cupcake Supplies
Wilton 710-2304 W7102-04 Decorator Preferred Fondant 24oz, 24 ounce, Red

Satin Ice Green Fondant, Vanilla, 2 pounds

Ateco 4 Piece Stainless Steel 1440 Plain Edge Round Cutters Set in Graduated Sizes,

Homy Feel Round Cookie Biscuit Cutter Set 12 Circle Pastry Donut Doughnut Cutter Set Round Cookie Cutters Circle Baking Metal Ring Molds

Apple Fondant Cupcake
These apple fondant cupcakes are so simple and easy to make.
12 of your favorite vanilla cupcakes
1-2 Tbsp milk
½ Stick butter, softened
1 cup icing
1-2 oz. brown fondant
5-6 oz. red fondant
2-3 oz. green fondant
6 Toothpicks
1 Circular cookie cutter, about 2 inches in diameter
Before you begin decorating, make certain that the cupcakes are cooled down. 

Use an electric mixer to beat together butter, icing sugar and milk in a medium-sized bowl. 

Once combined, use a spatula to put buttercream on the center of each and every cupcake.

Next, roll out the red fondant with a rolling pin until it's about 1/4 inch thick. 

Take your cookie cutter and cut out 12 red circles.

Put a red circle on top of each and every cupcake.

Using kitchen scissors, take your toothpicks and cut them in half. Then put that toothpick in the center of every cupcake, leaving a small portion sticking out of the top.  
How to assemble the fondant cupcake
Take a tiny piece of the brown fondant and roll it into a little cylinder. Take and put into the exposed piece of the inserted toothpick. 

Next, roll out 1-2 green spheres with the green fondant and make certain that it's about 1/3 of an inch thick. 

Then, take and flatten the sphere and mold it into a teardrop shape. If you want to make it realistic looking, give it some lines for texture. 

Take and put a couple of the fondant leaves on the top of the cupcake, next to the stem. 
Hint: If the fondant isn't sticking to the surface, use a little bit of water and place on the back to help. 
More Cupcake Recipes to Consider
If you also have a galaxy lover, you have to learn how to make Galaxy Cupcakes!