16 New Year's Bucket List Ideas + Free Printable✨
This New Year's Bucket List is the perfect way to get prepared for an upcoming year of events, and activities, all while hitting some major goals. A bucket list is an actionable way to makes plans for the future. 
Do you have a plan for the upcoming year? Everyone tends to make New Year's resolution goals, but this year why not do a bucket list instead? 🗒️
Filling out a New Year's bucket list is a great way to get excited about up-and-coming ideas, events, and activities! Not only will you make resolutions for your personal goals, but you can also make plans for adventures you would like to take with your family.
The new year is a great way to start fresh, and making a plan is the best way to make that happen. Printables – like this bucket list printable 🖨️ show that you can get organized and have fun doing so.
Be sure to check out my Healthy Habits Tracker Printable if you're looking for a way to make new healthy habits as well. Scroll down to find the get the New Year's Bucket List 🖨️ printable.
Starting a New Year's Bucket List ✨
So, what is a bucket list, really? If you're new to the term, no worries. A bucket list is something that literally anyone of any age can start and do.
Think of a bucket list as a compilation of items that you're looking forward to doing. This can be simple actions, unique things, fun ideas, or even food that you want to eat.
Bucket lists aren't anything that is "required," but they are full of things that fit what you want to do. Your bucket list is your bucket list. It shouldn't be a carbon copy of anyone else's because then you wouldn't be true to the things that you're hoping to accomplish.
A bucket list can be as simple as one item or a list, like the printable you'll find here.
What is included on this bucket list printable?
This printable is ready for you to start filling in the blanks! You'll get to write out where/what you want to under these bucket list items:
Visit
Read
Eat
Travel
Try
Learn
Watch
Create
Do
Cook
Explore
Give
Enjoy
Host
Stay
Let go of
Dream About
Remember
And if this printable motivates you, turn it over and keep writing on the back. A bucket list can be as long or as short as you want it to be!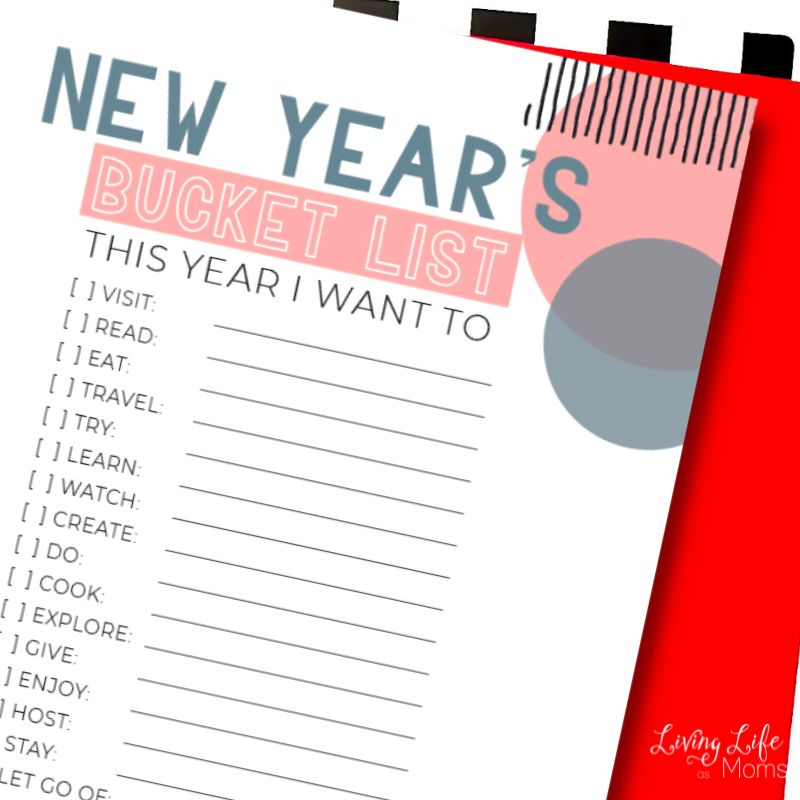 What are some items to add to a bucket list?
Below we have gathered some bucket list inspiration you can use to make your own, but make sure that you add your wants and personality!
Take a trip to a museum
Book a flight to a new country (like the bustling city of Hong Kong)
Eat a food that you've never eaten
Try to learn how to crochet
Watch a movie that you've always wanted to watch
Read 10 books, like the ones on "new beginnings" (recommendations below)
Explore five local parks in your area
Schedule an annual bus trip to a rural area and experience country living
Find the best way to declutter the house or build an organization hack for your closet
Take a trip to a new hotel and splurge on the room
Order dessert with every meal anytime you eat at a restaurant (or don't)
Remember the day last year that made you the happiest – and do it again
Find out how to make dinner in less than 10 minutes time
Create an epic movie night at home and binge all night long
Schedule a family photoshoot – just because.
Watch the ball drop in Times Square on December 31st at midnight to ring in the new year!
As you can see, a bucket list can be simple, unique, crazy – and all about you. This isn't a time to worry about others, but you can always sprinkle some things in if you'd like.
Use these ideas as fun inspiration, or make up a few new ones to add to the list. You can't go wrong with whatever you choose to do!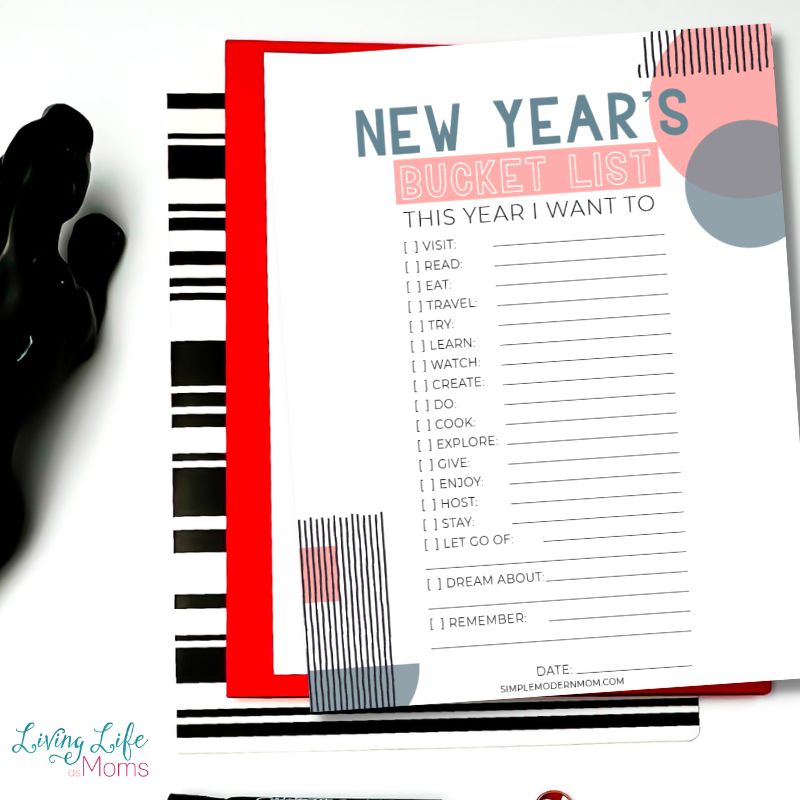 New Beginning Books
Everyone knows that once the new year rolls around, it's literally the perfect time to start fresh. Along with your bucket list, you can also read a few inspiring books that can help you on your new journey as well.
The great thing about having books to use as motivation is that you can enjoy the pages at your own speed. Some people will gobble through the entire book all in one sitting, while others might like spreading it out over a few days.
It's up to you how you want to read – or maybe you're the type of person who wants to read a book over and over again.
These books listed below are great options, so choose a few and enjoy!
If you can find a great book that motivates you to have a new beginning, use that inspiration to complete your bucket list for the year. The two can absolutely work together – and be positive in so many ways!
Recommended Planner Printables ✨
Get organized this upcoming year with these planner printables. I find that printables always help me stay on top of my game in the best way possible.
I'm a print-and-write type of gal, even though I do use my phone for all sorts of other things. When I can have a combination of both, good things happen, and I stay on track so much easier.
The Happy Planner Calendar Printables Pack
This pack includes undated monthly, weekly, hourly page spread, and more. Perfect for organizing your schedule.
Weekly Dashboard Layout – Happy Planner Inserts
If you have a big Happy Planner, you'll be glad to have these planner inserts.
Download the New Year's Bucket List below ✨
More Organization Printables ✨
Why stop here with just a New year's Bucket List 🖨️ printable?
There are so many more printables that you can use to stay ahead of the game! I've included a few below that I think you'll love and enjoy. As you can see, there can be a printable for almost anything that we do daily!
When it comes to making a change in your day, printables really can help.
🖨️ Weekly Meal Planning Printables
🖨️ Note Pages by Printabulls