Have you ever wondered around aimlessly trying to figure out what that thing was you were supposed to finish today? Did you start out the day thinking about your goals for today? Imagine you could get more done each day just by writing down your goals. You wouldn't wonder on to Facebook or binge watch your favorite TV show for the 3rd time.
If you find yourself wasting time on non-essential tasks like playing on your phone or staring at the TV for hours, start setting some goals for yourself that you can work towards to accomplish.
If you want to get that living room organized, if you look at the whole room, it can seem overwhelming. However, if you break it down into smaller sections, maybe you can start on the bookshelves first, then the children's toys, then the desk, it doesn't seem so daunting.
The goal setting worksheets are in two styles with 2 pages each so they can be printed out double-sided if needed. The last 4 pages are the same printables in an editable form so you can type in it and then print it out for those who like to be super neat.
Setting goals are a wonderful way to achieve something and you feel a sense of an accomplishment when you're done. It also helps to break down larger projects into smaller tasks. Once you have a goal, what steps will you have to take to complete them?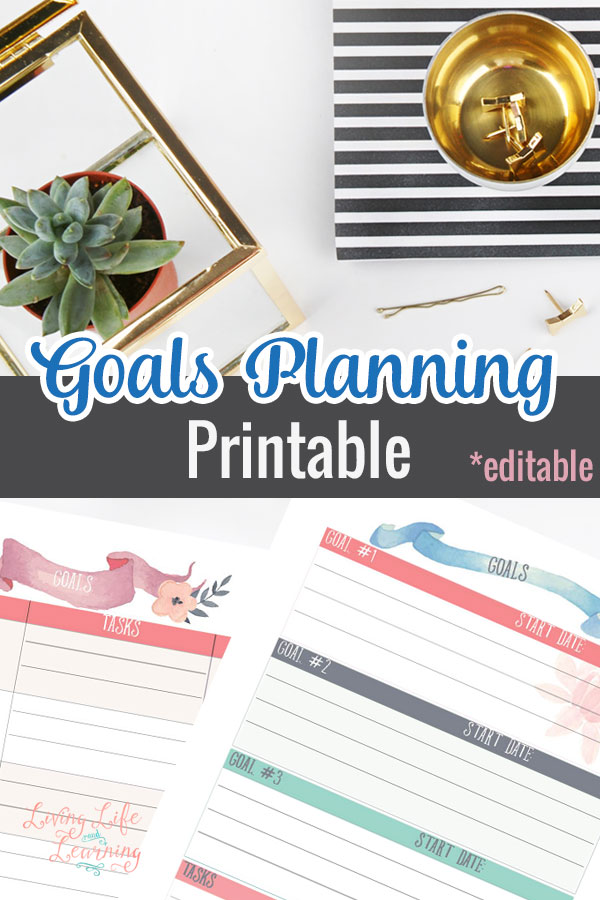 Recommended Goal Planners
Want to keep your goals in front of you all of the time? Try one of these goal planners so that you make sure you reach the goals you set out this year for sure.
Pursuit Goal Journal – A Unique, Down-to-Earth Method for Productivity, Motivation, Mindfulness, and Goal Planning. 6 x 8.5 inch. (Charcoal)
Goal Getter (A Productivity Journal): A Daily Goal Setting Planner and Organizer with Inspirational and Motivational Quotes
Goal Crazy Undated Planner – 90 Day Guided Journal, Weekly Organization, Productivity Habit Tracker, Inspirational, Life Setting, Black Leather, Almond Pages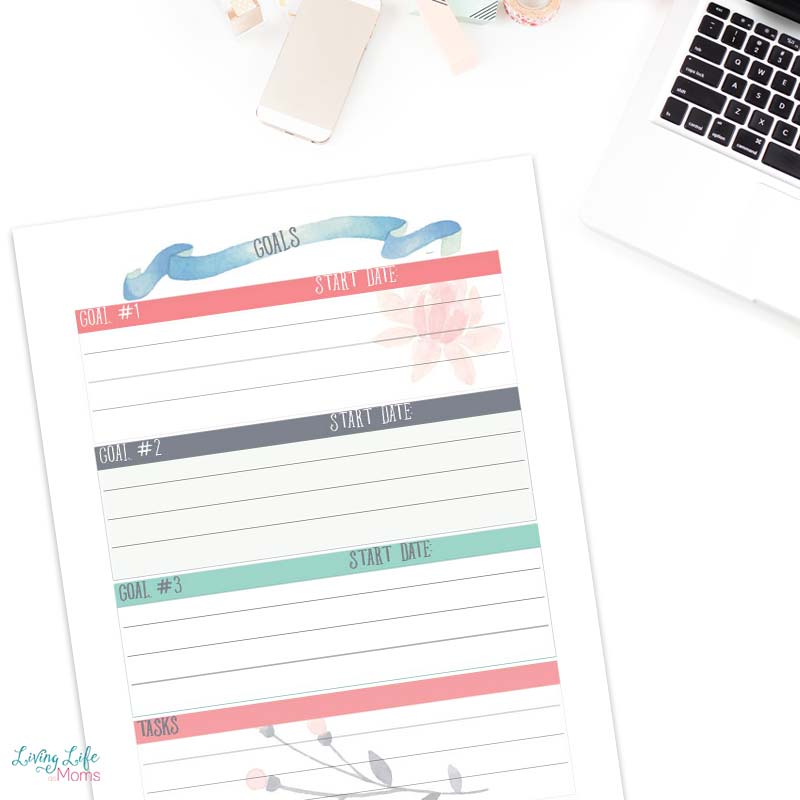 Break those tasks down and write them into your weekly or daily planner to ensure they will get done. No more excuses, do you need to lose weight, get a room to organize, pack for a long trip, get it done by breaking it up and doing a little bit at a time.
Get more planning printables for moms.
More Planner Printables
Pretty Weekly Schedule Printable