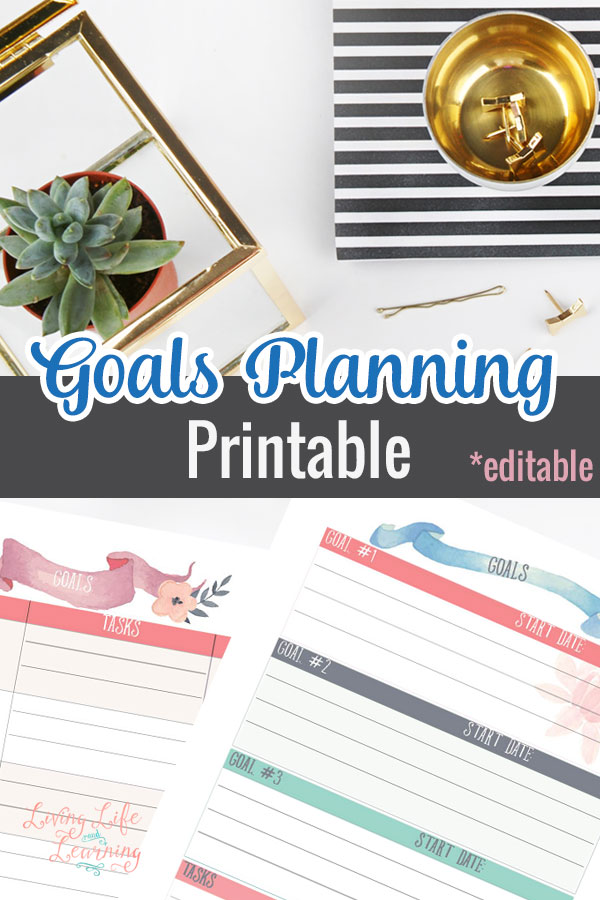 Do you ever set goals and then lose track and not accomplish a thing? You need this goal setting worksheet to keep your eyes on your goals so you can work towards them.
Have you ever wondered around aimlessly trying to figure out what that thing was you were supposed to finish today?
Did you start out the day thinking about your goals for today? Imagine you could get more done each day just by writing down your goals. You wouldn't wonder on to Facebook or binge watch your favorite TV show for the 3rd time.
If you find yourself wasting time on non-essential tasks like playing on your phone or staring at the TV for hours, start setting some goals for yourself that you can work towards to accomplish.
If you want to get that living room organized, if you look at the whole room, it can seem overwhelming. However, if you break it down into smaller sections, maybe you can start on the bookshelves first, then the children's toys, then the desk, it doesn't seem so daunting.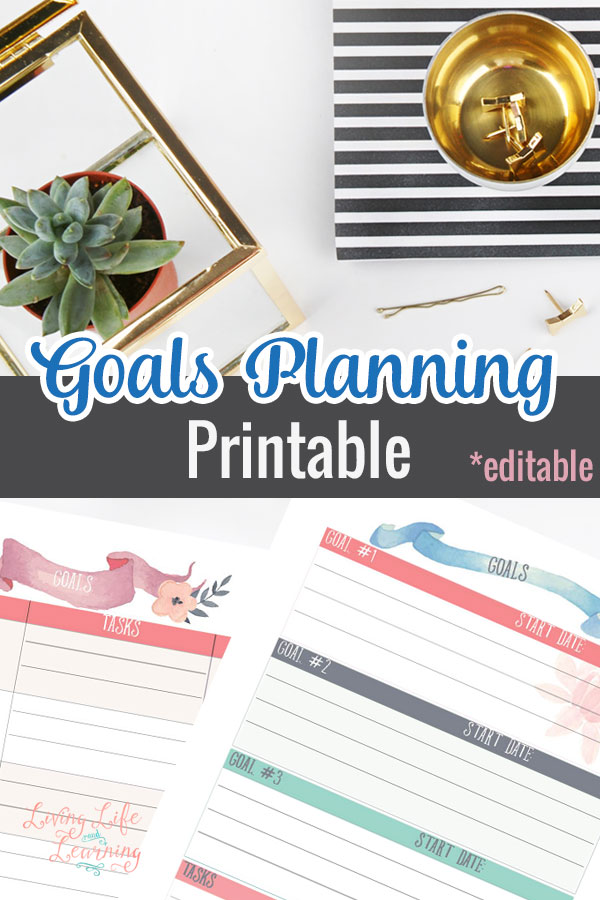 The goal setting worksheet comes in two styles with 2 pages each so they can be printed out double-sided if needed. The last 4 pages are the same printables in an editable form so you can type in it and then print it out for those who like to be super neat.
Setting goals are a wonderful way to achieve something and you feel a sense of an accomplishment when you're done. It also helps to break down larger projects into smaller tasks. Once you have a goal, what steps will you have to take to complete them?
Recommended Goal Planners
Want to keep your goals in front of you all of the time? Try one of these goal planners so that you make sure you reach the goals you set out this year for sure.
Don't just look at it at the beginning of the year, you need to open your planner up daily to make sure you're working on them each day.
Erin Condren Coiled A5 Planner – Goal Setting, Featuring Goal-Setting Tips and Advice, Goal-Tracking Spreads, to-do Lists for Action Steps, and More. Boost Productivity
The Happy Planner Plans + Notes Monthly Planner – 12 Month Undated Planner – 9 Sheet Daily Planner with 4 Dividers & 12 Sticker Sheets – Simple Florals Theme – Big Sized 11.5
Goal Planner: 53 weeks – no date. Goal setting planner and organizer. Track your habits, set and achieve your goals, focus on your dreams
Undated Weekly Planner- Weekly Goals Notebook, A5 To Do List Planner with Spiral Binding, Weekly Goal Planner, 5.7 x 8.0 inches
Goal Getter (A Productivity Journal): A Daily Goal Setting Planner and Organizer with Inspirational and Motivational Quotes
GoGirl Planner and Organizer for Women – A5 Size Weekly Planner, Goals Journal & Agenda to Improve Time Management, Productivity & Live Happier. Undated – Start Anytime, Lasts 1 Year – Rose Gold
What goals should you set?
You can set goals for your personal, work or home life as long as it's something you want to finish and complete, something that will make you happier once you're done.
exercise
diet
sleep
drinking more water
X number of push ups each day
organize your kitchen
clean out the garage
a DIY project
grow your business
read a book daily
reach out to family and friends
connect with a new person
make more sales calls
engage with your kids for x amount of time
stay of your phone for x amount of time or after 7pm
cook a meal from scratch every day
write a book
save money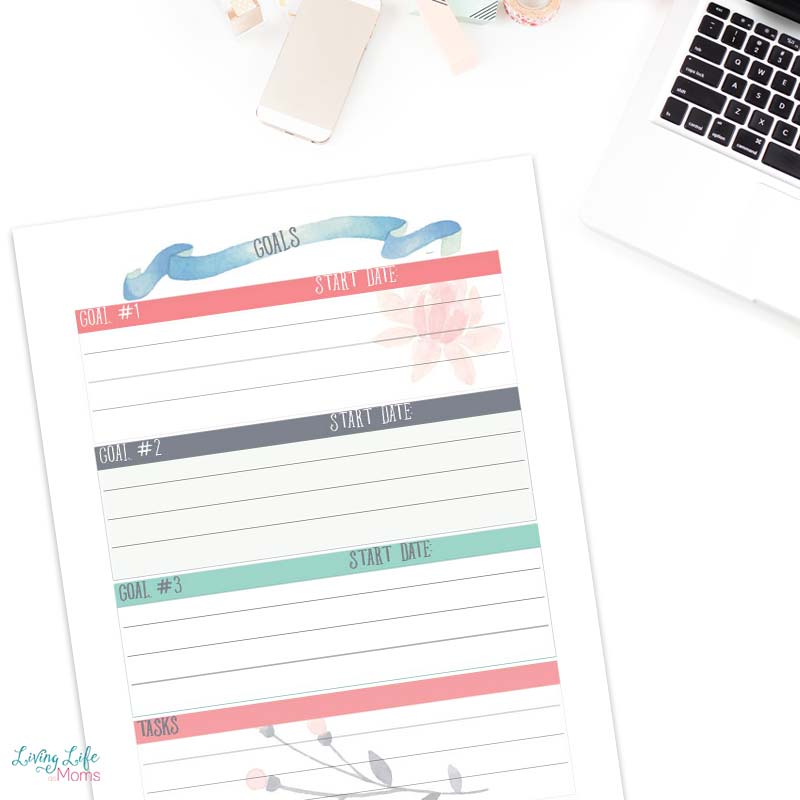 Break those tasks down and write them into your weekly or daily planner to ensure they will get done. No more excuses, do you need to lose weight, get a room to organize, pack for a long trip, get it done by breaking it up and doing a little bit at a time.
Recommended Planner Accessories
If you use a disc bound system like Happy Planner, you can buy additional inserts to add to your planner like goal planning worksheets.
You can't grow wrong with planning when you have fun stickers to decorate your planner and fun pens to write with.
bloom daily planners Productivity Stickers – Variety Sticker Pack – Six Sticker Sheets Per Pack!
me & my BIG ideas 4 Month Fitness Extension – The Happy Planner Scrapbooking Supplies – Pre-Punched Pages – Food & Exercise Logs – Inspirational Dividers & Stickers To Stay on Track – Classic Size
The Happy Planner Sticker Value Pack – Planner Accessories – Girls With Goals Theme – Multi-Color – Great for Planning & Organizing – 30 Sheets, 701 Stickers
The Happy Planner Hourly Extension Pack – Girls with Goals Theme – Planner& School Supplies – Monthly Calendar Sheets – Filler Paper – Pre-Punched Dividers – 2 Sticker Sheets – Classic Size
Paper Mate Flair Felt Tip Pens | Medium Point 0.7 Millimeter Marker Pens | Back to School Supplies for Teachers & Students | Assorted Colors, 24 Count
Me & My Big Ideas Happy Planner Classic – This Week's Goals – Fill Folded Paper Half Sheet
Download the free goal setting worksheet below
Get more planning printables for moms.
More Planner Printables
Pretty Weekly Schedule Printable
Healthy Habits Tracker Printable
Teal Goal Setting Printable by Simple Modern Mom